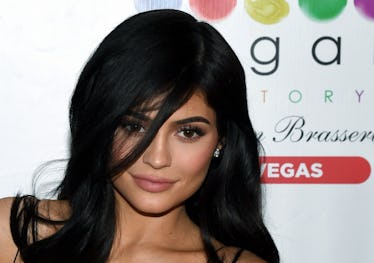 Kylie Jenner Revealed The Sex Of Her Baby & OMG, I'm Screaming
Ethan Miller/Getty Images Entertainment/Getty Images
YOU GUYS, THE DAY HAS FINALLY COME, AND IT FEELS LIKE A DOWNPOUR IN THE DESERT AFTER 150 YEARS. On Sunday, Feb. 4, 2018, Kylie Jenner confirmed via Instagram that she had given birth to her child, and I haven't stopped screaming for the past 20 minutes. Seriously. I can't stop screaming. Help. Anyway, now that the Kardashian army is officially one baby bigger, everyone and their mom is wondering what the sex of Kylie Jenner's baby is. (Not even kidding, my mom texted me asking this.) Not that it matters, though. Regardless of the baby's sex, we all know one thing is for sure: That child will be a makeup GENIUS.
Buuuuuut because we're all curious, here it is: Kylie's child with boyfriend Travis Scott is confirmed to be a BABY GIRL. This little bundle of joy was born Thursday, Feb. 1, 2018, and is happy and healthy as ever. It's still TBD if the baby came out of the womb with a full face of glam makeup, as I imagine any child of Kylie Jenner would.
Though no pictures of this literal dream child have been released just yet, I feel absolutely confident in saying that this baby is officially the cutest baby to ever exist. Sorry to anyone with a baby they think is the cutest baby ever, but you're wrong.
EVEN MORE, KYLIE BLESSED US ALL WITH AN 11-MINUTE VIDEO DETAILING ALL NINE MONTHS OF HER PRIVATE PREGNANCY. I'M LITERALLY GONNA DIE.
As you watch the vid, don't be fooled. The baby we see for a majority of the video is actually Kim and Kanye's new baby girl, Chicago West. However, at the very end of the video, we do catch the tiniest glimpse of Kylie's baby girl, and she's already cuter than I can ever hope to be. COME ON, TELL ME THAT'S NOT THE CUTEST HAND YOU'VE EVER SEEN:
If you think Kylie Jenner finally giving birth isn't that big of a deal, that's where you're wrong, my friend. Let me take you to the time when Kylie pregnancy rumors first started swirling. The year is 2017. It's September. (Yes, we've been waiting for a confirmation since literally September.) You were probably scrolling through your Twitter feed, dusting Oreo crumbs off your shirt, when you saw the news: KYLIE JENNER IS REPORTEDLY PREGNANT. Cue subsequent pregnancy rumors for every other Kardashian/Jenner and radio silence regarding the matter from literally everyone in or close to the family.
For the next several months, though everyone else from the Kardashian/Jenner clan resumed their normal activities, Kylie essentially dropped off the face of the Earth. Her social media posts were limited, her presence on Keeping Up With The Kardashians totally disappeared. Hell, she wasn't even in the freaking family Christmas card, despite the fact that fans were on the edge of their seats waiting for her to appear.
Just days after Kylie pregnancy rumors began, reports claimed Khloé Kardashian was indeed pregnant as well, which she later confirmed in a touching Instagram post, featuring her hands and boyfriend Tristan Thompson's hands cradling her growing baby bump. Khloé captioned the post,
My greatest dream realized! We are having a baby! I had been waiting and wondering but God had a plan all along. He knew what He was doing. I simply had to trust in Him and be patient. I still at times can't believe that our love created life! Tristan, thank you for loving me the way that you do! Thank you for treating me like a Queen! Thank you for making me feel beautiful at all stages! Tristan, most of all, Thank you for making me a MOMMY!!! You have made this experience even more magical than I could have envisioned! I will never forget how wonderful you've been to me during this time! Thank you for making me so happy my love! Thank you to everyone for the love and positive vibes! I know we've been keeping this quiet but we wanted to enjoy this between our family and close friends as long as we could privately. To enjoy our first precious moments just us ❤️ Thank you all for understanding. I am so thankful, excited, nervous, eager, overjoyed and scared all in one! But it's the best bundle of feelings I've ever felt in my life! ❤️❤️❤️
Congratulations to Kylie on the birth of the cutest baby in the whole entire universe.