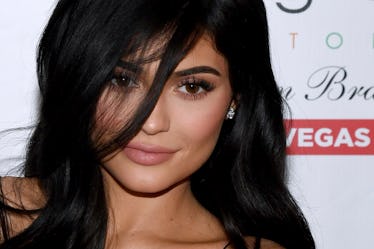 Fans Have The Same Question About Kylie Jenner's Daughter's Name
Ethan Miller/Getty Images Entertainment/Getty Images
Social media has been in a complete firestorm since Kylie Jenner announced the birth of her baby girl, born Feb. 1. After the news took over our news feeds, the most common question seemed to be what her daughter's name is. And the answer to that is finally here: her daughter's name is Stormi, according to an Instagram post she put up on Tuesday, Feb. 6. In spite of Jenner's announcement on Instagram, fans are trying to figure out if Jenner's daughter's name is Storm or Stormi.
The makeup mogul posted an uber sweet photo of her newborn daughter, dressed in a baby pink outfit with her tiny hands wrapped around Jenner's thumb, which the new mom has painted in the same color. Though only the bottom half of her daughter's face is visible, it looks like she already favors her cousins, Dream Kardashian and North West. Jenner captioned the adorable photo, "Stormi," accompanied by a single angel emoji. The post is the very first glimpse of her daughter since Jenner announced the arrival of her baby girl on Sunday, Jan. 4, and totally sent social media users into a frenzy, trying to figure out if Stormi is just a nickname for Storm or the actual birth name.
Many Twitter users assumed Jenner's daughter is actually named Storm.
But others were digging Stormi, too.
One user loved the name either way.
Prior to the new announcement, many speculated that Jenner and her boyfriend, Travis Scott, had named their daughter things like Butterfly or Posie (short for Mariposa). The rumors were fueled by the fact that the couple has matching butterfly tattoos, that one of Scott's hit singles is a song called "Butterfly Effect," and that he also gifted Jenner a bejeweled butterfly chain for her birthday back in August.
However, it looks like the couple decided to take a less predictable route when naming their daughter.
Jenner announced her pregnancy just days ago.
On Feb. 4, Jenner took to Instagram to put a rest to months of speculation of whether or not she was actually pregnant. In a heartwarming post, she revealed that she'd given birth to a girl on Feb. 1. She wrote,
I'm sorry for keeping you in the dark through all the assumptions. I understand you're used to me bringing you along on all my journeys. My pregnancy was one I chose not to do in front of the world. I knew for myself I needed to prepare for this role of a lifetime in the most positive, stress free, and healthy way I knew how. There was no gotcha moment, no big paid reveal I had planned. I knew my baby would feel every stress and every emotion so I chose to do it this way for my little life and our happiness.
The new mom continued,
Pregnancy has been the most beautiful, empowering, and life changing experience I've had in my entire life and I'm actually going to miss it. I appreciate my friends and especially my family for helping me make this special moment as private as we could. my beautiful and healthy baby girl arrived February 1st and i just couldn't wait to share this blessing. I've never felt love and happiness like this i could burst! Thank you for understanding.
She followed the announcement by posting an 11-minute video on YouTube, titled "To Our Daughter," which chronicled her pregnancy journey and transition into motherhood. The video included adorable cameos from Scott, and Jenner's family and friends.
Awww.
Jenner has definitely taken the world by storm with all this pregnancy news in the past couple of days, so whatever her daughter's name actually is, Storm or Stormi, it's totally fitting — no matter what.