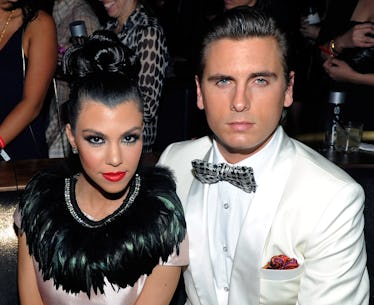 Scott Disick Slams Kourtney K For Dating Younes Bendjima: "You Better Watch Your Back"
Ethan Miller/Getty Images Entertainment/Getty Images
Scott Disick isn't happy about Kourtney Kardashian and Younes Bendjima's relationship. I'm sure this surprises no one, but it might surprise you that Scott Disick's response to Kourtney Kardashian dating Younes Bendjima is pretty much a threat. In a preview for the upcoming episode of Keeping Up With The Kardashians, Kardashian tells Kim and Khloé that Disick texted her saying, "You better watch your back" when it comes to her relationship with Bendjima. Since the clip is so short, it's unclear whether Disick is warning Kardashian to protect herself against the guy she's currently dating or if he's warning her about something he has planned. Either way, it's cryptic, and Kim and Khloé are noticeably worried in the video.
Kardashian starts off the video saying, "He's threatening me now. He says, 'You better watch your back.'" Kim and Khloé look shocked, then Kim says in a separate shot, "This is not going to end well." Kardashian and Bendjima have reportedly been dating since May. Bendjima's a model, and the pair were reportedly keeping things casual/just hooking up before deciding to commit to each other. On Oct. 12, Life & Style reported Kardashian was expecting her first child with Bendjima, but those reports are unconfirmed and no one from the Kardashian team has commented. Elite Daily reached out to Kardashian and Bendjima's teams for comment, but did not hear back by time of publication. Kim Kardashian is the only one to confirm that she and West are expecting their third child. Khloé Kardashian, Kylie Jenner, and now Kourtney Kardashian's pregnancies are still only unconfirmed rumors.
It seems like this Kourtney and Scott drama is going to continue throughout the entire season of Keeping Up With The Kardashians.
On a previous episode of the current season of Keeping Up With The Kardashians, Kris Jenner tried to guilt Kourtney a little by telling her how jealous Disick was that Kourtney got to go on a trip to Mexico with her girlfriends. He apparently felt he wasn't getting enough attention from his ex. Kourtney set the record straight and said to her mother,
Well, that's really not fair. It's just like, I can't even live my life. I can't even go anywhere. He needs to get a f*cking life and leave me alone. All he does is try to make everybody else feel bad for him and try to make me look like the bad guy in this situation when clearly I'm not from, you know, 10 years of this going on.
Jenner piped in and said, "Wouldn't you be sad if he truly left you alone? You always want what you can't have, and when somebody's right there giving you their heart on a platter..." To which Kourtney responded, "He's not, though!" She continued,
No, mom, that's what he makes it seem to you, to Kim, to Khloé, to the world, to everybody. He sits there and grovels and feels bad for himself. So if that was his truth, why can't he get it together? I have to handle it when he's out photographed, you know, with a different hooker every day.
In the trailer for the show's 10th season, Kardashian confirmed that she has a boyfriend. She doesn't reveal the name in the clip, but it's safe to assume it's Bendjima.
This is the same trailer where Kim Kardashian confirmed she and Kanye West are expecting another baby.
In the video, Kourtney says, "I've given up on being with the person I have three kids with." Yikes. That one's obviously about Disick. Khloé asks in another part of the trailer, "Do you have a boyfriend now?" To which Kourtney responds, "Yeah."
Later in the video, Kim is FaceTiming Khloé when she says, "What happens every time I say 'Guess what?'" Khloé responds, "Pregnant, or the person's pregnant." And Kim says back, "We're having a baby!" Safe to say there's a lot to keep up with when it comes to the Kardashians this year, especially now that Khloé Kardashian and Kylie Jenner are reportedly also pregnant with their first children with boyfriends Tristan Thompson and Travis Scott. I don't know about you guys, but this family stresses me the f*ck out.