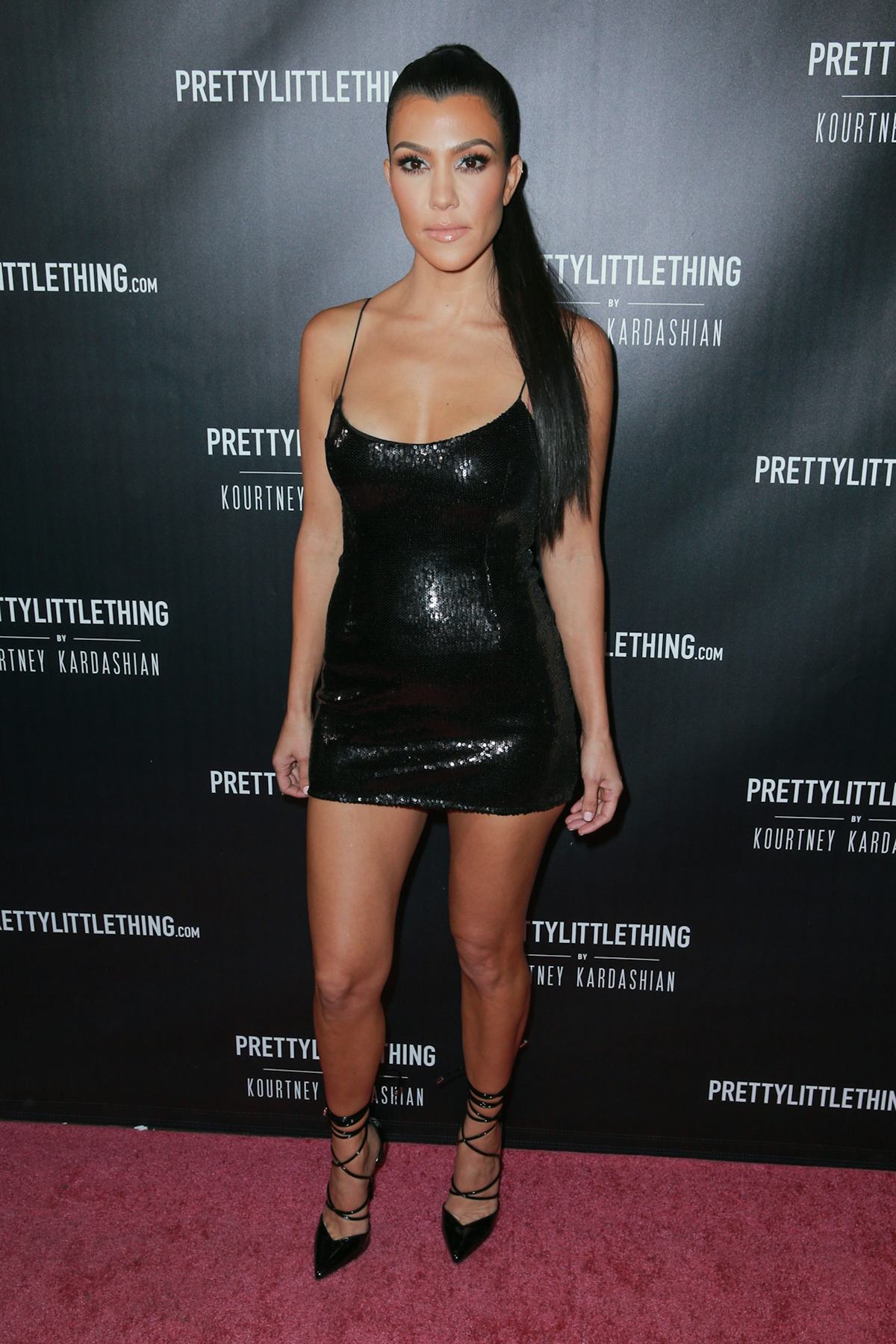 Kim K & Khloe Try To Make Kourtney Admit She's Dating Younes Bendjima In Hilarious Video
Rich Fury/Getty Images Entertainment/Getty Images
Can you keep up with the Kardashians? Because I can't. I try, my god, do I try, but there's just too much! Between surrogate babies, possible secret pregnancies, and boy drama, it's hard to keep track of who is doing what. And, while it seems that most of the Kardashian siblings stay permanently in the limelight, one of the sisters is really good about sneaking in and out. I'm looking at you, Kourtney! She's always been open about her relationship with Scott Disick, but now, fans are wondering about her newest love. Do we know for sure if Kourtney Kardashian and Younes Bendjima are still dating?
It looks like we actually might have gotten our answer, thanks to sisters Kim and Khloé doing some, erm, investigating.
In a preview clip from Keeping Up With the Kardashians, we see the siblings come up with a story about finding the most ~perfect~ man for Kourtney, and call her up to see if she takes the bait.
Kourtney has remained pretty tight-lipped about her supposed relationship with Younes Bendjima — the 24-year-old male model who has, at the very least, 14 abs — not only to the media, but apparently to her family as well.
So the sisters were curious to see if their plan would work, by testing Kourtney with an offer she simply couldn't refuse: Thor, aka Chris Hemsworth.
You know the one.
*Fans self*
A clip from E! News shows Kim and Khloé calling Kourtney about finding her the perfect date, and we get to watch the entire ordeal play out. Honestly, it's actually hilarious, and shows Kim smiling, which is almost even more monumental.
Kim starts off the phone call, telling Kourtney, "Oh my god, we have the most perfect guy for you."
Khloè chimes in, adding, "OK, he's tall, he has the best body. He has two kids. He has like a 12 pack and big muscles."
Kim also adds in that this dreamboat has a "scruffy beard," is "a really good actor," and, most importantly, "he's gluten-free." Thank god he doesn't mess around with gluten. Deal-breaker, amirite?
When there's radio silence on the other line, Khloè asks Kourtney if she knows who they are talking about, and yells, "Thor!"
"Did you ask Thor if he wanted to go out on a date with me? I don't go on dates," Kourtney eventually responds, and says something about being too busy to date, even though Kim tried to make it more enticing by saying they could meet at a "chill barbecue" she'd host.
Unfortunately, not even the promise of hot dogs swayed Kourtney into considering a date. (Meanwhile, if you promised me hot dogs without Chris Hemsworth, I'd be knocking down your door in minutes flat.)
Kim claps back, saying "But we noticed you were out with a certain someone," that "certain someone" being Younes. Kourtney clearly pleads the fifth, and has no response for her sisters.
In a clip after the phone call ends, Kim says, "She fully does not go for it, so she definitely has a boyfriend."
Let's be honest though. If you were casually hooking up with someone who looked like Younes Bendjima, wouldn't you think twice about dating someone else? Just seeing a photo of him makes me thirsty, so I can see where Kourtney is coming from.
Especially because on top of being really, really, ridiculously good-looking, Bendjima is apparently a sweetheart, too. He recently commented on Kourtney's Instagram post of her son Reign, and it was absurdly sweet:
In his comment, he writes what can only be an adorable nickname for Reign, "Baby Reignoosh" and even added a lil' red heart emoji at the end.
Heart-shattering in the cutest way possible, TBH.
So, is this video of Kourtney turning down the possibility of dating one of the hottest (married) actors out there definitive proof that she and Younes Bendjima are still dating? I'm going to go with a smoldering, sultry, yes, you bet.
You get yours, Kourtney.