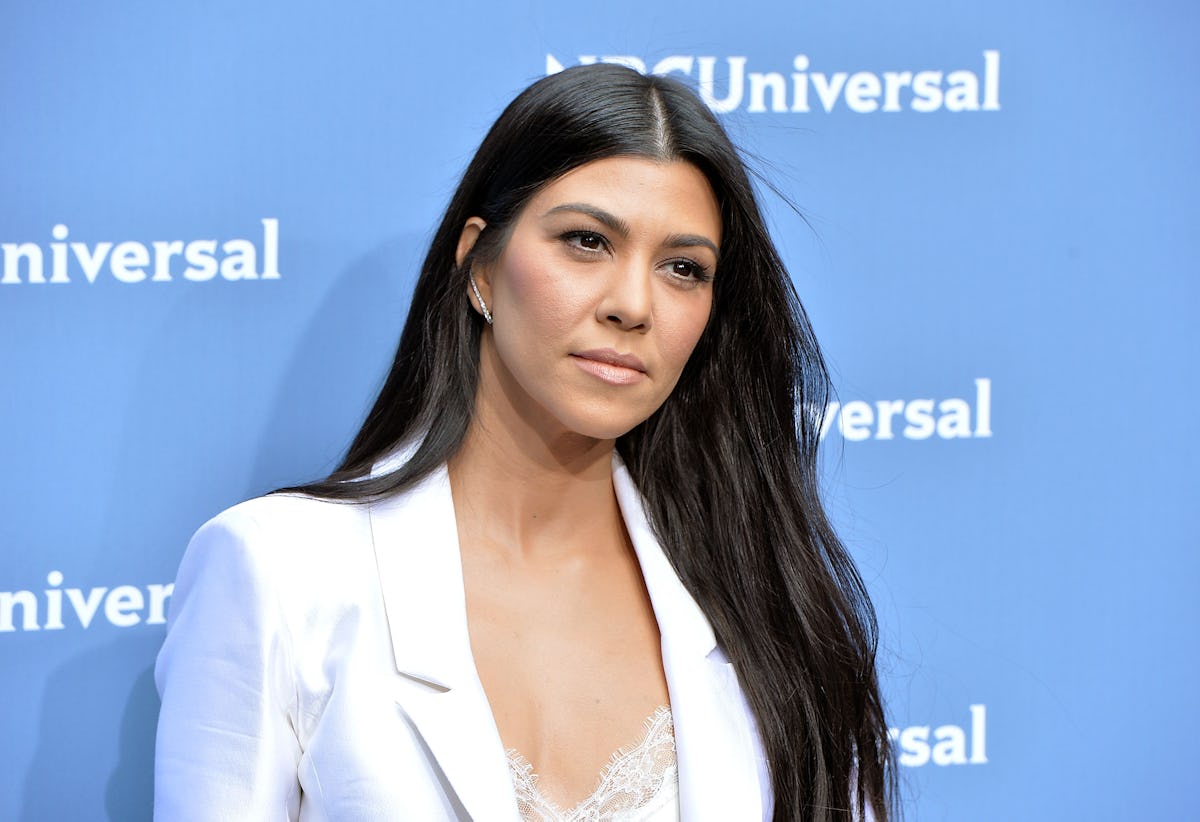 Younes Bendjima Commented On Kourtney K's Instagram, & It's Major Relationship Goals
Slaven Vlasic/Getty Images Entertainment/Getty Images
It's really hard to keep up with the Kardashians these days, specifically when it comes to the relationship statuses of the family members. But one thing's for sure: Kourtney Kardashian and her new man are still going strong — and we have the social media love to prove it. Because we found Younes Bendjima's comment on Kourtney Kardashian's Instagram of her son Reign, and it's so super sweet.
Every year the Kardashian family graces their fanbase with an elaborate Christmas card picture, which is often conceptualized by some of the world's most prestigious photographers. Well this year the family is blessing their admirers 25 times over, because members of the family are teasing this year's picture in the days leading up to Dec. 25th on social media. KimK and Kourtney both began posting fragments from their 2017 Christmas card photoshoot, and are dubbing the countdown their version of "25 Days of Christmas," making it an advent calendar of sorts. The shoot is credited to artist Eli Russell Linnetz, a 24-year-old graduate of USC that has made a name for himself working with Kanye West on various music video shoots.
But when looking at Kourtney's Insta feed, we couldn't help but notice one very cute comment from a special someone:
Ugh, so much love! Kourtney's boyfriend Younes Bendjima decided to show his admiration for her youngest child, Reign, with a sweet comment on her "DAY 3" post during the Kardashian 25 days of Christmas. He gives the toddler the sweet nickname "reignoosh" and adds a red heart emoji at the end.
It's seriously so sweet to see Kourtney in a positive and healthy relationship where her beau is able to love her kids as much as we're sure he loves her. The pair began dating about a year ago, in Dec. 2016. The two reportedly met in Paris, one night before Kim Kardashian was robbed — which is absolutely insane.
The model and former boxer is 14 years Kourtney's junior and definitely differs greatly from her ex Scott Disick, whom she dated on-and-off for nine years before finally calling it quits for good in 2015. The two share three children together; Mason, who will be turning 8 on Dec. 14, Penelope 5, and Reign, who's turning 3 and celebrates his birthday on the same day as brother Mason.
Despite sharing three kids together and enduring serious hardships throughout the duration of their relationship, both Kourtney and Disick have appeared to have moved on with their lives separately. Kourt and Bendjima have been going strong, and Disick has had his fare share of fun dating girls that are younger as well — he's gotten some side-eye for dating a couple of 19-year-olds.
The first of the two was Bella Thorne, who Disick was spotted with in L.A. and in France during the Cannes Film Festival. But Disick revealed in an episode of Keeping Up With The Kardashians his fling with Thorne was essentially a foolish and immature attempt at retaliation against Kourtney. He basically admitted that there was nothing romanic in terms of his "relationship" with Thorne, and that he was merely feeding his unhealthy sexual appetite.
The second 19-year-old that Scott has been linked to is Sofia Richie, who is famed singer Lionel Richie's youngest daughter. Apparently the two have become "very serious" since they were first rumored to be an item back in May 2017.
As long as both Kourtney and Disick are happy with their new lives and are co-parenting to the best of their ability, we're happy too. And we're especially happy for Kourtney because if you've followed KUWTK for long enough, you know how much she went though in her last relationship.
So congrats to you, Kourt! Keep on doing you.