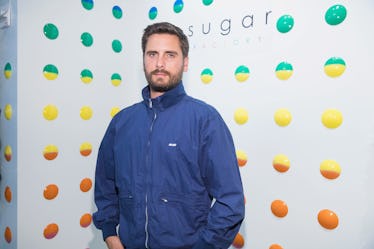 Scott Disick & Sofia Richie Are Reportedly "Very Serious" & We're Not Sure How To Feel
Mat Hayward/Getty Images Entertainment/Getty Images
Are people slowly becoming OK with Scott Disick and Sofia Richie being a thing? These reports have been happening for awhile so I think we've all just accepted it and moved on (or are just bored of it). Every time I see a new picture of the two surface on social media, I always think to myself, "Is this for real?" Apparently, it is because Scott Disick and Sofia Richie's relationship is reportedly getting "very serious." Trust me, I find this news just as puzzling as you probably do.
A source told People that Richie has actually been helping Disick stay out of the nightclub scene and curb his party lifestyle. The source said,
She's been great for him. She's made a big impact on his life and hasn't partied at all since they met.
The age difference between the couple has been raising the most eyebrows. 34-year-old Disick seemed like the most random match for 19-year-old Richie, but the source claims that "nobody notices the age difference." Being the daughter of the iconic Lionel Richie, she must be used to running with an older Hollywood crowd. The source continued,
They've been traveling together to Mexico, New York and Venice and just hanging out. His friends adore her and nobody notices the age difference. She is very mature, she grew up in Hollywood and has always been in older situations. They seem really happy.
Many people have jokingly asked, "Where's Lionel?" amidst the Richie-Disick romance reports. According to Richie, Lionel has been "very supportive."
The father-daughter duo hit the red carpet for the SAG-AFTRA Foundation's Patron of the Artists Awards on Nov. 10. They talked with E! News about their family and how there is no sneaking around in the era of social media. As far as Lionel's reaction to his daughter's dating life, Richie said,
He's good. He's been very nice. He's been very cool. He's very supportive, whatever that means.
As she said this, Lionel used his hand to make a gun gesture and pointed it at his head.
This seems to fit with what Lionel said at the American Idol auditions in NYC on On Oct. 4 to Us Weekly. The publication asked him if he was in shock over the dating reports about his daughter and Disick to which he responded, "Have I been in shock?! I'm the dad, come on." Honestly, Lionel, you should be in shock.
Richie and Disick were first linked together during Disick's outrageous Cannes Revenge Tour against his baby mama, Kourtney Kardashian. Disick was spotted with a plethora of young women, like, Richie, Bella Thorne, and Chantel Jeffries. Disick's actions were so crazy, we all pretty much forgot about the film festival that was happening.
After that event, Richie took to Twitter to assure us all that her and Disick were "just homies."
Since then, the two have definitely moved from the friend-zone. A source told E! News in October that the two are "inseparable." If you don't believe those reports, Richie and Disick have also been posting pictures of each other in Mexico, Italy, and everywhere in-between. The source told E! News,
They are inseparable right now and not leaving each other's side ... Scott is totally romancing her and she is under his spell ... [He] is spoiling her with shopping trips and sweet gestures.
Soooooo, anyways, this is happening. Do you have to be OK with it? No. Do Disick and Richie care if people approve? I'm assuming they definitely don't.
This reported romance may be weird (and borderline creepy), but it's getting serious, according to recent reports. I'm interested to see how Disick and Richie's relationship plays out from this point — I guess we'll have to just wait and see.
Check out the entire Gen Why series and other videos on Facebook and the Bustle app across Apple TV, Roku, and Amazon Fire TV.