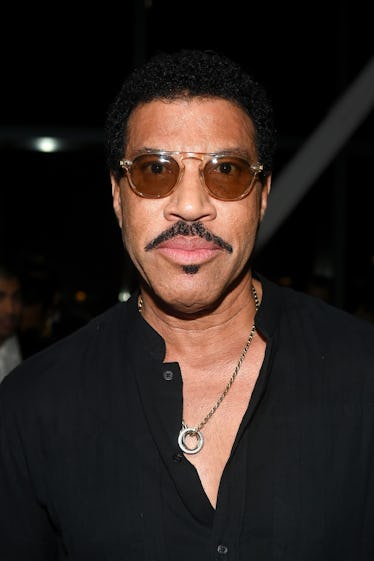 Lionel Richie Admits He's "Scared To Death" Of Daughter Sofia Dating Scott Disick
Ben Gabbe/Getty Images Entertainment/Getty Images
Many of us know the wrath of our protective fathers toward our partners, and it seems like Sofia Richie is no exception. Lionel Richie, Sofia Richie's dad, isn't very approving over his daughter's dating choices... and that's an understatement. The 19-year-old Sofia Richie is dating 34-year-old reality star Scott Disick, and nobody knows how to react, not even Sofia's father. Lionel Richie's response to Sofia Richie dating Scott Disick is... awkward. The 68-year-old icon, Lionel Richie, was asked by Us Weekly whether or not he was happy with his daughter's new beau. He scoffed, "I'm scared to death, are you kidding me?" Yikes. That is not a great response.
Sofia's name started popping up in paparazzi pics and tabloids around the world in 2016, when she was rumored to be dating singer Justin Bieber (I'm guessing her dad wasn't thrilled with that either). Although the pair seemed completely happy with one another, Bieber fans were not. In fact, Bieber almost deleted his IG account because of an overwhelming amount of hate and judgment. Woah.
The pair eventually broke up, but that didn't stop the continued hate toward Sofia... this time toward her new love interest. Sofia and Scott Disick reportedly began dating in early September of 2017, and literally everyone flipped out. Honestly, everyone is still flipping out all over the place. Especially Lionel Richie.
On Oct. 4, 2017 at the American Idol auditions in NYC, Us Weekly asked Lionel Richie if he was in shock. He responded, "Have I been in shock?! I'm the dad, come on." We are all in shock, Lionel.
The news may have gotten to the model's dad when the pair made their relationship Instagram official on Sept. 23, 2017. Disick posted a loving photo of himself nuzzling Richie. Nuzzling means serious business, people. Sofia posted a similar photo on her Instagram account, with the two posing in front of a beautiful blue sky. It's sexy, it's pretty, it's legit.
A video also leaked of the pair dining out in Miami on Saturday, Sept. 23. In the video, the couple received a fancy, sparkling dessert item that read, "Congratulations, Scott and Sophia." Although her name was misspelled (that's awkward), the video showed the duo hugging and kissing while people recorded on their phones and cheered. It appeared to be a big deal.
Although many fans took this as an engagement or some sort of dating congratulatory dessert, TMZ suspected the stunt was planned. It's obvious, isn't it? The stunt was not concealed, and that's not like them, or any other celebrity for that matter. Are they f-ing with us? Why would anyone do that? The only person I can think about is poor Lionel Richie. I hope he didn't fall for this possible prank. If this is a setup, Disick and Richie are really going all out to fool the world.
They are inseparable right now and not leaving each other's side ... Scott is totally romancing her and she is under his spell ... [He] is spoiling her with shopping trips and sweet gestures.
Well, the relationship certainly seems legit.
The twosome later hopped on a private jet to Puerto Vallarta, Mexico, with two of Disick's friends, David Einhorn and Cooper Mount, according to an E! News source. The famous duo reportedly stayed at Girls Gone Wild founder Joe Francis' house. Oh, wow. That's super weird. The insider said,
They spent Sunday laying out by the pool listening to music and being waited on by the butler staff. Scott and Sofia got massages and were served drinks and chips by the pool. They were outside most of the day, relaxing on pool rafts and hanging out. At night, they sat by the fire pit and had the chef prepare dinner for them.
They even posted this picture of their love-filled vacation.
Sofia and Disick seem serious. I guess that means Papa Richie is going to have to get used to this.
Check out the entire Gen Why series and other videos on Facebook and the Bustle app across Apple TV, Roku, and Amazon Fire TV.