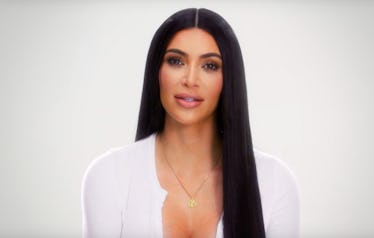 Kim Kardashian Slams Scott Disick & Bella Thorne In 'KUWTK' Clip & It's Not Pretty
All of the Kardashians are pretty much fed up with Scott Disick. In last night's episode of Keeping Up With The Kardashians, we got a closer look into how the family reacted to Scott Disick and Bella Thorne's trip to Cannes this past summer. In a clip from the episode, Kris Jenner, Kendall Jenner, Kourtney Kardashian, Kim Kardashian, and Khloé Kardashian all talk about Disick's behavior, and Kim Kardashian's response to Scott Disick and Bella Thorne is not a pretty one. Kardashian slams Disick for looking "so desperate" with Thorne, and Kendall reveals that Disick only did it to make Kourtney mad.
In a trailer for the Oct. 29 episode, Kourtney revealed Disick had threatened her because of her relationship with Younes Bendjima. She expanded more on that story in the episode, saying, "He was like, 'You're gonna have a great time,'" mimicking Disick's sarcastic voice. She added, "And then he's threatening me now. He's like, 'Your little friend is gonna get beat up every single day when we're there.' He goes, 'Enjoy yourself. Walking around, you better watch your back.'"
Scott, dude, what the f*ck? Who actually talks like this? Kourtney added, "'I'm like, 'Oh, are you gonna have people attack me?' And he's like, 'You're the love of my life. Why would I have anyone attack you?... Just don't expect anywhere you go will be easy now.'" Again, who talks like this?
Kourtney wasn't having this at all, so she clapped back at Disick. She said in the clip,
I said, 'I will actually never speak to you again with your threats, you psychopath. If you threaten me and my friends, it's over. That's not how I will be treated. You've treated me horrible for years.'
You tell him, girl. In another part of the clip, Kim and Kris are on the phone with Kendall while she was in Cannes with Kourtney. She told them all about how she ran into Disick while there, and that's when Kim lays into Disick for his reported relationship with Bella Thorne.
Kim said, "[Scott and Bella] looked so desperate at the airport, like, who goes to LAX together? It's not a good look for Scott, at all." Kendall replied saying she spoke with Disick about it, and he apparently thought it was a great way to get under his ex's skin. She said, "He talked to me about it. He thinks it is. He was like, 'I'm doing it to make Kourtney mad.'" In a solo interview later in the episode, Kim expanded on her thoughts about the whole situation. She said,
I think it's clear to everyone that Scott is doing this just to try to one-up Kourtney, and that seems super malicious. Kourtney is genuinely trying to go away and have a good time and he's trying to like, freak her out and make Kourtney think that there's gonna be some crazy drama running. It's just so ridiculous.
The episode features a lot of footage of Kourtney, Kendall, and Bendjima spending time together in Cannes, looking like they're having a great time. Kourtney said in a solo interview that while she doesn't intentionally hurt Disick, she's not going to be shy about her life just because it makes him jealous. She said, "I'm not trying to throw anything in anyone's face. But I'm also not gonna hide."
In case you don't keep up with the Kardashians and have no idea who Younes Bendjima is, he and Kardashian have been dating for a little less than a year. Rumors of them hooking up first started back in May when they were seen together in, you guessed it, Cannes. They were seen lounging on boats together, partying in clubs, jet skiing with Kendall Jenner, and all that jazz.
During the same week, Scott Disick was seen getting close with actress Bella Thorne in Cannes. Lots of people were shocked by this, seeing as Thorne is just 19 and Disick is 34, but now we know Disick was mostly doing it to get a rise out of the woman he refers to as "the love of his life."
Disick is now reportedly dating 19-year-old Sofia Richie, but who knows if he's doing that to p*ss off Kourtney as well.