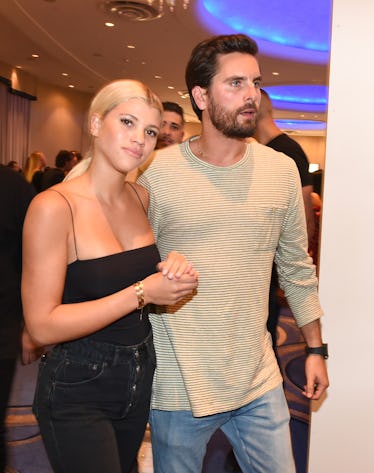 Sofia Richie Opened Up About Why Her Relationship With Scott Disick Works So Well
Romain Maurice/Getty Images Entertainment/Getty Images
While Sofia Richie and Scott Disick as a couple might not make the most sense to some fans, I think it's pretty clear that these two are happy together. So hey, who is anyone to judge? And Sofia Richie just explained why the pair work so well together, which definitely helped to shed a little light on their relationship. Sofia Richie's quote about dating Scott Disick is actually kind of sweet, and is startlingly relatable.
At the launch of Issey Miyake fragrances L'Eau d'Issey Nectar and L'Eau Majeure d'Issey at Milk Studios on Thursday, Feb. 22, E! News asked Richie what made her relationship with Scott Disick so special She responded, saying:
I just think he's the male version of me. Our humor. We have very similar humor.
Aw, see? They have a similar sense of humor, and I think that is pretty damn important when it comes to someone you spend the majority of your time with.
The pair may not have everyone's vote for "Cutest Couple," though, especially Sofia's dad, Lioniel Richie (you may have heard of him). He spoke to the Daily Telegraph, saying that he is not a fan of their relationship and telling the magazine that "it's just a phase."
Eesh.
He also said that he finally understood how HIS parents felt when he was his daughter's age:
Now I know what my parents meant when I came through the door with my Afro and my girlfriend and said, 'Dad, I'm in love.' My daughter is getting me back for my Afro days! She's 19. When you're 19, you know everything.
Hey, we all drive our parents nuts with life choices, and clearly, celebrities are no different.
But Lionel Richie isn't the only one hoping that this relationship isn't a lasting one. Apparently, Disick's ex, Kourtney Kardashian (you may have heard of her, too) thinks that "Sofia is way too young for him and doesn't get it," according to an inside source that spoke to People. Perhaps it's because of the age gap (Disick is 34, while Richie is just 19), or maybe it's simply because she doesn't think she's the right girl for him. Or hey, maybe she doesn't even care at all.
Only God (and Kourtney) truly know.
While they might not have everyone on Team Sofia and Scott, it seems like the couple DGAF, because they reportedly spent their very first Valentine's Day together. I'm not even going to front, it sounded actually pretty sweet.
Before you go into how you can't stand Valentine's Day because it's just a Hallmark holiday, I'm hear to tell you that if people want to express their love for their partner on Feb. 14 (or literally any other day of the year), I am here for it, so drop your black-hearted attitude at the door. I'm not having it.
Anyway.
Richie took to Instagram to show the world her love for her man, writing, "Happy Valentines babe," next to a really cute black-and-white photo of the couple wearing dope sunglasses in what looks to be the middle of an intense cuddle sesh.
We didn't see anything on Disick's social media, but we did see that he sent her some lovely flowers when Richie posted some photos of the red roses on her Instagram story, and tagged Disick:
And look at her matching red beanie! It's almost too cute NOT to have a photo opp of her with her Valentine's Day bouquet.
So, you know what? If Scott and Sofia can make each other laugh, which clearly, they can, why don't we all just take a step back and let them do their thang.
Let Lord Disick and Sofia share their strange sense of humor together.