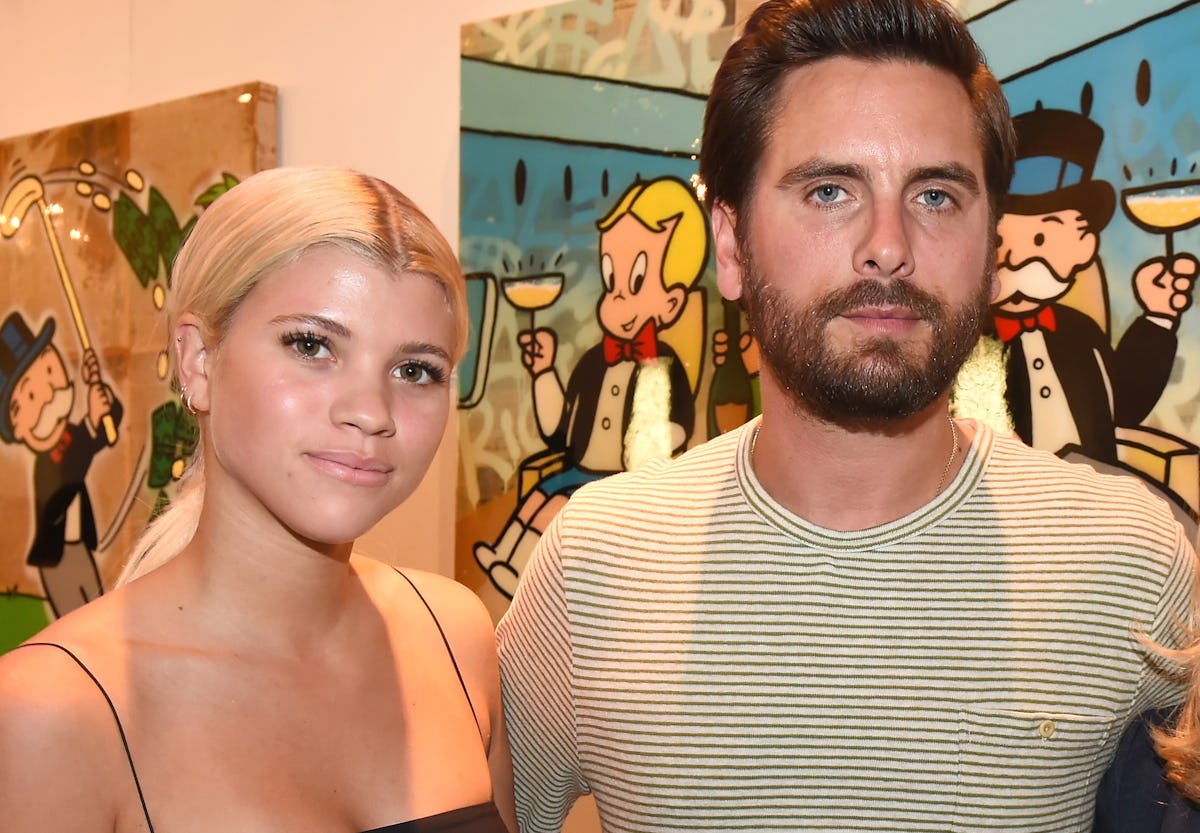 Sofia Richie Shared Some Major Social Media PDA With Scott Disick On Valentine's Day
Scott Disick and Sofia Richie celebrated their first Valentine's Day as a couple this past Feb. 14, and they made sure we all knew they're still going strong. Sofia Richie's Valentine's Day Instagram for Scott Disick proves these two, despite staying relatively quiet about their relationship, are super comfortable and serious with each other, so we should probably get used to them being a thing. To show her love on Valentine's Day, Richie posted a sweet black-and-white photo of her and Disick cuddling it up with a caption that read, "Happy Valentines babe." She added a red rose emoji because obviously. While Disick didn't post anything on his Instagram in honor of Richie, he did send her flowers. Richie posted a photo of the flowers on her Instagram story and they're beautiful.
Just about all of the members of the Kardashian/Jenner squad (even Kanye) posted online in honor of their valentines. The only people who didn't were Kylie Jenner and Kendall Jenner. In Kylie's case, that's kind of weird. Seeing as she just had a baby with Travis Scott, one would think she'd post something about him and their family on Valentine's Day. But as Jenner more than proved over the last nine months, she can easily do things with her loved ones in private without worrying about posting about it all. But enough about these Kardashian Valentine's Day posts. For now, let's get back to Scott Disick and Sofia Richie.
Richie posted this PDA-packed Instagram on Valentine's Day saying, "Happy Valentines babe."
Disick sent Richie a huge bouquet of red roses for Valentine's Day. She posted a photo of her smelling the flowers on her Instagram story saying, "@letthelordbewithyou Love u."
She also posted a photo of them on her Instagram story, and I don't know where the f*ck Godzilla came from, but, uh, cool?
She also posted a throwback photo of her family to show her love to them.
It should probably go without saying that Kourtney Kardashian doesn't approve of Disick's relationship with Richie. In fact, a source recently told People she "doesn't get it" at all. They said, "The initial reaction from Kourtney when she found out that Scott was dating Sofia was not positive. Like most people, she thinks Sofia is way too young for him and doesn't get it." (Richie is 19.) The source also says, however, that Kardashian has come around to their relationship because Disick has apparently cleaned up his act and is "doing so much better." Their relationship as co-parents has become more "civil" as a result. The source told the outlet, "He has very much shaped up in the past few months. Kourtney is happy Scott is doing better. Things between Kourtney and Scott are civil."
According to the source, Kardashian knew about Disick's relationship with Richie in its early, early days. At the time, she thought it was a fling that would soon die out, but she reportedly has now accepted the fact that he has moved on and is in a full-on relationship with 19-year-old Richie. "Kourtney didn't think it would last," they said. "And she never thought Sofia was going to meet her kids." They continued,
But now, Sofia spends a lot of time at Scott's, so Kourtney allowed her to meet the kids. She has met them a few times. For a while, the kids didn't see their dad on a regular basis. It was very sad, because they missed Scott. Now, he sees his kids every week.
So yeah, between Richie meeting and hanging out with Disick's kids and their Valentine's Day celebrations together, it looks like the couple (who has been officially together since September 2017) are planning on staying together for the foreseeable future.