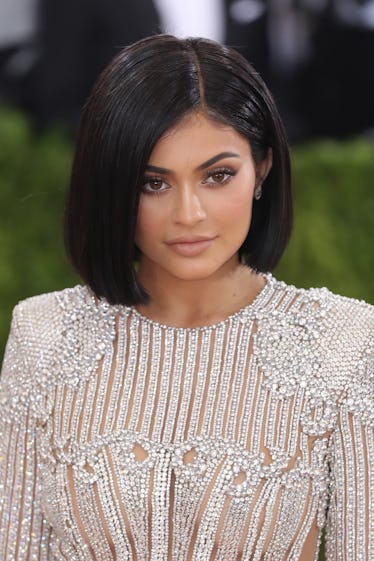 Kylie Jenner Posted A Photo For Valentine's Day & It's Definitely Not What You'd Expect
Neilson Barnard/Getty Images Entertainment/Getty Images
WELCOME BACK TO SOCIAL MEDIA, KYLIE! And also, what's going on with your V-Day post? The social media and reality TV mega-star is back in the public eye after delivering her daughter, Stormi, on Feb. 1. On Valentine's Day, fans were scanning her feed waiting for a special post about her boyfriend and baby-daddy, Travis Scott, but instead saw something totally different. Kylie Jenner's Valentine's Day Instagram post didn't mention Scott at all. What's that all about?
In fact, her post really didn't have much to do with Cupid at all. Even if Jenner decided she didn't want to make a post about her relationship or the love she has for her newborn baby (which is obviously A LOT), I thought it would at least include the colors red or pink. Jenner could have posted any number of her makeup palettes for the holiday, or even a picture of her perfectly manicured fingernails in an ultra-femme color.
Instead, she shared a picture of herself sprawled out on the floor wearing all black and rocking some killer pointy boots. The only red in the whole photo is in her name, "KYLIE," displayed on the back of her black phone.
She simply captioned the photo "vday," with two small black hearts.
K...
It's a hard left from all of the pink Jenner's been sharing since the announcement of Stormi.
Jenner shared her daughter's name with the world by posting a totally sweet picture of Stormi holding her pale, pink thumb and wearing a pale, pink onesie. In fact, that post broke an Instagram record and became the number one most liked Instagram photo of all time.
Today, it has just under 17 million likes.
Beyond Stormi's little hand and Jenner's black Valentine's Day getup, she's also shared exactly one classic Kylie photo of herself wearing a jumpsuit in a fancy car.
Ah, it's good to have her back.
Jenner addressed her social media absence when she confirmed her pregnancy. She posted the following message for her Insta-followers:
I'm sorry for keeping you in the dark through all the assumptions. I understand you're used to me bringing you on all my journeys. My pregnancy was one I chose not to do in front of the world. I knew for myself I needed to prepare for this role of a lifetime in the most positive, stress free, and healthy way I knew how. There was no gotcha moment, no big paid reveal I had planned. I knew my baby would feel every stress and every emotion so I chose to do it this way for my little life and our happiness. Pregnancy has been the most beautiful, empowering, and life changing experience I've had in my entire life and I'm actually going to miss it. I appreciate my friends and especially my family for helping me make this special moment as private as we could. My beautiful and healthy baby girl arrived February 1st and I just couldn't wait to share this blessing. I've never felt love and happiness like this I could burst! Thank you for understanding.
I wonder if I'm ever going to learn what the deal is with all the black on Valentine's Day?
Whatever you and your family are doing to celebrate, Kylie, I'm sending all of my love your way. If you wanted to dress Stormi up like a cherub and post a photo of that for your fans to ooh and aww over, that'd be, like, fine.
JUST A SUGGESTION!
Check out the entire Gen Why series and other videos on Facebook and the Bustle app across Apple TV, Roku, and Amazon Fire TV.