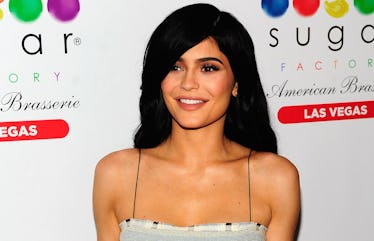 These Tiny Details In Kylie Jenner's Home Could Be Huge Clues She's Having A Girl – UPDATE
Did you guys know Kylie Jenner might be pregnant?! Hahaha, of course you didn't. This is brand new information!!! Just kidding, this has literally been all I've been writing about since September, so if you haven't heard of this by now I don't really consider you a good friend out of your lack of solidarity. Anyway, we might've found another clue she's actually expecting a baby girl. The new hints that Kylie Jenner is having a girl can be found in the most obvious of places: her home. Based on her Christmas tree, how she decorates her house, and her spending habits lately, there seems to be a definite pattern. And by pattern, we mean she's buying a lot of pink.
Update: On Sunday, Feb. 4, Kylie Jenner confirmed her pregnancy in an Instagram post. She welcomed a daughter on Thursday, Feb. 1.
Earlier: Of course, Jenner could just be feeling #woke and decorating her house/potential baby stuff with pink because she likes the color and is using it in a genderless way, but my money's on the probability that she's using pink as a way to send a hint she's having a girl. A source told People that Jenner has been having a great time buying "pink hues" lately on her shopping adventures, and that's definitely evidenced through the Christmas tree she has in her house.
The tree is decked out in dusty rose ornaments. This could just be a shout out to Jenner's love for the color pink, but it's a lot more fun to make a conspiracy theory out of it and say it's part of a low-key gender reveal. So let's go with that!
Jenner's caption from the Dec. 8 post reads, "thank you @jeffleatham & team for making my XMAS dreams come true! 20 feet of magic! Even more perfect in real life ... 🎀" That "..." followed by the pink bow emoji is cryptic as hell. Kris Jenner reportedly designed the tree, so maybe it was Grandma Kris planning a special tree in honor of the reported upcoming arrival of her youngest daughter's daughter? It's all very sus.
Other decorations in Jenner's house that hint she's having a girl can be found in the Snapchats she posted on Thanksgiving.
Jenner posted a shot of her dining room decked out in pink and butterflies this Thanksgiving. In case you forgot, Travis Scott (Jenner's reported baby daddy) has a song called "Butterfly Effect" that's reportedly about Jenner, and they got matching butterfly tattoos around the time fans believe Jenner learned she was pregnant. So all of the pink furniture in that Thanksgiving pic, along with the wall decals of pink butterflies/butterflies on pink backgrounds, could be a very in-your-face hint from Jenner saying she has a baby girl on the way.
According to People, Jenner won't be confirming her reported pregnancy until after she gives birth, so don't hold your breath. The source told People, "Kylie isn't going to publicly address her pregnancy until she gives birth. She's not doing any public appearances and just wanted to take six months off." As for when her reported baby is due, she and sister Khloé Kardashian's due dates are reportedly very close together in 2018. The source told People Jenner and Kardashian are "approximately four months along" back in September, which means if they are pregnant, their babies will be arriving around March. The source said, "Kylie is over the moon about her pregnancy. Khloé and Kylie are both due around the same time. They are approximately four months along." They added,
Kylie loves how close-knit her family is and is thrilled to bring that to her own family. She feels more prepared than ever, especially since she will be sharing this journey with Khloé. They are looking at it like a unifying experience for them as sisters.
Safe to say it's been hella hard to keep up with all of these damn Kardashians lately, but if Jenner's hints in her home decor mean anything, it's that another Kardashian/Jenner girl is on the way.
Check out the entire Gen Why series and other videos on Facebook and the Bustle app across Apple TV, Roku, and Amazon Fire TV.