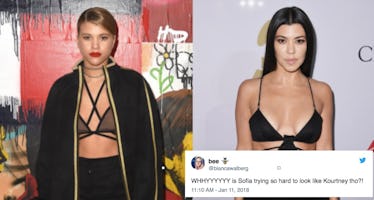 People Think Sofia Richie Is Copying Kourtney K's Style & These Pics Prove It
Joshua Blanchard/Kevork Djansezian/Getty Images Entertainment/Getty Images
By now, I think it's well-known that Sofia Richie and Scott Disick are reportedly a thing. (If you didn't, well, now you know.) People have feelings about it because of their 15-year age difference, but also because Scott Disick is Kourtney Kardashian's baby daddy (although they may be better off separated, TBH). While certain people refuse to believe that Richie and Disick are an item, I think it's time that we make peace with this notion. In fact, it looks like Disick has a type, because these photos of Sofia Richie and Kourtney Kardashian prove that they basically have the same style – but whether or not Richie is transforming her ~lewk~ to resemble Disick's ex, Kourtney, remains to be seen.
The first real proof of the transformation started at the very end of 2017, when Sofia Richie dyed her hair brown, and took to Instagram to show off her big change in appearance. In her Instagram Story, Richie showed the world that blondes don't always have more fun and debuted her deep chocolate-colored hair. While it looked absolutely stunning, it was also a bit shocking, because the once-platinum blonde bombshell now actually looked a lot like a certain Kardashian:
Is it just me, or does it look like Richie is channeling her inner Kourtney?
Just a friendly FYI, this is what Richie's hair has looked like for basically ever:
Bit of a departure, no?
A new photo of Sofia Richie has shown the model stepping into a car, wearing all-black much like Kourtney Kardashian's style. Richie looks so eerily similar to Kardashian that many took to Twitter to express their thoughts:
Honestly? They're not wrong.
It's not just the dark hair, either. It's the fact that the two have a very similar style — whether that's intentional on Richie's part, we probably will never know. In case you wanted a bit more proof that the two have #twinning style, take a look below.
They both love monochromatic menswear-inspired clothing.
While Kourtney is in a pantsuit and Sofia is in... well, basically just a long blazer, it's still pretty damn apparent that their style mimics one another. Also, both are wearing dark pointy-toed stilettos, but you didn't hear that from me.
They both love to wear all-black everything.
Should I also gloss over the fact that both outfits reveal just a sliver of skin going up the torso? Because I'm not.
They both mix blacks and browns effortlessly.
How come when I try to mix black with brown, I look like I got dressed in the dark, but when these two do it, it feels like the ultimate fashion statement?
They both pull off cutout evening gowns like it's nobody's business.
Both in black, no less.
So, I'm *thinking* that y'all get the picture here. Is Sofia Richie just dressing herself to resemble Kourtney Kardashian for Scott? Or is this maybe all just a big coincidence?
We're not so sure, but it doesn't seem like Sofia Richie should be worried. According to People magazine, a source says that Sofia Richie and Scott Disick are "very serious," so whether or not she looks like his ex is probably a non-issue. The source said,
She's been great for him ... She's made a big impact on his life and hasn't partied at all since they met. They've been traveling together to Mexico, New York and Venice and just hanging out ... His friends adore her and nobody notices the age difference. She is very mature, she grew up in Hollywood and has always been in older situations. They seem really happy.
Well, you know what they say: If it ain't broke, don't dye your hair and dress exactly like your boyfriend's ex-lover. Words to truly live by.