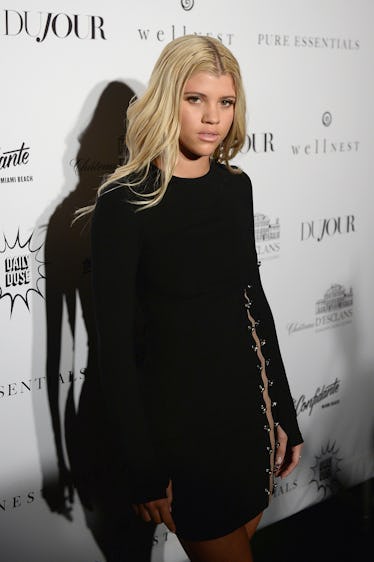 Sofia Richie Dyed Her Hair Dark Brown & Looks So, So Different – PHOTOS
Andrew Toth/Getty Images Entertainment/Getty Images
Some say that blondes might have more fun, but brunettes are definitely having ~a moment~ and I will challenge anyone who thinks differently. If you don't believe me, just ask our girl Sofia Richie who decided to end 2017 on a darker note by dying her platinum locks brunette. So, what made Sofia Richie dye her hair dark brown? Maybe she wanted to start the new year off with something new. Maybe her boyfriend Scott Disick wanted to see his lady go to the dark side. The jury is still out on the exact reason, but can I say that the 19-year-old model looks FIERCE.
She gave her fans on social media a little hint about the change in appearance, sharing an Instagram Story selfie that showed her rocking a black smock and foil in her hair in a way that only she can. Seriously, how come when Sofia Richie takes a selfie while getting her hair done she looks cool as hell, but when I do it, I look like an elementary school child prepping for art class? Life is so unfair.
See what I mean? She looks #flawless. How?!
So, when Richie left Meche Salon in Beverly Hills debuting her fresh color and cut, it was as if the clouds parted and the sun shone down on the now dark-haired beauty. Her chocolate-colored locks make Richie look like a damn dream:
Oh, hello gorgeous. How are you today? Killing it? Yes, I'd say you certainly are.
This alteration in appearance is huge for Sofia Richie, whose signature look is usually platinum blonde all day, every day.
Like how she is here, pouting up to a teeny tiny turtle:
Or here, posing for a selfie while she's inevitably sitting in LA traffic:
Or here, going for (and totally nailing) the "I woke up like this" look:
So, will we be seeing Sofia and her new ~lewk~ on Keeping Up With The Kardashians anytime soon? I mean, now with a new 'do, she should want to flaunt the new cut and color to the masses, right? Sigh. Apparently not.
According to TMZ, Sofia Richie won't be starring in Keeping Up With The Kardashians despite her relationship with Kourtney's ex, Scott Disick. Production sources tell TMZ that "there's absolutely zero plans" for Sofia to make any appearances on the show, apparently because Richie doesn't spend time with Scott when he's around his kids - something that I totally respect, TBH.
And, while there are rumors floating around that Sofia Richie and Scott Disick are actually filming a pilot for their own reality TV show, there's no real confirmation, so don't break out the party hats just yet. Seriously though, can you picture it now? Keeping Up With Sofia and Scott, coming to a TV screen near you. I'm not even going to front, I'd binge that series hard. All we need is sister Nicole and dad Lionel to make a guest cameo and that's a show with an Oscar-worthy cast, even if none of the Kardashian sisters make an appearance.
Honestly, this is a relationship I can get behind, despite Richie and Disick's 15-year age difference. They clearly seem pretty into each other, and, according to a source from People, the couple is "inseparable":
Since returning to L.A., Scott and Sofia are inseparable. They are spending every day together. Sofia seems smitten.
The source adds:
It's obvious that she looks up to Scott. She constantly giggles around him ... They are very flirty. Scott takes care of her, opens the car door and pays for everything.
Now that Sofia's rocking new hair, it seems that this girl is totally ready to take on the world. Scott is one lucky, lucky man.