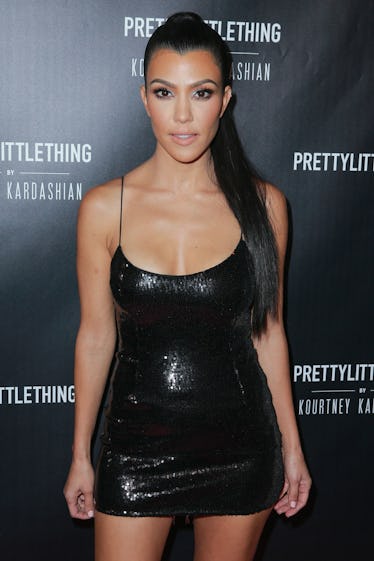 It's Kourtney Kardashian's Birthday & The Kardashians Are Celebrating With These Epic Pics
Rich Fury/Getty Images Entertainment/Getty Images
I have a love-hate relationship with birthday Instagram posts. On the one hand, sharing a heartfelt, public shoutout for someone on their big day is kind of a nice thing. But on the other hand, isn't it also just a low-key way of using a friend or family member's day of birth as an opportunity to post flattering pics? Still, this is 2018 we're living in now, so if it's your birthday and no one posts for you on Instagram, did you even get another year older? I know someone who just turned another year older — it's Kourtney Kardashian's birthday, you guys, and the Kar-Jenner crew is celebrating her turning 39 on social media the only way they know how — with a bunch of epic pics. And despite what I just said about the whole love-hate thing, I am totally here for what these guys are sharing.
Mama Kris Jenner got things rolling on Instagram by posting the most adorable throwback of herself hugging a cute baby Kourt. "Happy birthday @kourtneykardash!!!!" she wrote. "My first born, my gift from God, my amazing precious blessing!! You have given me so much joy and love and beautiful immeasurable experiences and memories since the day you were born and I thank God every single day that he chose me to be your mom. I'm so proud of you... you are the most amazing mom, sister, auntie and daughter and I love you with all of my heart forever and ever ❤️❤️❤️❤️ Mommy xo"
A little extra maybe, but so, so sweet! Although TBH, I always forget that Kourtney is the oldest Kardashian sib. It just sometimes feels like Kim's the oldest for some reason, you know? Speaking of which, Kim also posted for her older sis — and yes, it's another vacay pic from Turks & Caicos, even though she just promised us all she was almost done sharing images from that trip. I guess she had this one all set and ready to go.
"Happy Birthday to my friend I've had the longest in my life!" KKW wrote in the caption. "Wouldn't know what to do without you! Have the best birthday ever!!!!"
Kim K also showed her appreciation for her big sis by celebrating her with what looks like a pink-themed birthday party on April 16, just before she actually turned 39. Check out this Snapchat video the Keeping Up With The Kardashians star shared of her gorgeous strawberry and rose-topped cake, which might be some kind of organic, vegan, dairy-free, sugar-free confection:
Turns out, the cake was a gift from new mama Khloé Kardashian, and Kourtney thanked her for it with the following post on her Insta story:
"It's my birthday tomorrow! Thank you @khloekardashian," she wrote. Kim K also gifted Kourt with some scrumptious-looking doughnuts that were covered in frosting and sprinkles, and had letters on top that spelled out "Happy Birthday Kourtney."
YUM! Even brother Rob Kardashian got in on the birthday social media action. He took to Twitter to share an amazing throwback picture of Kourtney and Kim with their late father, Robert Kardashian:
"Happy Birthday to my oldest and wisest Sister !" he wrote in his tweet. "I LOVE YOU so much!!! I am so Thankful for you and God Bless You with another amazing year! Love Bob."
I'm sure many more posts in Kardashian's honor will still be gracing our feeds throughout the full week of her birthday. But so far I am loving all of these tributes. Happy birthday, Kourtney — next year's the big one!