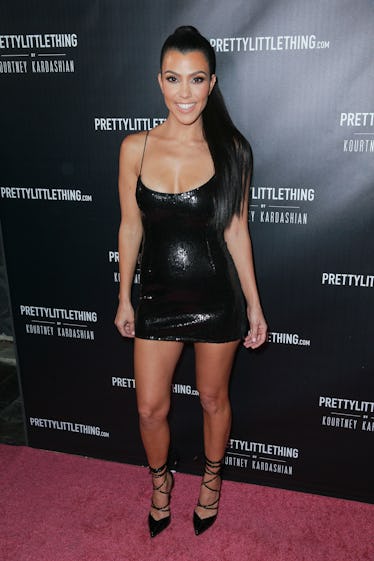 Kourtney Kardashian's Net Worth Is Super Impressive & It's About To Get Even Higher
Rich Fury/Getty Images Entertainment/Getty Images
Kourtney Kardashian has really come into her own this year. But even so, the oldest of all the K-J siblings hasn't yet found a solo business opportunity for herself (that we know of). On a recent episode of Keeping Up With The Kardashians, sisters Khloé and Kim basically laughed in her face over her lack of work ethic when she told them she was thinking about launching a home decor line. But don't feel too bad for the 38-year-old reality star. Kourtney Kardashian's net worth is seriously impressive, and it will have you wishing you could Keep Up.
According to Celebrity Net Worth, Kourtney is worth $35 million. That ain't no chump change, dolls! Most of the coin comes from the show, which has been on the air since 2004, and which Kourt both stars in and executive produces. She's also launched several clothing collections and fragrances with Kim and Khloé, and released the book Kardashian Konfidential in 2010. Kourtney also has a pretty massive social media following — 61.6 million followers — that has given her the opportunity to cash in via endorsements for products like Lyfe Tea and skincare brand Manuka Doctor. And in January 2018, it was reported by TMZ that the mom of three is now planning to launch her own makeup line called Kourt.
Interesting development, right? I mean, Kylie Jenner's already got her hugely successful lip kit business, and Kim's been crushing the game with her KKW Cosmetics line. Is there really room in the Kardashian fam for another makeup mogul? I guess only time will tell, right? But I do love Kourtney, and since she's so obsessed with being gluten-free and eating a clean diet, I can totally see her creating some kind of organic skincare line. It's just SO on brand, you guys! And TBH, I would probably buy whatever she's selling, so there you go.
Also, how cute is the name "Kourt" for a line of makeup?
Or maybe she'll use it to come out with some kind of branded salad shaker. How amazing would that be? I would take, like, 20 of those babies, and I'm pretty sure Millie Bobbie Brown would be into it, too!
Whatever business Kourt goes into, I'm sure it will be a success. After all, she's got lots of other experience under her belt. She helps to run the chain of DASH clothing stores with her sisters, and most recently, she worked on a line of sexy clothing for online retailer Pretty Little Thing. In fact, when Kourtney was kicking off the collab, her boyfriend, Younes Bendjima, showed up at the launch to surprise her, and there was a video of the whole thing on a recent episode of Keeping Up with The Kardashians. It's seriously the cutest thing ever.
Love them!
The couple started officially dating back in December 2016, and Kourt detailed their initial encounter on an episode of KUWTK.
"He was friends with our friends," she explained on the show. "He would walk in, say hi, shake hands with like our security or whatever, but like not say hi to us. And then I was like, 'Why do you hate us?' I was just drunk. Once I said that he literally like grabbed my hand and was like, 'It's five in the morning. We're leaving.' And then next night Younes was like, 'Bring your ass here.'"
What a great story to tell the kids one day! LOL #jokes. Seriously, though, I am so happy that Kourt is clearly thriving in her personal life, so here's hoping she continues to find the same success in the business world. Go get 'em, girl!