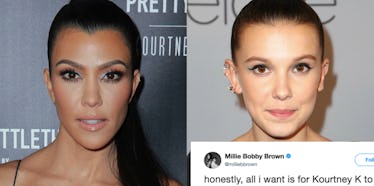 Millie Bobby Brown Wants Kourtney Kardashian To Do This One Thing For Her, & LOL
Joe Scarnici/Rich Fury/Getty Images Entertainment/Getty Images
You may know her as Eleven on Stranger Things, or you may know her as the half-your-age actress who is already cooler than you. However you think of Millie Bobby Brown, you'll have to add one more descriptor to the list: Kardashian fan. The ultra-famous actress is a big fan of the ultra-famous family. She's not all talk, either — Brown keeps up. She hilariously demonstrated her Kardashian knowledge recently, and you'll definitely laugh (and possible relate) when you see Millie's tweet about Kourtney Kardashian shaking her salad.
For most Kardashian fans, Brown's tweet likely makes total sense (as bizarre as it may seem). If you're a Kardashian newbie, let me shed some light on this salad business. Basically, if you watch even just one episode of Keeping Up With The Kardashians, you're going to see a Kardashian sister enjoying a ginormous salad out of a clear plastic bowl.
What's more is that to seemingly cover every leaf with dressing goodness, the sisters shake of their covered salad bowls to move it all around. Brown, being the astute Karadashian expert that she is, seems to have recognized one sister above the rest for her salad-shaking talent.
Brown made her produce allegiances known on Thursday, Jan. 11 when she tweeted out her Kardashian wish.
"Honestly, all I want is for Kourtney K. to shake my salad."
After Brown recognized Kourtney Kardashian's salad-shaking prowess, it was a just a matter of time before the sisters stepped in to make sure that all of Eleven's dreams would come true.
But first, let's roll the tape to see if Kourtney is really the right pick.
OK, I don't know why I would ever doubt Brown's judgement — Kourtney is the MVP of the salad game From the looks of Kourtney's response of, "Let's shake it," she's ready to lunch whenever Brown is.
Kourtney is at the ready.
When it comes to making concrete plans, though, you apparently have to turn to Kim. Kim stepped up when she saw Brown's tweet, and (assumedly using her Kourt connection) told Brown that this could happen.
"I can arrange this!"
Bible, I can't even handle this thread so far. It's just so hilarious, but also so pure and relatable (and amazing). Anyway, Brown was totally excited to partake in this coveted salad experience.
"KIM! Grab your calendar it's happenin. My dream has come true."
I'm not sure why I'm this excited, but I honestly cannot wait to see the KUWTK episode where Brown and the Kardashian sisters casually enjoy a salad lunch — I wonder if there will be any waffles on the side.
The conversation should flow easily with the sisters because when Brown was on The Tonight Show Starring Jimmy Fallon back in November, she revealed her affinity for all things Kardashian — including their secret language. Brown flawlessly executed her Kardashian impression utilizing their famous terms like, "I swear," "Bible," and "Okurrrr" ("OK").
So, it's likely that this salad-shaking tweet wasn't the first time that Brown had visions of kicking it with the sisters (who hasn't?).
This isn't the first time that Kardashian fans have been curious about their go-to meals, either. Back in 2015, Kim took to Twitter to shed light on their favorite eatery when she answered the burning question of where the sisters get their salads — "it's a place in Calabasas called Health Nut."
According to Buzzfeed, the ever-present salads are more accessible than you might think. In fact, Health Nut is located in a Calabasas strip mall. Yep, the Kardashians grab their chef salad with mango iced tea from a freaking strip mall — because stars are just like us, right?
OK, so maybe they're not exactly like us since they go to a strip mall surrounded by paparazzi and have lunch with the coolest 13-year-old on the plant, but, hey, at least they put it all on TV so you can live vicariously through them — while shaking your own salad, of course.
Check out the entire Gen Why series and other videos on Facebook and the Bustle app across Apple TV, Roku, and Amazon Fire TV.