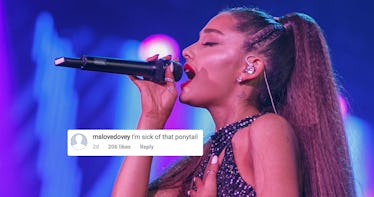 Ariana Grande Blasted A Hater Who Said They're "Sick" Of Her Ponytail & It Was Mature AF
Ariana Grande is known for the cute ponytail she always wears on top of her head. I mean, I think I would freak out if I actually ever saw her on stage without it. It was bad enough when she gave up the cat ears, you know? But that high pony is ICONIC. Of course, not everyone is down with the pop star's signature style, and one "fan" hit up the singer's Instagram feed recently to let her know exactly how much she thinks it sucks. She prob should have kept her thoughts to herself, though, because Ariana Grande's response to haters who are anti-pony is so simple, but at the same time, it's epic AF and you're gonna wanna hear it.
OK, so here's what happened. Grande's stylist Mimi Cuttrell posted a photo of the "No Tears Left To Cry" songstress holding hands and walking around New York City with her fiancé Pete Davidson. The two of them look so freaking cute that I'm gonna ignore the fact that Ari's wearing a pair of over-the-knee suede boots in the middle of summer. And by "ignore the fact," I mean search the internet all day until I find myself an identical pair.
Judge away. You know I would.
Anyhoo, one of Grande's followers saw the sweet post as the perfect opportunity to roll up and throw a little shade in the comment section.
"I'm sick of that ponytail," the hater wrote. And, like, how dare you try and come at Ari and her hairstyle like that, sis! But thanks to the good people over at @commentsbycelebs — and if you're not following this account yet you totally should be — we know that Grande seemed pretty much unfazed by the slight and shut the whole thing down with the following succinct, yet totally brilliant clapback: "I'm not." You can see the whole epic exchange over at @CommentsByCelebs.
What. A. QUEEN! I happen to think Ari looks amaaaaazing in her high pony. And even if I didn't, who cares? It's not my hair, it's HERS. And she can do whatever the hell she wants with it.
You can also see in the pic that Grande is wearing Davidson's late father's FDNY pendant with the number 8418 on it. His father was a New York firefighter who died on 9/11 while trying to rescue victims of the terrorist attack, and 8418 was his badge number.
Davidson shared his own photo of Grande wearing the necklace on his Instagram feed on July 14.
It's all so beautiful and meaningful! Of course, that didn't stop one of Davidson's "fans" from accusing him of giving Grande the same necklace he gave to his ex-GF Cazzie David in the comment section. And just like his fearless fiancée, the SNL star wasted no time setting the record straight.
"I had a bunch of replicas made," he explained. "My sister and grandpa also have one. The one that Ari has is the one my dad actually died in and he wore his entire career and the one I've worn for over 17 years. I've actually never taken it off other for SNL or work. So it means a lot to me. Please learn to be nicer and not to assume the worst in people. It's a terrible way to live."
I know people always say you shouldn't engage with haters, but these two are just so nice and full of love when they stand up for themselves that I'm totally here for it.
Well done, sirs!