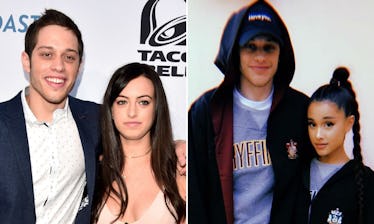 Here's How Cazzie David Is Reportedly Handling Pete Davidson & Ariana Grande's Engagement
Alberto E. Rodriguez/Getty Images Entertainment/Getty Images; Instagram/PeteDavidson
Ever since the news first broke a few days ago that Ariana Grande was reportedly engaged to Pete Davidson, I haven't been able to stop thinking about their respective exes. I mean, it's gotta be kind of weird for them, right? Like, it feels like only five minutes ago, Grande was happily in love with rapper Mac Miller and Davidson was cozying up with Cazzie David. Now Grande and Davidson are reportedly getting ready to walk down the aisle, leaving their former lovers in their wake — there has to be some bitterness there, right? Elite Daily reached out to Grande and Davidson's teams for comment on the engagement reports, but did not hear back by the time of publication. Anyway, Cazzie David's response to Pete Davidson and Ariana Grande's engagement is actually so mature, which means she's a way better person than I am.
According to TMZ, David is "not dwelling on the drama" surrounding the timeline of Davidson and Grande's super-fast coupling-slash-engagement, and is, in fact, "already moving on." Oh, and that recent trip to Africa she took following her breakup with the SNL star? It was apparently planned awhile ago and is NOT related to the split, or to the whole headline-grabbing Davidson/Grande thang. Elite Daily reached out to David's team for comment on the report, but did not hear back by the time of publication.
Even David's amazing Instagram post from June 1, which she captioned, "Been in Africa, what'd I miss ???" wasn't as ~shady~ as everyone thought. While everyone suspected it was a sarcastic response to all the Grande/Davidson dating rumors that were flying at the time, apparently, in reality, it was just "a genuine shout-out to friends ... letting them know she was back from a safari, where she'd had no Internet," according to TMZ.
Not sure if I'm buying that last part, but David seems to be one seriously cool chick and a total queen so I'm just gonna go with it. Before splitting in May, David and Davidson (their names were so in sync, you guys!) had been together for two years, ever since they started dating back in December 2016. Davidson first confirmed the breakup during an interview with Complex's Open Late with Peter Rosenberg. "We're not together anymore," he said. "Very talented girl, she'll be great and she'll be fine. Yeah, I think she'll be okay."
Uh, ya think? C'mon, guys! This is one woman who is totally FINE riding solo. I mean, Davidson wasn't even the only comedian in her life. After all, David's dad is LARRY David, of Seinfeld and Curb Your Enthusiasm fame. Pretty, pretty, pretty good. And let's not forget that David is hilarious and talented in her own right. She's a writer, producer, actress, and comedienne who stars in and writes the critically-acclaimed web series Eighty-Sixed — which, ironically, is about a self-deprecating girl who's dealing with a breakup. And she's also writing, producing, and starring in a comedy series called Half-Empty for Amazon.
I just learned how to put the string back into my sweatpants after it came out in the laundry over the weekend, so, apparently, both of us are thriving. Oh, and we both drink lots of wine, so I think it's safe to say we'd totally be besties.
Anyhoo, according to The Hollywood Reporter, Half-Empty "follows a sardonic girl in her final year of college whose overactive imagination leads to catastrophic thinking and hilarious mishaps."
I don't know about you guys, but I seriously can't wait to watch this thing! I mean, I'm already totally obsessed with David's Instagram feed, along with around 150,000 other people. Why? Because her pics are straight fire and her captions are legit works of art and none of us are worthy.
"We all know captions can make or break a photo," David once told Vanity Fair. "Like Hemingway once did, I try to restrain myself to six words. These captions show how 'little thought' went into posting the photo, even though a ton of thought went into it because you are following these rules."
Pancakes > Pete.
Keep being awesome, Caz!