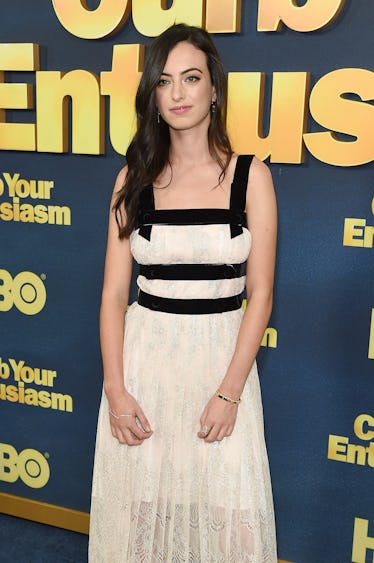 Cazzie David Is Connected To Another Hilarious Comedian Besides Her Ex Pete Davidson
Jamie McCarthy/Getty Images Entertainment/Getty Images
The name Cazzie David has been on virtually everyone's lips ever since Ariana Grande and Pete Davidson went public with their relationship back in May. While people are certainly familiar with Grande and Davidson, David — who is Davidson's ex-girlfriend — is not so mainstream. Yet, every media outlet right now has her at the top of their radar. Who is Cazzie David? And what's she all about, anyway? You're about to find out!
Here's a rundown of everything you need to know about Cazzie David:
She and Pete Davidson Dated For Two Years
Before splitting May, David and Davidson had been together for two years. The two started dating back in December 2016 and were seemingly happy throughout their relationship.
Their split was made public by Davidson during an interview with Complex's Open Late with Peter Rosenberg. In the interview, Davidson explained that he and David weren't together anymore:
We're not together anymore. Very talented girl, she'll be great and she'll be fine. Yeah, I think she'll be okay.
He was so right because David kind of trolled her ex-boyfriend and his new gal Grande on Instagram. Clearly, she has a sense of humor about all of it. And that makes sense because...
Her Dad Is A Famous Comedian
Aside from her ex-boyfriend, David's life is full of funny men. Namely, her dad, who is famous comedian Larry David. For those of you completely unaware (are you living under a rock or something?), Larry is a comedic genius. He's made a name for himself with his work on Seinfeld and Curb Your Enthusiasm. Even if you don't know his name, you definitely know his face. Here it is, for reference:
In an essay for InStyle, David wrote about why she still lives with her father to this day:
I'm living at home as long as I can because I want to spend as much time as possible with my dad before he dies. Yep. He's dying. No, he is not sick — nor has he been diagnosed with anything. Not yet, anyway. But some day he will die, because everyone dies. So every moment with my father must be cherished.
The funny gene is strong in this one! No wonder she was drawn to someone like Davidson.
She's Friends With Amy Schumer
David recently posted on Instagram for the first time following news of her breakup from Davidson.
Here's what she posted:
And guess who was on hand to support her? Why, none other than Amy Schumer.
On the post — which David captioned with "Been in Africa, what'd I miss??" — Schumer added her own commentary.
"You're Amal," Schumer wrote, referencing Amal Clooney.
But let's put all these people aside and talk about the woman herself because she is impressive all on her own.
She Has Her Own Web Series
David is a multi-talented woman who is a writer, producer, actress, and comedienne herself. In April 2017, she debuted a web series called Eighty-Sixed, which focuses on a woman trying to move past a bad breakup. The series even featured her then-boyfriend Davidson in a role.
Nowadays, David is working with Amazon on a comedy series called Half-Empty. And you know what? She's writing, producing, and starring in it. So, she's got a lot going on for her.
David is clearly on her way to making herself a household name. It's only a matter of time, especially now that so many people are talking about her. And, of course, her dad is so famous that his energy is bound to rub off on her! Can't wait to see what she has in store for the world. She's obviously an incredibly talented lady.