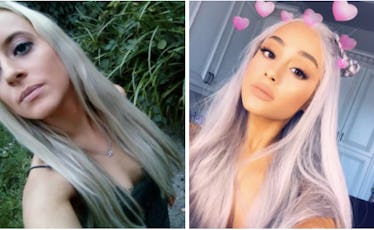 I Tried Ariana Grande's Hair Extensions & Became Her Actual Twin
Ashley Townley/Ariana Grande
Ariana Grande and I have a few things in common: We both identify as proud feminists, dangerous women, and we both stand 5'0" tall. But I have to admit that my hair game just doesn't compare to hers. Whether it's sky-high or free-flowing, Ariana's Grande hair is unabashedly glamorous. My natural hair has always been a little bit stringy and a lot damaged — think: an upside-down mop that has seen one too many a floor. If Ariana's hair is a Grande, mine is a Tall someone took a sip out of already.
Recently, while I was scrolling through the sea of memes otherwise known as my Instagram feed, I came across the latest expression of Grande's diva style: Grey-colored hair extensions with hints of lilac and platinum. Of course, the "No Tears Left To Cry" singer has worn hair extensions since she became mega-famous, but she really turned it up a notch with this move, transforming into a sexy mermaid-unicorn hybrid. While I've always envied her style cues, this time I wanted in.
You see, despite my genetics, I have a tragic obsession with super-long, full hair. And I'm willing to venture that after years of clips, glue, and stylists, Grande's real hair may not be far off from my own. Who really knows for sure what Ariana is sporting under her faux hair — all we can see is that she looks like a stunning silver ice queen. Maybe we could share the same fate?!
For the past year and a half, I've been traveling the globe, so while glamour hasn't been at the top of my agenda, experimenting with my style and identity definitely have. Hair extensions appeal to me because you can play them down (hippie chic) or up (Jessica Rabbit) depending on your mood. These days, my style is more "grunge chic" than "sex kitten," and you'll rarely catch me outside of a black hoodie. But as Grande says, "if I can't be me, then f*ck's the point?"
With those inspiring lyrics in mind, I decided to take Grande's ice princess face curtains for a test drive. I'm lazy, so I just Googled "hair extensions London" and made an appointment with a salon that had positive reviews and online booking capabilities, so I didn't have to go through the horrendous process of speaking to an actual human on the phone. Our generation knows no greater pain.
I ended up selecting Vixen and Blush, a hip salon in Shoreditch, which is a hip part of London. How trendy is it? Put simply, I don't live there. Vixen and Blush's tagline is "Long Live Long Hair," which made it seem worth the tube ride. I went for a free initial consultation and showed them Grande's Instagram photos to give them an idea of my desired vibe.
We perused colors and after discussing length, settled on 18-inch extensions covering 75 percent of my head. I paid a down payment (it's like buying a car!) and scheduled my next appointment, which I ended up postponing because I'm terrible at budgeting and, if you weren't aware, hair extensions are expensive AF. In total, buttcrack-grazing hair set me back $675. Here I am signing the bill.
After that pain point was out of the way, the transformation began and ohh, was it exciting. The whole process from beginning to end took about four hours. My stylist Greta inserted each extension with a device that felt like she was stapling my head, minus the pain. After the insertion process was complete, Greta trimmed them to the 18 inch length we decided on.
When all was stapled and shorn, I turned around and saw myself in the mirror. Instantly, I was a bombshell mermaid, just like Grande. Obsessed doesn't even begin to cover it.
OMG I have so much hair! Copious, copious amounts, which is amazing because I can pull it in front of my face whenever I want to hide. At first, the extensions felt like a thick curtain you can't stop petting. But now, they're just a part of who I am. I feel about one part Manic Pixie Dream Girl and two parts Femme Fatale. I'm quite ready to live out the rest of my days as Ariel's blonde sister (Arista for those of you don't know, which is kind of weird if you don't, FYI).
It's been really fun to plan outfits that play up my swanky strands. I've been trying out all of Grande's most major lewks, and thanks to her, my predominant hair philosophy is now "Blew it out of scale, like my ponytail." Note: you're not *actually* supposed to put your hair in a high ponytail with extensions, says the salon, because it can damage the bonds and lead to fallout.
Here, Ariana and I go "Side To Side." See the resemblance?
Surprisingly, people didn't notice as much as I thought they would, or at least, they didn't come up and say, "Hey you tryin to be Ariana Grande now?" My friends complimented the change, but they noticed the cool, steely color, not the length. The collective verdict has been that I look marginally "better," but people can't quite put their finger on why.
After having these babies in for three weeks, several of my friends have asked if will I get them again. Yes, a thousand times, yes. I love how dramatic they are and the sultry vibe they exude. They're an expressive accessory, and I want them to be a part of my signature style for awhile, like my pajamas-as-outerwear ensembles.
I would note that the tragic irony about these hair extensions is that they make me feel like an especially untamed, wild woman, the life of which isn't suited to their proper care and maintenance. I rarely wash or brush my hair, and if I can't even bring myself to wipe my face at the end of the night, you know I'm not putting my hair in a low bun as stipulated.
Since I'm not a fan of wearing anything that doesn't vaguely resemble loungewear, sporting these saucy hair extensions gives me just enough glam to put me on the right side of homeless chic. Talk about a silver lining.
All in all, I honestly don't know what life would be like without these luscious locks. I'm a dangerous mermaid now. Thank you, Ariana, for allowing me to be part of your world.