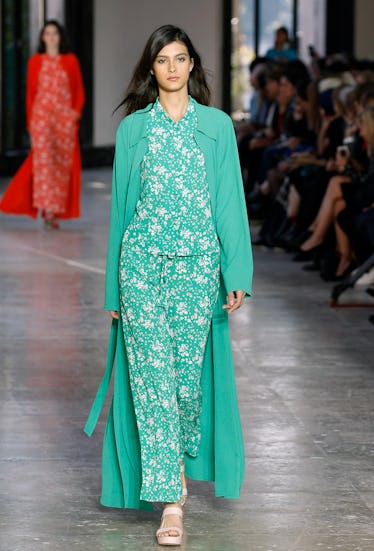 If You're Only Wearing Your Pajamas To Bed, You're Doing It Wrong
Thierry Chesnot/Getty Images Entertainment/Getty Images
I wouldn't say 2017 is the year of no-f*cks-given. It's more like the year in which so many of us redirected our f*cks into issues that matter. For some of us, that means taking the brain power that we used to spend on selecting The Perfect Outfit, and reallocating it to fight the patriarchy. This is where pajamas you can wear outside come into play.
To be clear, I'm not referring to sexy lingerie. I'm talking about wearing straight-up, rolled-out-of-bed jim jams on the street.
This new-age notion of night-clothes-as-outwear came to me one fateful night, when, after many an outfit change, I couldn't decide what to wear to my very cool friend's dinner party. She lives in a fun part of town and knows all the right people, and I felt like there was nothing I could put on my body that would make me fit in with the crowd. Everyone was going to have a designer handbag and some fabulous story about vacationing in the Alps. TBH, I'm not even sure how I wrangled this dinner invite. Anyways, there was nothing I could wear that would put me in the same category as they would fall into, so I decided to respond with equal force by sporting my PJs.
It was like a superhero costume; all of a sudden, I felt invincible. I barged into the dinner like I owned the place. "Sorry guys," I eventually half-confessed with a rebellious spark in my eye, "I was feeling kind of lazy so just wanted to wear my pajamas tonight."
The whole night I felt like the coolest girl in the room, more so than I would have if I had been donning a carefully crafted dress-booties-necklace number. I had this rockstar who doesn't play by the rules vibe going on, and I looked around the room at everyone wearing normal clothes with a bit of pity. They were missing out on this newfound freedom, but you, my friends, don't have to. Join the pajama party.
Afraid your stained t-shirt and underwear duo won't quite cut it? Check out these cozy and cute AF options, in order of easiest to pull off to most difficult.
Easy
Khaki Jersey Sleeveless Jumpsuit, $13, Missguided
OH, SHEET. Beyond its versatility, this onesie is comprised of the same material as your jersey sheets, so it's dangerously comfy. I can see you going just about anywhere you want to go, besides perhaps your cousin's wedding, in this olive green Teenage Dream.
Intermediate
Missguided Carli Bybel x Missguided Gray Joggers, $35, Missguided | Carli Bybel x Missguided Gray Cropped Hoodie, $30, Missguided
Hot damn, this grey set will immediately make you a bad b*tch. I'm drawn to the juxtaposition of the sexy diamond choker and stiletto boots against the outfit of literally all-grey sweatpants. Sweatpants and Stilettos, now that's an Instagram account I would follow.
Advanced
Tulip Floral Shirt & Short Pajama Set, $25, ASOS
OK, this plush set is actual PJs; you got me. But picture pairing it with a cute moto jacket and ankle booties? Downright divine. A moto jacket achieves two different aims: First, it ups your cool quotient while keeping you toasty warm; secondly, it proves to everyone that you actually meant to go outside.
Pro
River Island Jungle Print Pajama Shirt & Pants, $64, ASOS
This painted set is a work of art that glides over your beautiful bod. The silky satin fabric gives away its intentions as something to perch on a chaise lounge in, but in fact, this is arguably the fanciest of the lot. Free spirits and tropical bird fans alike can rock these and easily become the most compelling women in the room. Pair with whatever heels you want and get the party started like P!nk.
Declaring "I woke up like this; flawless," in the most literal sense is a win-win. Not only are pajamas multipurpose, they keep you from looking like you tried too hard for a dinner party you're not sure how you got invited to, or a date you want to play it cool on. And most of all, remember this: It's going to be that much easier to pass out whenever you finally roll in from a late night of fun in your nightie.