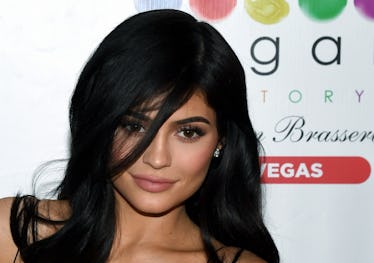 Here's How To Cop Kylie Jenner's 21st Birthday Sparkle & Save Money At The Same Time
Ethan Miller/Getty Images Entertainment/Getty Images
A lot has gone on in Hollywood this past week. Other than getting a sweet birthday message from her beau Travis Scott, the youngest member of the Kardashian-Jenner clan is officially of legal age in the U.S.! To celebrate her new-found freedom, the beauty entrepreneur wowed the world of Instagram with not one, not two, but three stunning outfits for the night. But while all eyes were on her clothes, I'm hoping some at least noticed Kylie Jenner's 21st birthday beauty look.
For those of you who weren't paying close enough attention, it's fine, because the reality star posted a pic on the 'Gram Sunday, Aug. 12, showing off her sparkly, golden eyeshadow, fluttery lashes, rosy cheeks, and a matte nude lip. She captioned the photo, "G L A M! Born To Sparkle liquid shadow (bday collection), Champagne Showers highlighter (bday collection), Coconut lip liner with Bare Matte Lip, & New Blush Sneak Peeeeek!" which means she's likely going to be dropping some additional products very soon. But for now, let's get into how you can achieve this look yourself — whether you're a Kylie Cosmetics fanatic or if you prefer a cheaper alternative.
Eyeshadow
Of course, Jenner wore her own brand's Born To Sparkle Glitter Eyes liquid eyeshadow ($20, kyliecosmetics.com), which packs a TON of olive-colored sparkle, for her birthday. However, if you're strapped for cash, but still want your lids to glisten, NYX Cosmetics has a gorgeous dupe that may work for you.
This dreamy liquid eyeshadow's formula is virtually weightless, but still packs a serious punch when it comes to pigment and sparkle. And if you'd like to remix Jenner's look for the night by using a different color, NYX offers this product in a range of hues, from "Fame & Fortune," a silver finish, to "Evening Spell," a gorgeous, pearly maroon shade.
Highlighter
While Jenner may still be able to get her hands on her brand's Champagne Showers Highlighter ($28, kyliecosmetics.com), unfortunately for the rest of us, the product is sold out. Luckily, ColourPop offers a similar shade for a fraction of the price.
This buttery, soft highlighter will make your cheeks glow as brightly as Jenner's own. ColourPop's Super Shock formula is also buildable, so you can be subtle or really make your cheekbones pop with this gorgeous shimmer.
Lips
Seeing as Jenner began her beauty empire with Lip Kits, it's no surprise that the Keeping Up With The Kardashians star prepped her lips using her own Coconut Lip Liner ($12, kyliecosmetics.com), following it up with her "Bare" Matte Liquid Lipstick ($17, kyliecosmetics.com). Both products are still in stock, but there's a way you can get a similar look for just over $10.
This trusty lip liner currently has a nearly 4.5-star rating online, and claims to leave a smooth matte finish, giving you the perfect base for a stunning nude lip.
You truly cannot go wrong with e.l.f. products, all of which boast quality formulas for extremely affordable prices. This rosy-brown liquid lipstick is the perfect option for anyone who loves a nude lip, but loves to save money even more.
Blush
Since Jenner only gave followers a sneak peek of her upcoming blush, everyone will just have to stay tuned to find out the exact shade she used to ring in a new year of life, but for now, Milani Cosmetics' blush will likely do the trick.
Achieving Jenner's pretty, rosy cheeks is no problem with this product. While the blush is low on price, it's highly pigmented and buildable to give you a radiant, glowing finish.
So while, of course, you can definitely go on a Kylie Cosmetics shopping spree if you've got the coin, there's always an option for those of us beauty lovers who are balling on a budget.