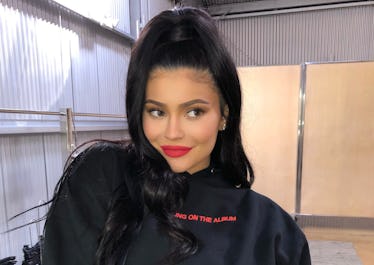 Kylie Jenner Teased A New Kylie Cosmetics Product On Instagram & It's Making Me Blush
Kylie Jenner's 21 birthday was the party seen round the world – the Kardashian-Jenner world, at least. To coincide with being legally able to drink, Jenner dropped a massive new birthday-themed collection. Only days after that drop, though, the star already has everyone asking, is Kylie Cosmetics releasing a new blush?
The Kylie Cosmetics Birthday Collection launched on Aug. 6, just a few days before Jenner's 21 birthday, on Aug. 10. The collection is themed around a 21 birthday party and fittingly includes 21 products, sold individually or as a complete set for $415 (kyliecosmetics.com). In lieu of dropping over $400 on makeup, I've been eyeing the individual goodies and plotting my course for purchasing maybe one or two items. In true Jenner fashion, however, just as I had my mind almost made up on what to buy, the soon-to-be billionaire proved why she's at the top of her game by teasing a brand new Kylie Cosmetics product. Now how am I supposed to decide what to buy? Come on, Kylie, give a girl a chance!
Really though, who am I to complain about the world being gifted yet another Kylie Cosmetics treat? Read on to see what the youngest Jenner has in store for your fall beauty looks.
After recovering from her epic 21 birthday party, Jenner was back to posting her usual fire photos. As always, her makeup game was on fleek – from those fierce brows to her neutral lip to her, wait, those cheekbones, what is she using there?
"G L A M! Born To Sparkle liquid shadow (bday collection), Champagne Showers highlighter (bday collection), Coconut lip liner with Bare Matte Lip, & New Blush Sneak Peeeeek! ✨" posted Jenner.
To break it down, Jenner is wearing Born To Sparkle Liquid Eyeshadow ($20; kyliecosmetics.com) on her lids, Coconut Lip Liner ($12; kyliecosmetics.com) and Bare Matte Liquid Lipstick ($17; kyliecosmetics.com) on her lips, and Champagne Showers Highlighter ($28; kyliecosmetics.com) on her cheeks. She's also wearing a super secret new blush, though!
Look. At. Those. Cheekbones. Granted Jenner is also wearing highlighter but I live for a blush-highlighter combo look so I'm into this. I wonder if the blush with have any sparkle to it, or if it'll be a matte blush, so many questions! Kylie, any answers?
Twitter was obviously very into Jenner's look.
"I need whatever bright pink blush Kylie has been wearing recently..." posted one curious fan.
"Say what you want about Kylie but her blush always looks SOOO good," truer words have never been spoken.
"I'm in luuuuv with Kylie's blush in her recent pics," same girl, same.
"I cannot get over how STUNNING @KylieJenner looked last night!!! I need that sparkly outfit and I NEED to know what blush she was wearing 😍😍😍," posted an adoring fan. Even though Jenner didn't announce the new blush until a few days after this particular tweet, she clearly has some eagle-eyed fans out there.
Before her Instagram pic, Jenner confirmed via Twitter that it was a new product, "New blush!! Coming soon!! Thank u baby." No, thank you, Kylie.
"Thought I was the only one who peeped the blush, SO PRETTY," wrote an excited follower.
"I'm not a blush person but I will be buying it," wrote an eager customer.
"New blush alert omg," sound the alarms!
"Yes everyone needs a good blush in there collection!" So true.
If Jenner's blush is what stands out in a photo of all the Kardashian-Jenner sisters, then you know it's good.
That's all the info for now on the upcoming blush, fingers crossed Jenner will have more deets soon.