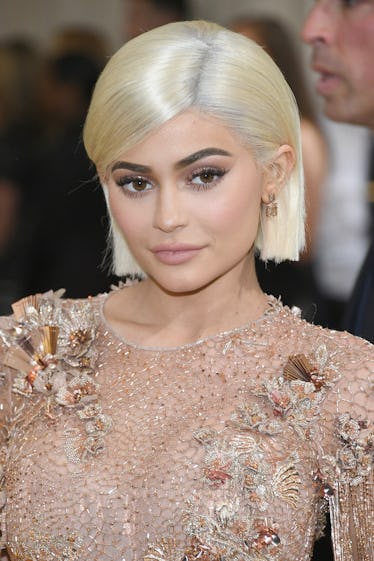 Kylie Cosmetics' 21st Birthday Collection Has Enough Products To Make Every Day Feel Like A Party
Dia Dipasupil/Getty Images Entertainment/Getty Images
When I turned 21, I got my makeup professionally done for a big night out with friends. When Kylie Jenner turns 21, she creates an entire birthday-themed makeup collection. So we're basically the same, but a little different. That said, beauty lovers of all ages are already swooning for Kylie Cosmetics' 21st Birthday Collection, and the sneak peeks on Kylie's Instagram Stories have already convinced me to buy each product as gifts to myself. Seriously, the whole collection will inspire you to live every day like it's your birthday, even if it's actually Kylie's.
Considering the Kardashian-Jenners' luxurious lifestyle, it's sometimes easy to forget that Kylie still isn't 21. Her collection of cars outnumbers the amount of years during which she's had a license, and she's attended every fancy champagne-popping party in L.A. without the ability to (legally) enjoy a glass herself. It's easy to see why she's even more excited than the average teen to finally hit the big 2-1, and using her multi-million dollar cosmetics company to celebrate just makes sense. True to previous reveals, she's taken to Snapchat and Instagram Stories to bless us with some collection sneak peeks, and the 21st Birthday Collection is definitely one of her largest, most extravagant collections yet.
"My birthday collections are super special to me because the first collection I ever did was for my 19th birthday," said Jenner on her Instagram Story before the big reveal. "This is gonna be my third annual birthday collection, and my birthdays are kinda what set off collections for me."
When she finally opened the "Hello 21" box on her Instagram Story, we were treated to the first look at the collection in all its birthday-themed, brightly packaged glory:
She described it as "definitely the most personal collection that I've done," and considering her face is on almost all the packaging, I'd say it's as personal as it could possibly get!
According to Jenner, the promo and product images were shot by photographer Brendan Forbes, and he did an amazing job of capturing her birthday ~mood~ in its full glory.
The pics make the packaging incredible, no doubt, but in the end, it's all about the products inside. The massive collection features six matte lipstick bullets, a birthday lip trio, a pressed highlighter, her largest eyeshadow palette yet with (of course) 21 shades, three liquid eye shadows, three matte Lip Kits, and six lip minis.
The six matte lipsticks come in a box set donning a glittery pink "#21." Inside, each has packaging featuring a different photo of Jenner shot by Forbes.
Rather than go basic with black casing, each lipstick case is a different neon shade, and the inside of the cardboard packaging matches up. Don't worry, though — the lipsticks themselves aren't neons.
"Flirtini" is a cool-toned pink; "Rumor" is a dark berry red; "August" is a pinky nude; "Glam" is a true hot pink; "Birthday Behavior" is a bold, reddish pink; and "Rager" is a bright fuchsia.
In addition to these lipsticks, Jenner also has The Birthday Lip Trio, a three-piece lip set in shades of red, appropriately packaged with solo cup-inspired vibes. The set features "The After Party," a true warm red matte liquid lipstick; "Shots," a red glitter gloss with flecks of gold; and "Victoria," a deep cherry red matte.
Next up in the grand reveal was a pressed highlighter in the shade "Champagne Showers," with packaging featuring Jenner seductively enjoying a pastry with "Get Lit" candles. A big birthday mood if I ever saw one.
"Champagne Showers" is, of course, a champagne shade, with a radiant gold reflect. Luckily, Jenner dipped her finger in and gave us an up-close look at the shade. Bonus points for the huge mirror within the compact — this packaging looks a thousand times more high quality than the cardboard compacts of the original Kylighters ($22, kyliecosmetics.com).
Onto the eyes, the stunning "Sipping Pretty" palette is the collection's major must-have item. With 21 shades including mattes, shimmers, and metallics, it's got everything you need to make the perfect birthday glam eye look, not to mention another huge mirror!
Between the glam shots and the quality mirrors, you can't deny that this collection has the best packaging she's created to date.
If you're not a palette gal, the three reformulated liquid eyeshadows might be more your speed. Jenner made a point to note that the product has been reformulated from the previous Glitter Eyes ($40, kyliecosmetics.com), so I'm curious to see if they'll receive similar feedback.
"Eat Cake" is a peachy pink with an icy champagne reflect; "Born to Sparkle" boasts a stunning, deep golden reflect; and "Fine Wine" is a grape shade with a light pink reflect. All three seem to be shimmery perfection, and if there was any issue with the original liquid shadow formula, it looks like Jenner's mastered it this time around.
Switching back to lips, it wouldn't be Kylie Cosmetics without a few signature Matte Liquid Lip Kits, now would it? This time around, Kylie's got three shades, all accented with hot pink drips.
"Tipsy" is a cool-toned, deep pink; "Twenty One" is a bright peachy pink; and "Baddie" is a true hot red-orange. All three are major statement shades, and I have a feeling Jenner will don one of these on her big day.
To round out the collection, Jenner has included a set of six mini liquid lipsticks, all in fan-favorite shades plus one new shade, "Queen."
"Queen" is a classic Jenner peachy nude, while the other shades already exist within Kylie Cosmetics.
Somehow, Kylie has managed to make me more excited about her birthday than my own. Unfortunately, I'll have to wait juuuuuust a little longer to snag the collection for myself, as it won't launch on KylieCosmetics.com until August 6 at 3 p.m. PST. However, L.A. locals can shop the new collection in advance at the Kylie Cosmetics Pop-Up Shop starting August 1 at Westfield Century City.
The pop-up not only features the entire 21st Birthday Collection, but also a wall of solo cups spelling out "Kylie." TBH, I'm kind of mad no one did that for me on my 21st, as I remember there being more than enough cups.
Overall, the collection is definitely gorgeous — and heavy on the lip products. I wonder if Jenner will rock all 18 lip colors throughout what I assume will be numerous birthday celebrations? It might seem a little extra, but that's also pretty on brand for Kylie, and if there's ever a time to be over-the-top extra, it's definitely on your 21st.