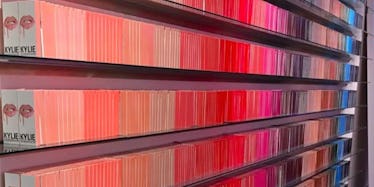 Kylie Jenner's Pop-Up Shop Has A Massive Rainbow Wall Made Of Lip Kits
Instagram
HECK YEAH, we've all been eagerly waiting… and Kylie Jenner's pop-up shop finally opened up today!
Based on the impressive turnout of people lined up to feast their eyes on cool swag and lip kits, the FOMO is so real for me RN.
We reported earlier this afternoon the retail location opened up to the public today, while the online version "The Kylie Shop" debuts tomorrow.
Kylie's store spotlights all of the awesome stuff she features on her cosmetic line's site.
I can only imagine the complete and utter madness that surrounded the Westfield Topanga mall. Needless to say, if this chick over here lived in Southern Cali, I would most certainly be a part of it to get in on that lip kit action STAT.
In a press release, the store stated,
The store's interior, designed and developed by Kylie herself, offers a 360° immersion into the beauty starlet's most intimate world. Part of the store actually replicates the design, décor, and furniture located in Kylie's own bedroom — a perfect way for fans to experience the glamour and luxury loved by the youngest member of the famed Kardashian / Jenner family.
Harper's Bazaar reports the shop organized the lip kits in the most beautiful way. It features an entire wall made up of Kylie Lip Kits… and the thing is seriously massive.
This is a pretty spectacular rainbow if you ask me. Feast your eyes on lip kit heaven…
*cue Mariah Carey's "All I Want For Christmas Is You" tailored to Kylie Lip Kits*
I don't want a lot for Christmas There is just one thing I need I don't care about the presents Underneath the Christmas tree I just want you for my own More than you could ever know Make my wish come true oh All I want for Christmas is…
...A GINORMOUS rainbow wall of Kylie Lip Kits!
Even little Cairo was there to show his love and support for Kylie.
*hardcore FOMO sets in yet again*
Citations: KYLIE JENNER BUILT AN ENTIRE WALL OF LIP KITS IN HER NEW STORE (Harper's Bazaar)