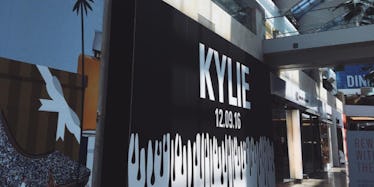 Kylie Jenner's Pop-Up Shop Opens Today And People Are Already Camping Out
Instagram
You may be SOL if you're not already in line to get into Kylie Jenner's pop-up shop.
Now that the 19-year-old business mogul has successfully conquered the internet with her makeup line, Kylie is hellbent on taking over the next level of the retail ladder: actual life.
Jenner announced plans to open up a limited-time pop-up shop in LA with the help of Shopify, which powered DASH's online retail store.
According to the press release, Kylie's store will be selling everything she sells on her cosmetic line's site (Kylie Lip Kits, Kyshadow, her line of original soup flavors, etc) as well as original merchandise.
The release elaborates,
Kylie Jenner will be launching her first ever pop up shop featuring her coveted Kylie Cosmetics products and exclusive Kylie Jenner merchandise. Until now, only sold online products will be available this holiday season in a physical store for the very first time.
It goes on to say,
The store's interior, designed and developed by Kylie herself, offers a 360° immersion into the beauty starlet's most intimate world. Part of the store actually replicates the design, décor, and furniture located in Kylie's own bedroom -- a perfect way for fans to experience the glamour and luxury loved by the youngest member of the famed Kardashian / Jenner family.
(Side note: If you're wondering how big Kylie Jenner's bedroom is, the answer is the size of a full retail store.)
The physical retail location of the store opens on Friday with the online component of "The Kylie Shop" launching on Saturday.
Unsurprisingly, the store has already drawn massive crowds at the Westfield Topanga mall in Southern California.
i WAS planning on going to the kylie pop up shop but i saw kylie's snaps.......the line is literally wrapped around and out the mall — meme daddy (@sarahnmclaren) December 9, 2016
5 minutes until Kylie's pop up shop opens & im not there — ely (@RuvalcabaEly) December 9, 2016
Ever since Kylie launched her Lip Kits, her cosmetic line has dominated the space. That doesn't mean her products haven't been without controversy.
Early on in the products' run there were accusations made saying the kits were made from the same ingredients as cheaper products from ColourPop, the same company that makes Kylie's Lip Kits.
ColourPop denied these claims.
In November, an Instagram model's post about how Kylie stole her post concepts to promote Lip Kits went viral.
Eagerly awaiting the next feud associated with this makeup brand.