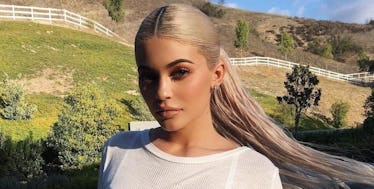 People Are Pissed At Kylie Jenner For The Pic She Used To Promote Her Lip Kits
Instagram
Ruh-roh, you wanna tell us something, Kylie Jenner?
Ever since the youngest Kardashian family member decided to get into the cosmetics game, she's been absolutely dominating the business.
As much as Kim Kardashian tried to break the internet by popping a bottle of champagne into a cup on her butt, Kylie's lip kits actually break the internet by clogging up her distributor's website.
The mega-popular makeup kit is coming under fire today after an Instagram makeup artist claims Kylie's marketing campaign jacked a few ideas from her account.
Instagrammer Vlada Haggerty posted this picture of her golden fingers covering her eyes about a month ago on her channel.
Kylie Cosmetics posted its own, potentially unrelated, version of this golden fingers makeup art thing.
These allegations have prompted followers to comment with snake emojis on Kylie Cosmetics' post.
Others have left nasty comments on the post instead of just putting a snake.
Some of Kylie's followers have come to her aid, claiming Kylie probably didn't steal the look from Vlada.
Neither Kylie Cosmetics nor Kylie Jenner has released a statement on the accusations from Haggerty. This is either because Kylie just doesn't want to acknowledge the claims by Vlada, or it could be because her company is gearing up for the holiday collection release today.
This isn't the first time Kylie's lip kits have been called out for theft.
Back in May, Kylie came under fire for potentially stealing the lip kit's formula from another, cheaper, lip product (both made by ColourPop).
In a since-deleted Instagram post, one user pointed out,
For reference COLOR KEY: Yellow – Same ingredient, same order in formula. Blue – Same ingredient, different order in formula. Purple – Same pigments, different order (pigments are not required to be in order). Please note, this is the updated ColourPop formula. Not the first launch (any color outside their first launch is new formula) Not all ColourPop's ultra mattes have been reformulated yet. According to them, they hope to do it in time. So don't try & compare your first launch to the new Lip Kits…or the first launch lip kits. They are not the same. ADD: also, to be clear, the ingredients do need to be listed in order of highest concentration, to its least. The order does matter in a formula. Even if the ingredients are identical, if they are in a completely different order they won't wear the same. The bulk of the formula, the first several ingredients, are the same, same order. What follows isn't enough to significantly change the wear compared to the new ColourPop Ultra Mattes.
ColourPop denied these claims.
Citations: People Are Accusing Kylie Jenner of Copying a Makeup Artists Work for Her Holiday Promo Images (Seventeen)