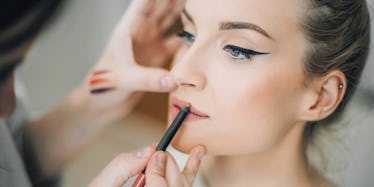 Almost 600,000 Women Can't Get Enough Of This $20 Matte Liquid Lipstick
One of the great perks of being a lady is getting the opportunity to wear makeup.
It's like a game of "Pretty Pretty Princess" — a little glitter here, some eyebrow pencil there and, suddenly, you have a whole new face.
Unfortunately, though, makeup has a tendency to go awry.
There's the Lauren Conrad-esque mascara that runs at your first tear, leaving black streaks down your face, or the crappy concealer that looks like you applied Play-Doh to your pimples.
Lip products, in particular, are the most difficult cosmetics to get right.
The perfect color will be bold without making your face look jaundiced. It'll also have staying power without making your lips feel like the Mummy (post-Scarab beetle).
Have you tried scrubbing off one of Kylie Jenner's lip kits? You'll lose the top layer of skin, too.
According to Sephora obsessives — the most passionate consumer base on the internet — the best matte lipstick on the market is Kat Von D Beauty's Everlasting Liquid Lipstick.
The $20 pick, which has received a mind-blowing 570,000 "loves" from the community, comes in 30 colors that flatter every skin tone.
What's more, the Everlasting Lipstick is known for its all-day wear (no more applying every time you snack) and matte finish.
Reviewers mention their "unhealthy obsession" with the product, and its "beautifully light-feeling" wear.
That's not to mention the pigmentation, which is "the bomb.com."
Because matte lipstick tends to be on the drying side, take precautions when you apply.
Fans recommend layering balm onto your lips first, letting it set for a few minutes before blotting it. Then, apply the Vitamin E-enriched liquid lipstick over top.
Pro tip: I stick a pot of Glossier's Stretch Concealer in my to-go beauty bag, in case of any midday feathering. It's like lipliner for the very lazy.
In case you needed another reason to love the product, Everlasting Liquid Lipstick is both vegan and cruelty free.
Von D's newest shade, a limited-edition brick red, is called "Project Chimps."
A noteworthy 20 percent of proceeds from its sales will be donated to a nonprofit that rescues chimpanzees from medical testing and rehouses them in animal sanctuaries.
Look good and do good at the same time. You can't beat that combination.