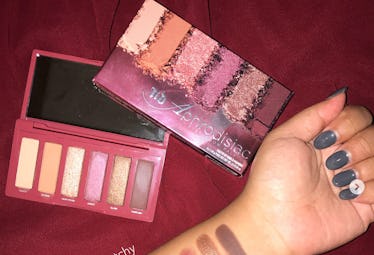 A New Urban Decay Aphrodisiac Palette May Be Coming & It'll Def Get You In The Mood (For Makeup)
In case you havent noticed, Urban Decay has been killing the game lately, and judging by the latest sneak peeks, they've got no plans of slowing down. At the moment, Instagram is all aflutter over newly released swatches and images of what seems to be the Urban Decay Aphrodisiac Eyeshadow Palette, and trust me, it's as enticing as the name implies. While no launch information on the product has been shared as of yet, UD fans are piecing together the story behind this mystery palette, and so far, it sounds like a must-have.
Famous for their original Naked Palette ($54, urbandecay.com) and the Naked collections following its massive success, Urban Decay is no newbie when it comes to creating a palette to make the masses swoon. And while they do come out with quite a few larger palettes — their latest Born to Run Eyeshadow Palette ($49, urbandecay.com) has a whopping 21 shades — the brand has been known to put out some pretty spectacular mini palettes as well.
UD began releasing six-pan essentials palettes with the launch of the Naked Basics Palette (on sale for $19, originally $29, urbandecay.com), an all-matte collection of neutrals necessary for any makeup collection. It was well-loved thanks to the highly-pigmented formula and blend-able shadows, as well as the sleek packaging and convenience for travel. Following its success, they released the Naked2 Basics Palette ($29, urbandecay.com) as a followup. And just this year, they launched the Naked Petite Heat Palette ($29, urbandecay.com) in the same six-pan style, to play off the success of the larger Naked Heat Palette ($54, urbandecay.com).
It's well-known in the beauty community that UD is not only top tier in creating palettes, but that they tend to bang them out fairly often. So when photos and swatches of what looks to be a new six-pan eyeshadow palette made their way onto Instagram via user @swatchyswatchy and beauty insider Trendmood, the excitement was real.
According to the packaging shown in the photo, the product is the Aphrodisiac Eyeshadow Palette, which is aptly named since it's pretty sexy. Aphrodisiacs are considered to be sexual stimulants that get people in "the mood" — foods like oysters and chocolates are two of the most well-known. The science on them isn't totally concrete, but it's a concept accepted by many nonetheless — and a super cute theme for a palette, in my opinion.
@swatchyswatchy's post includes a still shot of the palette, packaging, and swatches, as well as a video showing it all in action (to the tune of Aly & AJ's "Potential Break Up Song," which is a bop). Amidst the excitement, some commenters were curious as to how @swatchyswatchy got their hands on this unannounced newness, with one commenter claiming that some Ulta employees received the palette for free as part of their gratis. It's unclear if that's how @swatchyswatchy got the palette, but however they did, good for you, queen!
But back to the palette itself, which has three matte shades and three shimmers. The mattes are as follows: "Sheets" is a light, beige-y shade; "Beyond" is a warm-toned, peachy brown transition shade; and "Whiplash" is a deep, warm, true brown. The shimmers include "Night Fever," a shimmery, champagne nude; "Addict," a cranberry-fuchsia hybrid, and "Glare," a metallic bronze. Overall, the color story seems bronzy and balanced and looks like it could suit any skin tone.
When @Trendmood reposted the photo, it shot to over 14,000 likes in just seven hours. Tons of commenters who love the smaller UD palettes rejoiced, but there were a few who wrote the Aphrodisiac Palette off as nothing new. One sharp commenter noted that it was awfully similar to Tarte Cosmetics' Tarteist Pro To Go Mini Palette ($23, tartecosmetics.com), and while there are similarities, it seems the UD palette's matte shades appear quite a bit lighter. Plus, the berry red packaging is just such a mood, right?
The brand hasn't made any comment on the new palette, so there's no launch date known as of now. Here's hoping they start talking soon, because this aphrodisiac is really getting me in the mood... to buy!