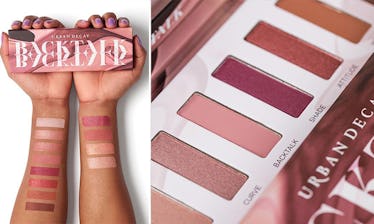 Urban Decay Is Dropping An All-Pink Palette That's Basically Two Palettes In One, So BRB
Urban Decay
Urban Decay has been on a roll with the beauty launches lately, and their new pink palette is already the talk of Twitter. So, when does Urban Decay's Backtalk palette drop? I have a feeling that once it does, it will go quick. Here's everything you need to know about the brand new palette before it hits. Set your reminders — it might be your only shot at getting your hands on the panoply of pink.
It's Monochromatic
Last month, Urban Decay launched the Naked Petite Heat ($29; Urban Decay), which is a mini version of their 12-shade Naked Heat eyeshadow paletette. Even though I didn't think I would be, I'm a huge fan of the warm-hued color story. Aside from being an update to neutrals, it's actually completely foolproof. Everything in it is a different shade of orange, brown or red and it makes creating makeup looks so easy, since all the colors go together so well.
On the heels of their warm-toned Naked Petite Heat launch, Urban Decay is at it again with another monochromatic makeup palette. This time, the color story revolves around different shades of pink and brown, and the looks you can create with it are what Barbie's dreams are made of. Don't think you're the type of girl to pull off pink makeup? See below and think again.
Urban Decay took to Instagram to post, "Monochromatic makeup is having a moment, and Backtalk is here 👏 for 👏 it. From pale pink-nude matte to metallic brown-red, Backtalk features eight eyeshadows and four coordinating shades of blush and highlighter all inspired by our No.1 selling Vice lipstick. Now that's something to talk about 💜."
It's Two Palettes In One
Last year, Urban Decay launched the Naked Skin Shapeshifter ($45; Sephora), a two-sided contour palette that had cream colors on one side and powders on the other, separated by a double-sided mirror in between. I thought it was the most genius packaging ever, and made contouring something you could actually achieve on the go.
The Urban Decay Backtalk palette is similarly designed for dual function. On one side you have eight shades of eyeshadow and the other carries four face powders (two blush shades and two highlighters), which makes creating a full face so easy.
Urban Decay posted on Instagram, "#Backtalk features a double-sided, REMOVABLE mirror that acts as a divider between each side of the palette, so you can master that monochromatic look in no time ✔️💜"
It's Perfect For Packing
One of the biggest reasons I was so obsessed with the Urban Decay Naked Heat Petite was that it made traveling and doing my makeup in the car, on a plane, and between work events so much easier. All the shades I loved from its full-size counterpart were packed into an easy-to-tote palette.
Although the new Backtalk palette is bigger than the Petite Heat set, it's just as convenient to pack. This double-decker palette includes almost everything you need to create a whole face. Throw it in your makeup bag along with a foundation, mascara and lipstick and you're ready to go!
It's Flattering On All Skin Tones
Don't believe me? See the swatches for yourself.
"Eyeshadow shades, top to bottom: 3 Sheets, Bare, Curve, Backtalk, Shade, Attitude, WTF and 180 Blushes/Highlight shades, top to bottom: Cheap Shot, Double Take, Low Key and Party Foul."
Twitter Is Very (Very) Excited About It
Ahead of the launch, beauty junkies on Twitter are already sounding off, and it's making me think the Backtalk palette won't be available for long.
Where will you be when Urban Decay launches the new Backtalk palette on Sephora's website and in-store Mar. 8? If you're not planning to be at your local store, you better have a really good excuse.