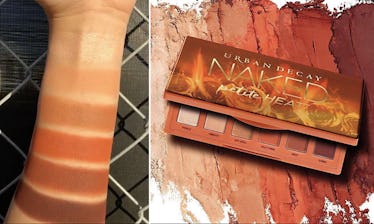 Urban Decay's New Naked Heat Petite Palette Is So Much Cheaper Than The OG, But Still Fire
urbandecaycosmetics on Instagram
When I first saw the photos of the original Urban Decay Naked Heat palette on Instagram, I have to admit, I was not convinced. But from what I hear, there's now a mini version of it. When does Urban Decay's Naked Petite Heat drop? Really soon, and here's how I really feel about the new launch.
I'm a huge fan of the nude lineup from the Naked eyeshadow-palettes past, so when a new collection of reds, oranges and plums released, I just couldn't wrap my head around the concept. I love my matte nudes, natural-looking browns, and subtle shimmers, so I wasn't exactly on the edge of my seat waiting to try it. However, I'm a sucker for new launches, so when I received my own, I actually took it for a spin. And can you believe I became an instant fan? I wasn't expecting to become so obsessed with the super warm hues, but I did. These days, I actually seek out rust-colored shades, coppers and wine-inspired hues to make my brown eyes sparkle (see proof below).
I love this palette so much that I take it everywhere I go. I can't travel without it. Whether I'm taking a week-long vacation or sneaking off on a weekend getaway, I always pack my spicy Naked Heat Palette ($54, sephora.com). However, toting around a 12-color palette isn't exactly practical — especially because I'm already known for overpacking as it is. I've considered depotting my most-used shades and consolidating them into a smaller palette, but I'm a packaging whore and I prefer to keep my favorite products in tact.
Naked Heat Palette, $54, Sephora
Since depotting wasn't an option, I resorted to stuffing the palette into tote bags, suitcases, and purses for my last few trips. I looked silly walking through airports with overflowing luggage, but at least my eyeshadow was on point.
However, all of that is about to change. Urban Decay made an announcement on Instagram today that is about to change how I pack forever. The makeup brand posted this super exciting news Monday morning on their account.
"Little palette, MAJOR🔥🔥🔥. Get ready to create looks that are flat-out-fire with Naked Petite Heat 😍🌶🙌 With 5 matte shades plus one demi-matte highlighting shade, you have everything you need to create endless sizzling eye looks. Check out our IG stories to see when Naked Petite Heat is coming to you! #UrbanDecay"
And get this: they included my favorite shades in the mini version. Though the names are different, I recognize every color. Ranging from a light highlighting shadow to a plum shade and a warm rust color, including everything else in between, you can create all the same looks as the full-sized version, without taking up too much room in your carry-on.
If you're as intimidated by the warm color palette as I used to be, see the swatches for the Urban Decay Naked Petite Heat palette below. While most of the shades look surprisingly natural, I love using plum in place of a stark black shadow for an updated version of the classic smoky eye. And that highlighting shade, "Inhale" is good enough to earn a spot on your cheekbones. I know I'll be swiping it on mine — you know, aside from my brow bone and cupid's bow.
For added inspiration on how to use the warm-colored eyeshadows IRL, Urban Decay posted really good inspiration on their Instagram story. I can literally see myself wearing every one of these looks — I can't even pick a favorite, but this is serious proof that a collection of six shades can be super versatile and that the seemingly unwearable shades are not only easy to pull off, but create final looks ranging from natural looking to completely eye catching.
So when can you get your hands on this super hot launch? Urban Decay announced in their most recent Instagram story that the six-shadow Naked Petite Heat palette will be available in the U.S. beginning Feb. 22. That's only 17 days away! Let the countdown begin. It'll be available on March 1 for those in Canada and Europe and on May 1 in Mexico.
How much can you expect to spend when the palette is available at a location near you? For half the shades, you can pretty much expect to pay half the price. The Urban Decay Naked Petite Heat will be available for $29 and is perfect for those beauty fiends (like me) who love a bargain. If paying $54 for the original 12-shade Naked Heat Palette wasn't exactly in the cards, now you can enjoy equally fiery looks and super-pigmented color without having to drop almost $60 on a single product.
Needless to say, I will be keeping an eye out for Urban Decay's brand new launch and hoping what they say is true, that great things really do come in small packages. So, now the question is, what will I do with all the extra space in my suitcase? Trust me, no matter how little space I'm saving, I will find a way to fill it with something else — seriously! But, thankfully, I won't have to leave my favorite shadows behind when even I know I've gone overboard.