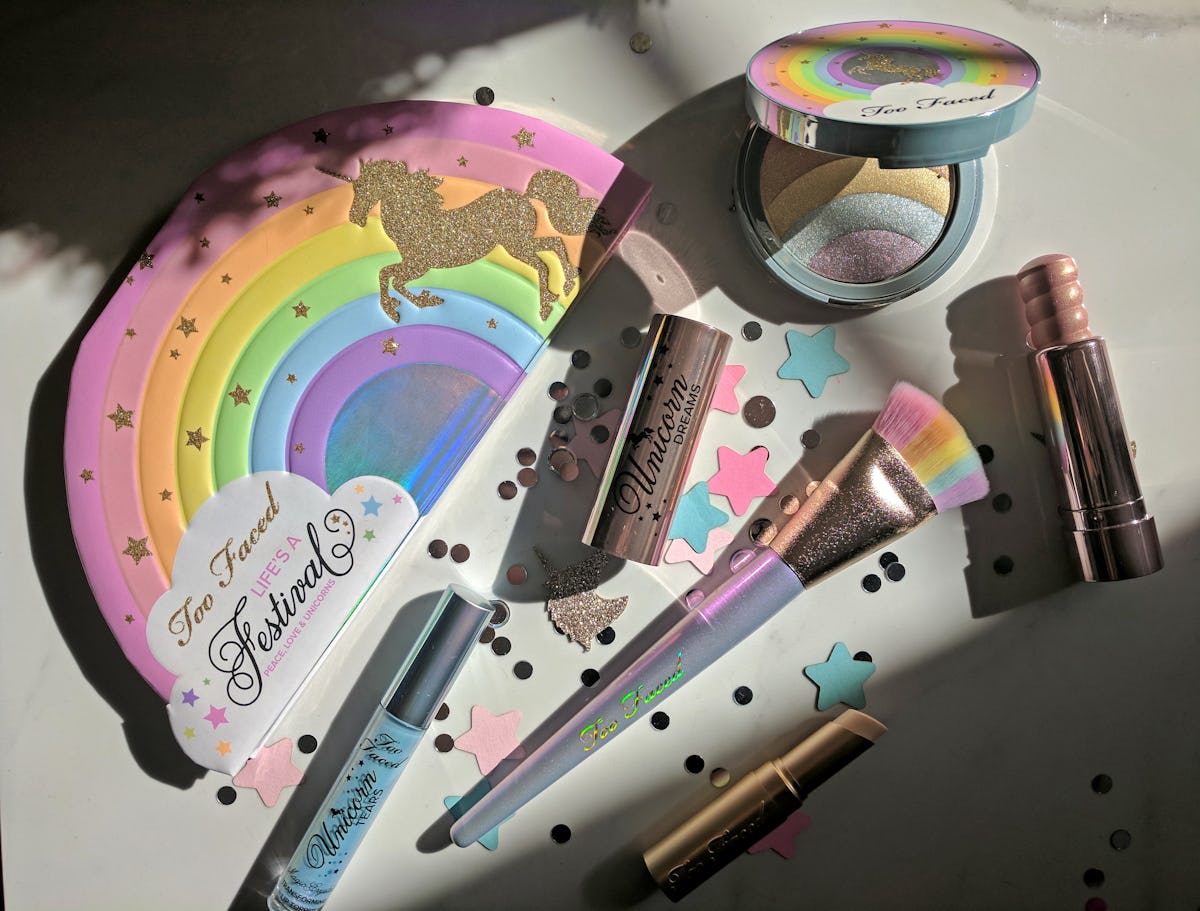 Too Faced Is Dropping An Entire Unicorn Collection Infused With Rose Quartz & It's Magical AF
STEPHANIE MONTES
Just when you thought the unicorn makeup trend was over, a brand new collection of rainbow-colored makeup and sparkly finishes emerges — and trust me, this one was worth the wait. Ahead of its big launch, I was lucky enough to score the colorful products in order to do my very own Too Faced unicorn collection review, and I can hardly contain myself. With arms striped with glittery swatches, I'm here to walk you through the magical makeup staples before they hit Too Faced's website on Feb. 15. Brace yourself because the range includes a 13-pan palette infused with real crystals, magical color-changing lipsticks that are basically a mood ring for your lips, a rainbow highlighter, and a matching brush to stipple yourself silly.
I don't consider myself to be all that adventurous with my makeup, but I can certainly appreciate extra-pigmented shades and girly packaging (and for the record, that rainbow-shaped palette and striped brush will sit on display on my vanity for years to come). That said, the shades in this collection are actually far less intimidating than you'd think (seriously!), but have that extra something for those girls who like to be, well, extra! *wink, wink.*
(Don't play coy, I know you're out there.)
Let's start with the Life's A Festival Ethereal Eyeshadow Palette ($42; Too Faced). Just as the name states, this collection of shadows is inspired by long days in the sun at a music festival, and comes packed with duo-chromatic colors, pops of pearlescent shades, and creamy mattes with names like "Desert Vibes," "Young and Free," and "Artist Pass," — all of which have me dreaming of warmer days at Coachella. For extra dreamy dimension, layer these iridescent shades over each other for a holographic finish worthy of a unicorn at a festival.
What's more: the entire collection of shadow formulas are infused with rose quartz powder(!) for added love energy. Just swipe it on your eyes and feel the vibes.
As an added bonus, the half-moon shaped powder in the center called "unicorn tears" also doubles as a highlighter and is a spin on their best-selling lipstick La Créme Color Drenched Lipstick in Unicorn Tears ($22; Too Faced). It boasts blue undertones similar to the lip color, and will have your cheekbones looking magical AF.
And speaking of highlighters, Too Faced managed to create one that is just as enchanting on the inside as it is on the outside. This rainbow-printed compact houses five colored highlighters ranging from purple to pink. But before you write the Rainbow Strobe Highlighter ($30; Too Faced) off as being too adventurous, know the finish is a colorless sparkle that imparts more of a glow than kaleidescope-striped pattern. The Magic Rainbow Strobing Brush ($34; Too Faced) comes complete with bristles in every color. It's sold separately and almost too pretty to use.
If you prefer a cream highlighter (I know I do), Too Faced's thought of everything (and more). The new Unicorn Horn Highlighting Sticks ($28 ; Too Faced) comes in two blendable and buildable shades, Unicorn Tears (blue undertones—also a spin on the best-selling unicorn tears lipstick) and Unicorn Dreams (pink undertones), but get this: The bullet is shaped like a unicorn horn! It swipes on like a dream and is creamy enough to blend with your fingers, plus it makes for some adorable Instagram shots.
If you're in the mood for some actual magic, there's now such a thing as color-changin' lipsticks. La Créme Lipstick comes in four new "mystical" shades ($22; Too Faced): Mermaid Tears, Angel Tears, Unicorn Tears, and Fairy Tears and they all transform into irridescent shades that change shades depending on the temperature of your body. The '90s baby in me is dying because it's been years since I've come face to face with a mood ring and this is filling that void, while also feeding my beauty-junkie soul.
And if that isn't enough to inspire you to get your shine on, Too Faced is also releasing matching Transforming Lip Toppers ($19; Too Faced) that transform your favorite lipstick shade into a prismatic glitter bomb pretty enough to make your lips take center stage. Layer the two for a shade-shifting lip shade like you've never seen before. Don't believe me? See my swatches below.
Top to bottom: Mermaid Tears, Angel Tears, Fairy Tears, Unicorn Tears.
If this isn't enough to convince you that you can be a magical unicorn, I'm not sure what will. Even I (the girl who is obsessed with neutral colors, matte shades, and nude lipsticks) am inspired to swipe on the holographic glitter and prismatic pigments from my lids to my lips. Suddenly, I have visions of myself dancing at Coachella, wearing "Desert Vibes" and "Fun In The Sun" on my eyes, "Unicorn Dreams" on my cheekbones, and "Angel Tears" lipstick/ lip topper on my lips. Is it spring yet? Sure looks like it.