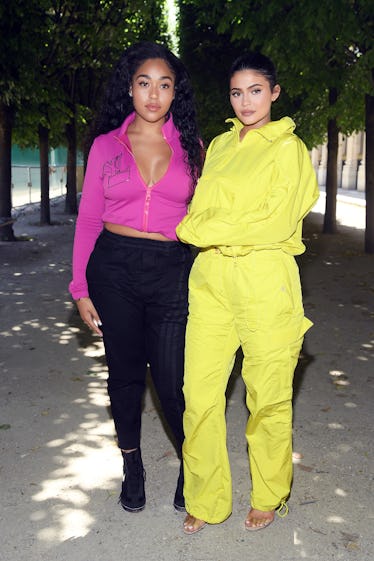 Kylie Jenner Is Releasing A New Makeup Collab With Her BFF Jordyn Woods & I'm So Freaking Ready
Pascal Le Segretain/Getty Images Entertainment/Getty Images
Leave it to Kylie Jenner and Jordyn Woods to be the type of best friends who collaborate on the ultimate business ventures, while my best friends and I collaborate on who can eat the most chicken nuggets. Different strokes for different folks, I guess. Anyway, while there isn't too much to be revealed about the specifics of the two BFFs' new project, it is confirmed that a Kylie Jenner and Jordyn Woods makeup collab is coming soon. Cue my body rejoicing and my wallet drifting into a slow depression.
"Kylie and I have a makeup collaboration coming out soon," Woods confirmed to The Hollywood Reporter at L.A. BeautyCon. "We've wanted to do this since her company first launched [so] we've been working on it for years!"
Again, there's no firm answer on what a collection between Jordyn and Kylie would contain, when it's coming out, how much it'll cost, or virtually any information to quell my anticipation. But at least I'll sleep easy tonight knowing that it's soon to come, and my bank account will sleep easy tonight knowing debt isn't on the horizon just yet.
Lest we forget, the upcoming Jordyn x Kylie collab won't be Woods' first "appearance" in the Kylie Cosmetics arsenal of products. Jenner created a Lip Kit inspired by Woods, aptly named "Jordy," which is a raspberry red shade with a velvet finish. Coincidentally, the shade of the Jordy Lip Kit ($27, kyliecosmetics.com) is also perfectly in line with the sunset makeup trend currently taking over... you know, if you were looking for the perfect time to cop it. JUST SAYING.
Given that Woods is no stranger to the beauty sphere, I felt incredibly lucky to sit down with her a few weeks ago and investigate her beauty routine further. (IDK if you guys know this, but her skin glows brighter than the goddamn sun.) Surprisingly enough, the steps she takes to keep her face look fresh AF are rather simple.
"I am all about moisturizing. The more lotion, the better; the thicker lotion the better," she told me. Of course, she cautions that she doesn't moisturize too much, because it may cause a breakout if you're not careful.
Yes, Woods is always down to moisturize... but she isn't down for a few beauty trends making the rounds out there. (So yeah, it's safe to say you won't catch anything relating to these ~trendz~ in Woods and Kylie's collection.) "There's this furry nail trend," she told Elite Daily. "I was like, 'I'll never try that.'"
As for any other trends Woods can't get behind? The more out-there brow trends. "Just keep your brows! That's the way to do it." Hey, I mean, I get it. Feather brows aren't for everyone.
In addition to her beauty collab with Jenner, Woods has been hard at work developing a collection of her own — an activewear line — which, according to The Hollywood Reporter, should make its debut in August.
"There is definitely some color, some good bodysuits, and [pieces] for all body types; I decided to make the line from XS to 3X," she told the publication.
Regardless of whatever's in Woods and Jenner's future makeup collection and Woods' activewear collection, we all know these two BFFs are always on top of the hottest trends in both the beauty and fashion space. That said, I'm sure both collections will likely be something we can all get behind. (Sorry, furry nails and Nike brows.)