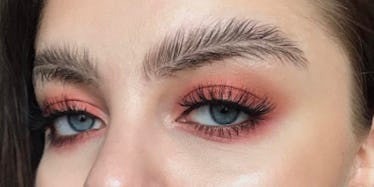 Feather Brows Take Bushy Trend To New Level And Internet's At War Over Results
Instagram
Eyebrows are, like, really important, OK?
It takes serious time, effort and patience to shape them into the bushy, beautifully-shaped, luscious brows that have become all the rage in the world of beauty.
Just when those who've been trying to get a bushy brow finally achieved the look, makeup artists decided to throw another brow-shape into the mix.
It's called the "feather brow" trend, and it's confusing the hell out of people.
I... um... don't know how to feel about this one.
Is this considered trendy? I honestly don't know.
Part of me wants to call the look "bohemian," and the other part of me wants to call the look "weird AF."
Either way, brave souls who have been giving it a try look fabulous. I definitely couldn't pull it off like they can.
Apparently, the trend was started by makeup artist Stella Sironen earlier last week when she shared a picture of her "feather brows" on Instagram.
In order to create the look, she split the hairs in her eyebrow arch down the middle using a glue stick and brushed them out so the brows would resemble a feather.
Voila, I give you #FeatherBrows!
After posting the picture, the weird eyebrow trend went viral and people became inspired to try the feather brows for themselves.
In a matter of days, she's received over 3,000 comments from people who love and hate the trend.
Some people are obsessed with the new trend.
Others are downright confused.
"I'm crying this is not good."
Either way, she seems to be getting a ton of attention for the new, feathery trend.
Apparently, Sironen had no idea the feather brows would go viral, and admitted in another Instagram post that she started the trend as a joke.
However, she's obviously thankful her brow trend caught on, and thanked her followers for commenting on the picture and trying it for themselves.
So... what do you think? Are you brave enough to try them out?
If so, I admire you. Be bold and make the #FeatherBrows happen.
Citations: Pretty or Creepy? Feather Brows Are the Most Love-It-or-Hate-It Trend to Hit Instagram Yet (Marie Claire)