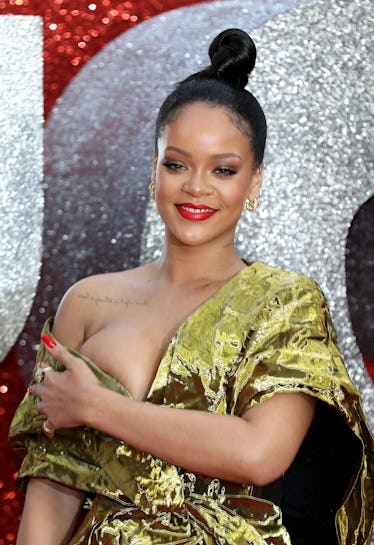 Sunset Makeup Is A New Trend Shining Brighter Than The Sun For Summer 2018
Tim P. Whitby/Getty Images Entertainment/Getty Images
The weather is finally starting to heat up for most of us. And some of our favorite stars are showing us just how to make one particular summer 2018 makeup trend pop! You might have noticed a number of celebs are going for a more natural, bronzy look for their eyes on the red carpet recently, while many have been pairing that look with a perfect bright, red, orange, deep pink (think: the colors of the sunset) lip as well. Because so many celebs are hopping on the "sunset makeup" train, it looks like this trend is here to stay for a little while.
Refinery29 reports that everyone from actresses Lucy Hale to Yara Shahidi and Logan Browning have shown up to a variety of events sporting sunset-esque makeup. Most recently, Grammy award-winning musician and Ocean's 8 star Rihanna rolled up to the UK premiere of the film rocking the look. Naturally, using products from Rihanna's own Fenty Beauty line, makeup artist Priscilla Ono used the brand's Mattemosielle Plush Matte Lipstick in "Ma'Damn" for RiRi's gorgeous red lips, along with the Killawatt Freestyle Highlighter in "Mean Money/Hu$tla Baby" for her eyes and highlight, Refinery29 reports. Talk about product versatility.
Fellow makeup artist Mélanie Inglessis created a similar look for actress Ruth Negga for AMC's Preacher red carpet. While Inglessis seems to have used a more pinkish-bronze color for Negga's eyes, her golden highlight was shining bright that night. Paired with a red lip, braids, and shaved sides, the actress' entire look mimicked a show-stopping sunset.
Though the Parisian makeup artist didn't specify what products she used in her Instagram post, I think this look could easily be recreated using Huda Beauty's Obsessions Eyeshadow Palette in Coral ($27, sephora.com), with Pat McGrath Labs Luxetrance Lipstick in McGrath Muse ($38, patmcgrath.com), and BECCA's Shimmering Skin Perfector Pressed Highlighter in Moonstone ($38, sephora.com).
Another star recently rocking the sunset makeup trend is actress Salma Hayek. Working with beloved British makeup artist Charlotte Tilbury, Hayek paid homage to Mexican visual artist Frida Kahlo at the Victoria and Albert Museum's "Frida Kahlo: Making Her Self Up" exhibition in London.
Luckily for us, Tilbury shared the deets on how to achieve this glam on her Instagram page. To get that mesmerizing eye look, Tilbury's team used Legendary Lashes ($38, charlottetilbury.com) in Supermodel, along with Full Fat Lashes Mascara ($34, charlottetilbury.com). They also used the Sophisticate Luxury Eye Palette ($53, charlottetilbury.com) and Audrey Eyeliner ($28, charlottetilbury.com) for the star. As far as lips go, Kiss 'n Tell Lip Cheat Lip Liner ($27, charlottetilbury.com) and Walk of Fame and Screen Siren lipsticks were blended from the Hollywood Lips line ($39, charlottetilbury.com) to give Hayek's lips some vibrant color.
Now, if like most commoners (me), you don't have celebrity makeup artist friends or a glam squad you can call up, it's all good. There are plenty of tutorials on the web that can help you hop on the sunset makeup bandwagon, whether you prefer a subtle or bold look.
YouTuber JustBrittanyH offered a sunset eye makeup tutorial for those with dark skin, creating an ombre effect that pops! Since this is a much more vibrant look, instead of pairing this eye makeup with a bold lipstick, the beauty guru opted for a nude shade, which is equally as stunning.
Fellow YouTuber Kelly Dare also created a sunset look of her own, but created a tutorial for people with monolids, proving that this is a makeup trend that everyone can enjoy.
So if you're aiming to brighten up your look with a new summer trend, sunset makeup may just be for you. And don't forget, you definitely don't have to follow any set rules or guidelines — just have fun with it and do what works best for you!
So as you spend these summer months outdoors, let the colors of the sky be your prime inspo.