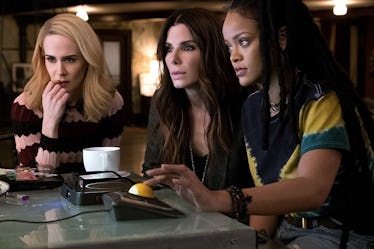 Rihanna's 'Ocean's 8' Character Couldn't Be More Perfect & Fans Are Obsessed
Warner Bros.
When the Ocean's 8 cast was announced, I thought that the movie couldn't get any better. But then I saw the film, and I was like, OMG, this is legendary. Sandra Bullock and Cate Blanchett are amazing as heist leaders, but no one is more perfect for her role than Rihanna. Who is Rihanna in Ocean's 8? The actress/singer/makeup mogul is beyond unbelievable as Nine Ball, a bad*ss hacker who could probably do the entire job on her own, if I'm being honest.
Like Rihanna, Nine Ball is a total expert in her field. Lou (Cate Blanchett) recruits Nine Ball to break into the Met's security system and help cover up the heist. At first, Debbie Ocean (Bullock) is hesitant to trust the dreadlocked, blunt-smoking hacker, but Nine Ball quickly reveals that she's got some tricks up her sleeve: She hacks into the building's lighting system and makes the entire apartment go dark. That's more than enough to convince Debbie that she's the right woman for the job. A star is born!
At first glance, Nine Ball looks nothing like Rihanna. Nine Ball spends most of the movie in an army jacket and jeans, and if you didn't know it was Rihanna under those long dreadlocks, you might mistake her for another actress.
But according to director Gary Ross, the choice to make Rihanna almost unrecognizable was a conscious one — and it came partially from the star herself:
The first conversation she and I had was about leaning into her Caribbean roots. We both love Bob Marley, and I mentioned dreadlocks and she jumped up and down. Then we decided on a green army jacket draped over her. This is just different than Rihanna gets to be in most her public appearances, and she really loved all that.
You know what? I loved it too. As much as I love glam Ri Ri, it's nice seeing her let her hair down (literally) every once in a while.
Throughout the movie, Nine Ball steps into a variety of different hacker shoes. She breaks into the Met's security server with a hilarious dog-filled newsletter (you just have to see it), pretends to be a custodian and plants a recording device on a trashcan, and recruits her sister in the team's desperate time of need. And yes, Nine Ball's sister Veronica is every bit as amazing as you'd expect her to be.
Nine Ball spends most of the actual heist in a halal truck in Central Park, just steps away from the target, the Met Gala. The other seven women in Ocean's 8 are inside completing their various roles, and once they have secured the mark — a $150 million Cartier necklace — each gets to make her grand entrance. And boy, does Nine Ball make an entrance.
As soon as Ocean's 8 hit theaters, fans jumped on Twitter to express just how obsessed they are with Rihanna's perfect role.
Twitter fans aren't the only ones freaking out about Rihanna's performance in Ocean's 8 — her own cast mates are just as impressed. At the Ocean's 8 premiere, Sarah Paulson told Us Weekly that the multi-hyphenate was a joy to work with:
She's this amazing performer and energy when you see her on stage or screen, but in person, she's — I would never use the word shy to describe her — but she has a reserved temperament on our set. She was more quiet. She's also so much fun and totally game for anything and excited to be there, but, very mellow ... I love me some Rihanna.
Anne Hathaway, who plays A-list star Daphne Kluger, also gave Rihanna some love. The actress told Ellen DeGeneres that Rihanna gave her the compliment to end all compliments:
Rihanna looks up and goes "Damn girl you gotta ass!" and I of course was freaked out because I love her so much and I was like "Really?" And she was like "You got an ass like me!"
Ugh, is there anything better than co-stars who love each other?
If you miss your chance to catch Rihanna as Nine Ball in Ocean's 8, I guarantee you'll regret it. Run, don't walk, to a theater ASAP.