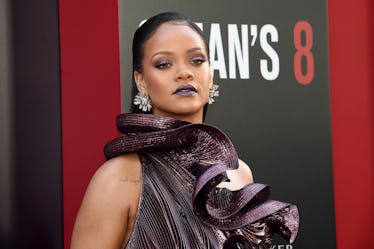 Rihanna Wore Kendall Jenner's Dress To the 'Ocean's 8' Premiere & Looked Fierce AF
Jamie McCarthy/Getty Images Entertainment/Getty Images
Ocean's 8 is the moving I've been waiting for my whole life. It's got bad*ss women, a thrilling plot, and one of the most epic red carpet premiere's I've ever seen. While no jewelry went missing, Rihanna's Ocean's 8 premiere look stole the spotlight fo sho.
Rihanna is a star in practically every sense of the word. She's an award-winning singer, fashion designer, beauty guru, actor, and all around boss. On top of all that, she's a role model to all of her fans. Whenever I'm second guessing anything from a fashion choice to a professional decision, I ask myself: WWRD? What would Rihanna do? In this case, what Rihanna did was give her Ocean's 8 costars a run for their money and shone bright like the dazzling diamond that she is. All of the ladies stunned on the red carpet; the looks included everything from an all-over multi-color sequined suit to a neon green fringed gown. It is my opinion, however, that Robyn Rihanna Fenty will win almost every red carpet onto which she steps. Case in point: Rihanna actually re-wore one of Kendall Jenner's looks and still managed to make it look fresh to death, almost as if she were the "Only Girl (In The World)" to ever wear it.
The star wore a shimmery purple Givenchy dress with a matching clutch and shoes. Does the dress look familiar at all to you, though? If it does, you're not wrong.
Kendall Jenner wore the same dress on the June 2018 cover of Elle. In the magazine world, each issues come out a month ahead of time, so this June issue actually came out in early May, almost a month before Rihanna's red carpet appearance. The women each put their own spin on the dress, but I'd say they're #twinning nonetheless.
My completely imagined conversation between Kendall and RiRi.
Along with the popular dress, Rihanna wore practically every Fenty beauty product there is. Rihanna's makeup artist, Priscilla Ono, explained on Instagram how RiRi got her glow. Using all Fenty products, Ono started with Pro Filt'r Instant Retouch Primer ($32; sephora.com) and Pro Filt'r Soft Matte Foundation in shade 340 ($34; sephora.com) to even out RiRi's complexion. Ono applied Match Stick Matte Skinstick ($25; sephora.com) in Peach as a concealer and Mocha for contouring. Rihanna's blush was created using the Killawatt Freestyle Highlighter in Ginger Binge/Moscow Mule ($34; sephora.com). Invisimatte Blotting Powder ($32; sephora.com) finished off Rihanna's look and ensured she was photo-ready (even though she naturally always is).
There's no confirmation yet on what products Rihanna chose for her eyes and lips, unfortunately. Based on my expert knowledge of all things Fenty though, I'd say you could get a similar eyeshadow look using a mix of hues from the Fenty Galaxy Eyeshadow Palette ($59; sephora.com). On those beautiful lips, I have a hunch Rihanna is wearing her Summer Nights Iridescent Lip Luminizer Trio ($32; sephora.com). And to top it all off, the Bad Gal's arms look particularly shimmery, likely due to some Fenty Body Lava.
Needless to say, this is Rihanna I'm talking abut and if history hints at anything, it's that the songstress is possibly even wearing not-yet-released Fenty products on her eyes and lips.
She's sneaky like that.
Rihanna was just the tip of the iceberg at the Ocean's 8 red carpet premiere, TBH. From left: Cate Blanchett in Missoni, Awkwafina in in Reem Acra, Sarah Paulson in Prada, Anne Hathaway in Jean Paul Gaultier, Sandra Bullock in Elie Saab, Mindy Kaling in Prabal Gurung, Helena Bonham-Carter in Vivienne Westwood, and Rihanna in Givenchy. The actors each looked sublime in their own right, and as a group, it was a magnificent sight.