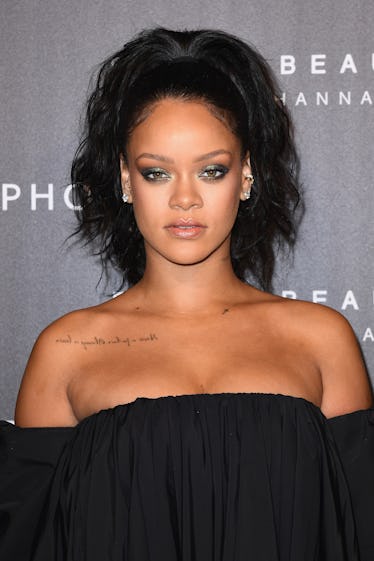 Fenty Beauty's "Fairy Bomb" Shimmer Pom Pom Is The Sexy Version Of Your 8th Grade Staple
Pascal Le Segretain/Getty Images Entertainment/Getty Images
Rihanna was at the top of her music career when she decided to start making some of the best d*mn beauty products out there. Fenty Beauty continually kills it, and the newest crop of products is no different. If you're wondering, "When does Fenty Fairy Bomb drop?," I've got answers.
It's not "Complicated," I love the way Rihanna does everything, as if she's the "Only Girl (In The World)." I would've been perfectly happy if RiRi simply continued to serenade me with her angelic vocals, but she's basically redefined the term "boss" and I wouldn't be surprised if she's plotting actual world domination. Fenty Beauty was the breakout new brand of 2017, and aside from teaching the latecomers what Rihanna's real name is, the brand set a higher inclusivity standard for the makeup industry.
Fenty Beauty Pro Filtr Foundation ($34; sephora.com) is available in a remarkable 40-shade range, Rihanna's Mattemoiselle lipsticks ($18; sephora.com) come in essentially every color under the rainbow, and everyone's favorite bad girl is yet again launching multiple new products.
Among the upcoming drop: a Fenty Body Luminizer that comes in two shades, a kabuki brush, and what I think is the most exciting announcement, a Fenty Fairy Bomb pom-pom filled with glittery goodness.
The Fenty Beauty Instagram was lit with the new product teasers, and after showing off the two body luminizers and a new brush, a mysterious package appeared. "Guess what's in here?" I was immediately caught in Riri's glitter trap.
"Meet my #FAIRYBOMB," and cue my gasp. My next thoughts: What's a fairy bomb? Does that even matter? Rihanna made it, so where and when can I get it?
"#FairyBomb is packed with shimmer inside." OK yeah I'm gonna need one ASAP. Rihanna divulged that the fluffy poof is not only a fun toy to squeeze, but that it's filled with body shimmer. You don't have to deal with messy loose glitter, it's already in there!
"A lil puff puff pass." Don't mind if I do. Oh, you meant, the makeup, well, that's even better.
It's no secret that Rihanna likes to puff on another substance, and I'm living for her coy hint at that here.
"Will you be puff puff passing with the homies?!"
RiRi asked her fans if they'd spread the love ("sharing is caring") or keep it all to themselves ("nah, more for me"). I voted to share because I'm benevolent, but at that time, 79 percent of the poll chose to keep the fairy dust all for themselves. D'ope.
Look. At. That. Glow. Oh, she already said that. Rihanna "dusted" herself with the metallic Fairy Bomb glitter and she is shining bright like a godd*mn canary diamond.
Twitter was just as into this shimmery, fluffy pom pom as I am.
"Gurl gimme fairy bomb and imma love u forever," Rihanna fans are easy to please.
"Fairy Bomb - A glittering Pom Pom. @fentybeauty is going strong with new products!!" Strong, indeed.
"So about it 😍 Peep the fairy bomb on her story today 👀." One fan was making sure everyone knew about the exciting news.
"@rihanna's fairybomb looks fire af." It's gonna be lit.
"I've already thought of every inappropriate spot I am going to use the #FairyBomb so I need it A S A P 😍🙌🏼✨ @fentybeauty @rihanna," said one Twitter user. I feel like this would really make Rihanna proud.
Props to Fenty but I'm also really on board with that goal.
Yup, need.
Maybe Rihanna's Swarovski dress inspired the products!
The Fairy Bomb and other new products are part of Fenty's Beach Please summer collection and will be sold at Fenty Beauty, Sephora, Sephora at JCPenney, and Harvey Nichols beginning April 6. Consider my calendar marked.