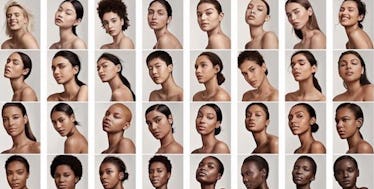 Everything You Need To Know About All 40 Of Rihanna's Fenty Beauty Foundation Shades
Courtesy of Fenty Beauty
Finding the perfect shade of foundation can be daunting. If you luck out enough to find a formula with the kind of coverage, texture, and ingredients you're looking for, you better hope it comes in a shade close to your skin tone. Shoppers will compromise one desire for another, and many times end up mixing a formula with moisturizer or layering with other products to get the necessary coverage. That was until our collective foundation fairy, Robyn Rihanna Fenty, launched a makeup line on Sept. 8 that actually lived up to the hype. Rihanna's Fenty Beauty foundation comes in 40 shades, from the lightest pale to the deepest dark, and several have already sold out.
According to a statistic generated by Poshly, 60 percent of consumers report difficulty finding a foundation that matches their skin. RiRi's Fenty range hopes to rectify that by ditching ambiguous color names like "terracotta" in favor of number-designated hues starting at 100 (lightest) and ending at 490 (darkest). Along the gamut, each color's undertones are also described as neutral, yellow, warm, very warm, cool, red, very red, and so on. Right now, Rihanna's darkest shades are flying off the shelves, which makes sense given the beauty industry's historically disappointing offering of deep shades. Shakes head. 
Color Rihanna not surprised. The expansive line was her passion project, and she didn't want to exclude any particular skin tone. "I wanted things that I love. Then I also wanted things that girls of all skin tones could fall in love with," Rihanna told Refinery29.com. "That was really important for me. In every product I was like: 'There needs to be something for a dark-skinned girl; there needs to be something for a really pale girl; there needs to be something in-between.' There's red undertones, green undertones, blue undertones, pink undertones, yellow undertones — you never know, so you want people to appreciate the product and not feel like: 'Oh that's cute, but it only looks good on her.'"
Beyond the pigment, Fenty classifies the Pro Filt'r Soft Matte Longwear Foundation formula as a "soft matte" with "buildable, medium to full coverage." The ingredients are heavy on lightweight hydrators like glycerin (a classic moisturizer) and dimethicone (a silicone, really slippery ingredient found in everything from smoothing primers to anti-frizz hair serums), with a small smattering of tropical fruit extracts like pineapple and papaya. I had the privilege of attending Fenty Beauty's launch party with RiRi, and testing out the skin perfecter myself. It's slightly more liquid-y and viscous than other foundations, but it doesn't roll around on your hand like a dropper foundation does.
I picked up a color that looked close to my typical foundation and swatched it on my hand. It looked a little too dark. That's when a brand-trained makeup artist suggested shoppers opt for a slightly lighter color than the bottle shows. "It's like painting a wall," the friend of RiRi explained, "as the foundation dries it gets a a bit darker." She recommended shade 280 for my beige-y skin with cool undertones. It applies with my fingers just fine, but looked more even and airbrushed when I stippled it on with the brand's Full-Bodied Foundation Brush ($34; fentybeauty.com).
Across the country, fans are absolutely obsessing over the formula, ordering it up like it's a beautifying tequila and prompting a sold-out situation. The first shade to disappear? Fenty Pro Filt'r Soft Matte Longwear Foundation in #420 sold out on both Sephora.com and Fenty Beauty's website yesterday, and something tells me that number pleases RiRi. The shade is described as "for deep skin with neutral undertones," and it's in the deep category.
Fenty Pro Filt'r Soft Matte Longwear, $34, Fenty Beauty  
Now, the additional consecutive three shades of  #430, #440, and #450 are all unavailable on both Fenty's and Sephora's websites, and although you may be able to snag 'em at a brick-and-mortar Sephora store, I wouldn't bet on it. But don't go getting sad and DMing @badgalriri to complain, because Fenty's foundations will come back just like Drake. A kicker running across website reads, "We'll be right back: Expect out-of-stock items to be back in just a few days."