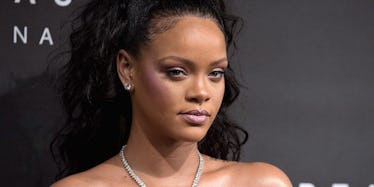 Rihanna Posts Savage Meme On Instagram For Fans Who Don't Know Her Last Name
Chris J Ratcliffe/Getty Images
Rihanna's reaction to fans about something pretty simple that everyone should already know is hilarious, but at least the mystery is settled once and for all. What's Rihanna's last name? If you're a true fan, you'd know it, but you would be surprised how many people have no clue.
Listen up, y'all, because this is probably the last time Rihanna is going to talk about it. It all came about because people were wondering why Rihanna's Fenty X Puma clothing brand and Fenty Beauty collection carried the name Fenty.
Duh. It's her last name. Did you know that? I, admittedly, never even thought about it, much like other one-named celebs, it never crossed my mind. Rihanna is just... Rihanna.
Rihanna isn't even her first name, which most people (I think?) already know, and she goes by her middle name. The singer's full name is Robyn Rihanna Fenty.
Rihanna talked about her first name in a 2011 Rolling Stone interview, explaining that hearing "Robyn" really brings her back to reality:
I get kind of numb to hearing Rihanna, Rihanna, Rihanna. When I hear Robyn, I pay attention. Robyn is the brick to my foundation. It's something I hold on to. It's everything I grew up with, my childhood, Barbados, people close to me. Everything that's familiar. People know Rihanna from my music. But if this were to all go away tomorrow, I would always look at myself as Robyn.
Wow, what a down-to-earth, remember-where-you-came-from concept. That's pretty refreshing, given that Rihanna is such an A-lister.
Rihanna took to Instagram to slam fans who had no idea about her last name, with one epic side eye and this caption: "when people ask how I came up with #FENTY @fentybeauty." 
Perfection.
As fans have discovered Rihanna's last name this week, there was an outpouring of shocked and freaked out reactions on Twitter, so why not round up just some of the gems to fall out of this whole thing?
First up? Mind = blown.
Another fan tweeted: "I WAS SHOOK NOT KNOWING RIHANNA'S LAST NAME IS "FENTY" WOAHHHH." A lot of people were shook over the crazy discovery.
Others expressed how the whole thing made them feel a little dumb for not knowing, such as this Twitter user, who wrote: "Fenty is Rihanna's last name... all this time i thought it was a slipper brand that collaborated with her hahaha i feel so uncultured."
Still others hoped they weren't the only one who didn't know about her last name, with one fan tweeting: "Pls tell me I'm not the only one who didn't realize Fenty is Rihanna's last name." You are not alone.
And this poor fan was just confused entirely (though I can understand the mixup), explaining: "I just realized how much I hate myself... this whole time I got Fendi mixed up with Fenty and didn't realize it was her last name."
Another fan felt pretty sad for not being in the know, tweeting: "FENTY IS RIHANNA'S LAST NAME SAY WHAT I am the worst fan ever."
This fan pointed out that, really, with the internet at your fingertips, this last name info shouldn't be a surprise, tweeting: "people really didn't know Fenty was Rihanna's last name? she's been in the game for over 10 years. its 2017, we have smart phones & Google."
Another person made a dig at Rihanna's fanbase, tweeting: "That feel when certain 'biggest fans' didn't know Fenty was Rihanna's last name, but you as a casual fan have known for years #HowDoYouNot."
At least one fan found it inexcusable, tweeting: "Y'all really just found out #Fenty is @rihanna's last name? Get out. You're cancelled."
If you already knew that Rihanna's last name was Fenty, I'm impressed. If you're just discovering this for the first time, I'm with ya. The more you know...
Check out the entire Gen Why series and other videos on Facebook and the Bustle app across Apple TV, Roku, and Amazon Fire TV.