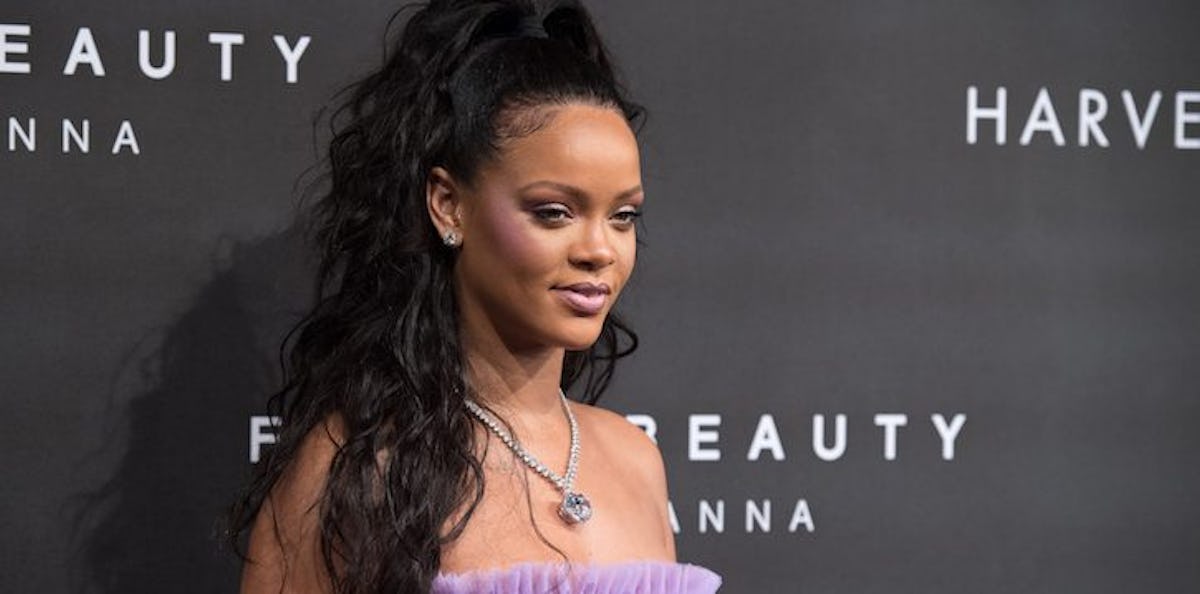 Rihanna's Dropping A Fenty Beauty Holiday Collection, So Go Ahead & Take My Money
Getty/Chris J Ratcliffe
The holidays came early. Two weeks after the astonishingly successful launch of Rihanna's Fenty Beauty, the inclusive, encompassing makeup in chic packaging is turning out to be the gift that keeps on giving. Rihanna Fenty Beauty Holiday Collection was just announced on Instagram, and hot damn, does it look sick.
The brainchild of Robyn Rihanna Fenty already consists of 12 products, including a range of 40 foundation shades and over 15 highlighter hues. Fenty Beauty reviews have been nothing short of rave, and Sephora can't keep Fenty Beauty in stock on shelves. For her big holiday reveal, RiRi first teased a glitter-packed video on Instagram featuring a holographic eyeshadow palette with 14 colors. The powder shadow shades look absolutely fire, with mermaid blue, poppy pink, and even red colors that boast an iridescent glimmer. The sleek rainbow effect of the palette's packaging is so glorious, it looks even sexier than the new iPhone X.
In the second shared shot, we see the full bounty of Rihanna's goodness, and it's breathtaking. Every single product is cloaked in prismatic packaging with purple accents. When Fenty launched on Sept. 8th with only one lip product, Gloss Bomb, a rosy-neutral with serious shine factor, the internet was collectively disappointed. Now, we see that the wise Rihanna kept us waiting for a reason. The holiday collection contains at least four pastel lip colors in light peach, lilac, pink, and purple. Given that Gloss Bomb has an actually addictive peachy flavor, I'm salivating just looking at the new lip hues.
Another glaring omission from Fenty Beauty's first round? Eye makeup. While you can technically repurpose her Match Stix Shimmer Skinsticks highlighters across your lids, there isn't a dedicated eye product in the lineup. But cat eye devotees are literally about to die, because for the holiday release, there appears to be a liquid eyeliner with a long felt applicator tip. This is next level eye sexiness on a stick.
Match Stix Shimmer Skinstick, $25, Sephora
What about the pink and orange marbled tubes on the left hand side of the shot? Currently, the identity of those is anyone's guess. New glosses? Lip oils? Colored mascaras? With a playful and adventurous makeup queen like Rihanna at the helm, the possibilities for pretty are simply endless. All I know is that I can't wait to find out.
How long will we have to wait before we can get our hands on this magical makeup? I have amazing news. While designated as a holiday launch, which in the beauty world typically means during the month of November, Rihanna's new Fenty lineup is more of a Halloween special. It will be in stores and at Sephora.com on Oct. 13th, a little over three weeks from today. Way more treat than trick, if you ask me. It's also worth noting that when one hears the words "holiday makeup," frosty white shadow, classic red lipstick, and gleaming gold sparkle come to mind, and this collection is the pure opposite of that. With her fresh, ripe shades and festive-without-relying-on-stereotypes packaging, RiRi just keeps reinventing the beauty wheel for a new generation.
Based on the prices for the existing collection, you can expect these new glam-givers to cost anywhere from $18 to $54 dollars. Considering that numerous shades of Fenty's Pro Filt'r Soft Matte Longwear Foundation are already sold out on both Fenty's website, Sephora.com, and Sephora stores, if you are jonesing for the new line, I would set an alarm for midnight on Oct. 13th.  RiRi's showstopping eye palette is especially susceptible to sell out, given its sheer pulchritude and the fact that palettes dominate the holiday gifting scene. Plus, who doesn't want sultry eyes and a sly smize like Rihanna? That was a rhetorical question, because everyone does.
What a major moment for Fenty Beauty, announcing another collection this soon after its debut. If this is any indication, our future selves will don Fenty makeup on every part of our faces, and soon.
Is there a higher beauty power than Rihanna right now? I think not.