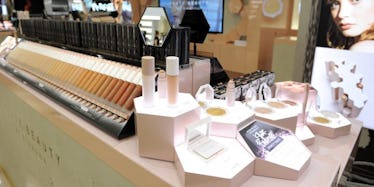 Fenty Beauty Reviews Are In And Get Ready To Kiss Your Money Goodbye
Getty/Shirlaine Forrest
People on the internet have a lot of opinions. Just scroll through the comments section of any news organization, celebrity Facebook page, or Instagram model. The vast majority of time, I recommend taking the musings of near-anonymous Internet users with a grain of salt, unless you're looking for sheer entertainment value or just want to feel better about yourself. But in the case of the valuable insight divulged in Rihanna's Fenty Beauty reviews, I suggest you sit up, pay attention, and stay awhile.
With her inclusive campaign and encompassing shade range, Rihanna has zapped the beauty industry out of a sleepy period and into overdrive. Everyone is talking about the Fenty products, which were launched on Sept. 8th, and we're just now seeing thorough reviews from everyday beauty consumers. If you're not a makeup artist or beauty pro, this kind of assessment can prove invaluable in determining if you really should shell out the dough for RiRi's go-t0 radiance-giver.
Based on what the Internet has had to say thus far, I regret to inform your wallet that it's about get hit, hard. Nearly every member of Fenty's lineup has an almost-perfect rating on Sephora's website and throughout the interwebs. Here's a glimpse into some of the highest ranked players, and to be fair, a peek at the lowest.
1. Gloss Bomb Universal Lip Luminizer, $18
After announcing Fenty Beauty's extensive foundation range of 40 shades, I honestly though RiRi completely lost her mind when she revealed her only lip-dedicated product comes in one shade. Cray, right? Fenty Beauty offers one lip gloss, intended to be a universally flattering neutral with boss-level shine. "For the gloss, I wanted a color that would work well on all skin tones," Rihanna told Refinery 29. "It took awhile, and we had to switch things up to get the right texture, the right smell even. We came to this perfect, rosy-nude that had a little bit of shimmer. It gives you something, but it doesn't look like you're doing the most."
Looks like her one-size-fits-all approach paid off: Gloss Bomb Universal Lip Luminizer is a fan-favorite, with reviewers praising its non-sticky consistency, delicious peachy scent, and jumbo-sized wand.
The verdict: Five stars out of 942 reviews at Sephora.com.
2. Killawatt Freestyle Highlighter, $34
RiRi's line offers two varieties of highlighter to please our strobing souls: the cream Match Stix Shimmer Skinstix, and the powder-Killawatt Freestyle Highlighter. I tested out the Match Stix highlighter at Fenty's launch party, but the guest of honor, RiRi herself, opted for Killawatt Freestyle Highlighter in Trophy Wife, a metallic gold. In total, the powder variety comes in four shade duos and two full-compact singles. "You can use this on any part of your face — your eyes, your cheeks, your nose bridge, your collarbone," explains Rihanna. "I like to use it on my body as well because it's such a high sheen. You look at it and think, 'Is it going to deliver? … Is it going to deliver?' Then — bam! — it delivers!"
As for how testers are reacting, adjectives like buttery, beautiful, unique, and extra are being thrown around with abandon. One woman tried it on Sephora, went to dinner with her husband, and then returned to purchase it after he told her she was glowing. The buildable formula is praised for its long-wearing capabilities, and while some find it "intimidating" in the package, they love how it looks on their skin. In the battle between the line's two highlighters, Killawatt wins with a tiny half-star margin over Match Stix.
The verdict: Nearly five stars out of 685 reviews on Sephora.com. 
3. Cheek-Hugging Highlight Brush 120, $32
Out of 16 total products, Fenty offers customers six different applicators. It's like RiRi wanted everyone to feel comfortable applying her makeup, so she chocked it full of sponge, brush, and portable tools. There's an egg-shaped makeup sponge, two baby brushes for concealing and highlighting on-the-go, a foundation brush, and this curvy cutie. The Cheek-Hugging Highlight Brush is angled to contour perfectly to your cheekbones and evenly distribute shiny stuff precisely where you want it to go.
According to Sephora, Rihanna adores the shark tooth-shaped design and how it allows users to highlight at unexpected angles, like down the bridge of the nose. Testers rave that the shape sets cheekbones aglow in one swipe and that the bristles are so soft that they feel like a kitten against your skin. One even wrote that it "hugs you in the all the right places," so rawr.
The verdict: Five stars out of 56 reviews at Sephora.com.
4.  Pro Filt'r Soft Matte Longwear Foundation, $34
The most-viral, widely-discussed big kahuna of Fenty is the Pro Filt'r Soft Matte Longwear Foundation. As you may already know, it comes in an astonishing 40 shades, from the lightest light to the deepest dark, and undertones are denoted for each hue. Classified as a soft matte, the liquid-y formula builds to either medium or full coverage.
Foundation is one of the trickiest beauty products to nail because people's desires and skin types vary greatly. Keep that in mind while you let it sink in that the entire world is obsessing over this formula. The deeper shades are being hailed as a much-needed revelation in the beauty sphere, and naturally, shoppers are loving 'em. But perhaps more surprisingly, the spectrum of light shades is also receiving accolades from beauty bloggers and women with albinism.
Reviewers note that it covers acne scars, works on oily skin, and looks the same in all lighting. They also have a few words of advice: Get yourself shade matched in store, go lighter than you think because the foundation darkens as it dries, shake the bottle well before pumping, and apply less than you think you need.
The verdict: Four and a half stars out of 1,637 reviews at Sephora.com. 
5. Invisimatte Blotting Paper, $16
This cute little product looks like a tiny printer, but is actually a lipstick-shaped mirrored compact that spits out portable blotting sheets. It's a pretty sick upgrade to your typical pack of oil-absorbing paper, in my humble opinion. Inspired by traditional Japanese paper, the roll comprises natural botanical fibers and tears off into whatever size blotter you need.
Reviewers claimed "this stuff could dry out an entire pizza" and called it amazing, adorable, and discreet. Others weren't so into the tear-it-yourself mechanism, and felt the whole package was just too small and inconvenient. Out of every Fenty product, the chic blotting roll has the lowest reviews, which are still pretty decent.
 The verdict: Three and a half stars out of 22 reviews at Sephora.com.