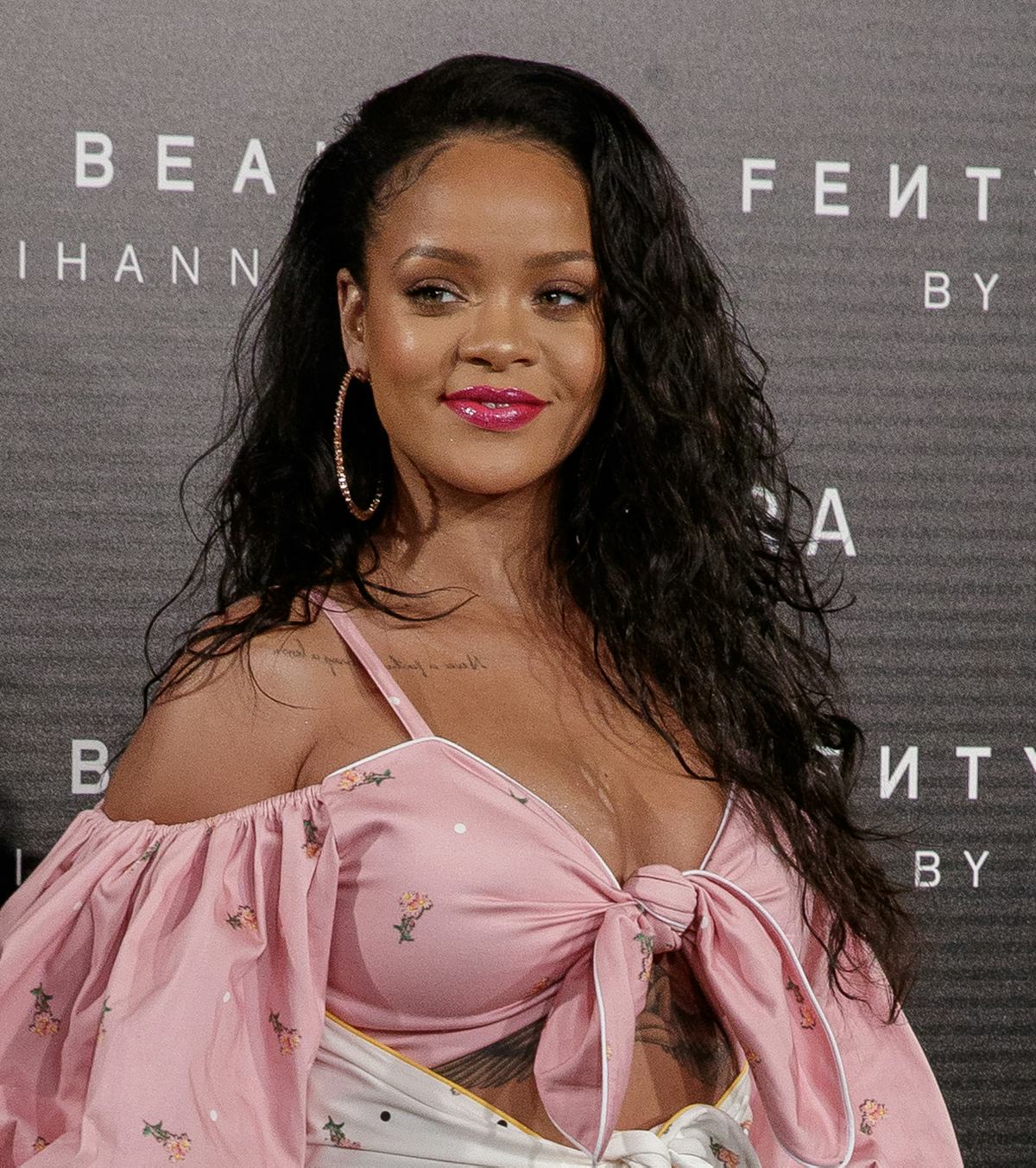 Rihanna's New Matte Lipsticks Are Dropping On THIS Holiday, So Start Saving
Eduardo Parra/Getty Images Entertainment/Getty Images
RING THE ALARM, because RiRi just made all of your holiday wishes come true. The music and beauty mogul just announced that she will soon be dropping a new range of matte lipsticks, and I think I believe in miracles again. When do Fenty Mattemoiselle lipsticks launch, you ask? I'll give you a hint: Santa's elves will be working overtime this year.
Considering Rihanna dropped her most recent Fenty Beauty product, the Stunna Lip Paint, on Nov. 23, which is Thanksgiving Day, you might be thinking that the lipsticks will similarly drop on Dec. 25, Christmas Day. But for reasons unknown, she's decided to stretch the holidays out a little bit further and release the new line on Dec. 26, aka Boxing Day. I always get depressed as soon as Christmas is over, so this is a true gift, in my opinion.
Now, let's get to the fun stuff. The lipsticks come in geometric metallic tubes that look to be similar, if not identical (save their color), to those her previously released Galaxy hues come in. Their super-sleek design is thinner than regular tubes of lipstick, which I prefer. I feel like thinner lipsticks allow me to apply the color with greater precision and fewer mistakes. Then again, my lips are also super thin, so that could be why.
The actual matte shades seem to literally span every color of the rainbow, ranging from a periwinkle blue to a bright purple to a pumpkin orange to a deep burgundy. There are 14 shades dropping in total, meaning you're guaranteed to find something you like, no matter your day-to-day look. Just as Fenty Beauty dropped a foundation for everyone, it seems the brand is launching lipsticks with the same goal in mind.
As someone who almost exclusively wears matte lipsticks, I can't wait to see how RiRi's formula will apply, and whether or not it will totally dry out my lips. If the quality of her past products is any indication, I have a feeling it'll be pretty spot on.
While it's unclear exactly how much each tube will cost, I'm guessing it will be in the same ballpark as the Galaxy shades, which retail for $19. It's no drugstore price tag, but it'll undoubtedly be worth it, and it's still $19 cheaper than a tube of Chanel lipstick would run you.
If you're an avid Fenty Beauty fan, then the announcement of the drop probably isn't coming as a total surprise. Rihanna has been teasing shades from the collection on social media, having posted a photo of herself in the periwinkle shade as recently as Dec. 8 with the caption, "Ya dig?" In the photo, which is f*cking fabulous (she wears a periwinkle fur coat, purple shades, and is dripping in silver jewelry — would you expect anything less?), the hue looks gorgeously opaque and maybe even a little creamy, though it's hard to tell.
As you can imagine, Rihanna's fans absolutely freaked out about the announcement, as they have done with every Fenty Beauty launch. One Instagram user commented, "I'm going broke for real," while another wrote, "Get in my makeup bag!!!" Same, and same.
Unsurprisingly, Twitter exploded with similar excitement. A lot of users tagged Kylie Cosmetics in their reactions, pointing out that competition between Kylie and RiRi's lines is about to get a whole lot stiffer. Many Fenty fans were angered by Kylie's recent announcement that she'd be releasing a line of concealers for every skin tone, as they saw it to be a direct ripoff of Fenty. As you can imagine, things got savage. IMHO, there's plenty of room for anyone who wants to make shade-inclusive makeup on the market.
See some of the best reactions below:
If you can't wait to get your hands on RiRi's Mattemoiselle line, the lipsticks will be available for purchase at Sephora's website and Harvey Nichols' website starting at 9am EST on Dec. 26, and in the brick-and-mortar stores whenever they open.