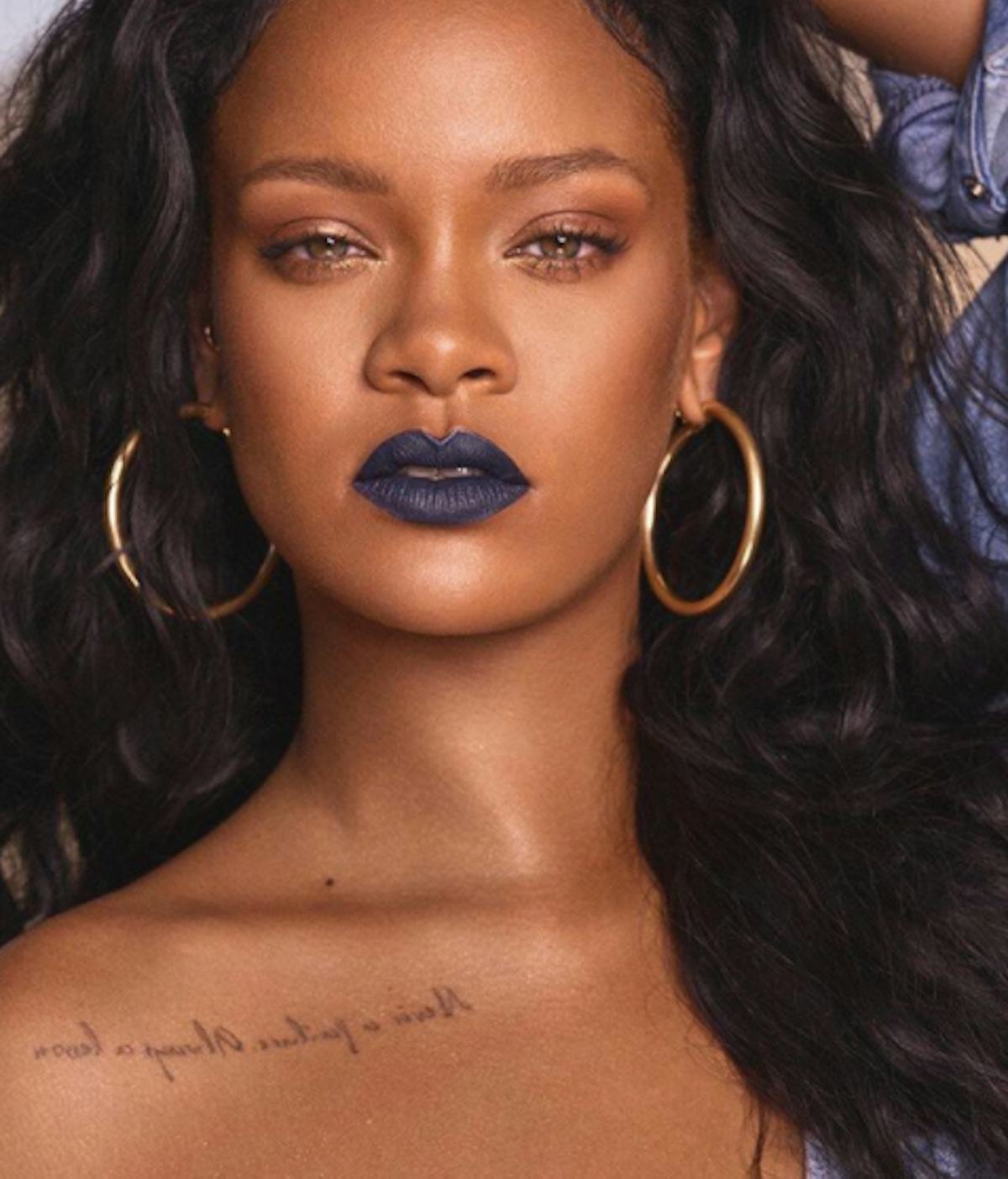 Rihanna Teased New Fenty Lipsticks On Instagram & Caught Us All In Her Thirst Trap
The inaugural launch of Fenty Beauty only happened in September, but now, I feel like I wasn't really living back then. Rihanna, the benevolent creator of the boundary-breaking makeup brand, has already blessed us so much, but she's continuing to improve our collective quality of life. Case in point: New Fenty Beauty Mattemoiselle lipsticks are on the way and fans are nearly foaming at the mouth.
As a year, 2017 has had its fair share of bumps, to put it lightly, but one shining beacon of bliss came from my, and what should be everyone else's, favorite bad girl, RiRi. The Barbadian beauty is the gift that keeps on giving — my enduring thanks to Jay-Z for discovering Miss Fenty and delivering her to my life. From her addictively popular music, to her multiple and always successful fashion ventures, to her newest hit, Fenty Beauty, Rihanna can't stop, won't stop, and I don't want her to.
About three months ago, Riri took my world by storm with the release of her first Fenty Beauty products — they were so damn phresh that all my other makeup immediately went stale. Then, I had just barely settled back into normalcy when she announced the Fenty holiday collection. My credit card cooled down once more, but the girl didn't even give me "FourFiveSeconds" to regain my composure before she announced her Stunna Lip Paint. I was, naturally, stunned and shook.
And now, Rihanna Robyn Fenty (yup, that's where the name comes from, c'mon guys) is unapologetically launching 14 new matte lipsticks. B*tch better have my money, because I'm going to need it to buy every one of the sick new shades.
Love The Way You Lilac
Rihanna recently posted this pic on her personal Instagram page, and I was all like, whoa the girl is looking fierce, how cool is it that her lipstick matches her jacket? But then the Fenty Beauty Twitter account also posted it. This has to mean that it's a soon-to-be released color, right? The photo has the same caption on both Rihanna's personal page and Fenty's account, reading, "Ya dig?!" Is Rihanna asking for my opinion? If so, yes, I dig.
Where Has This Lipstick Been All My Life?
Rihanna continued to have her fun teasing fans with this candid post, captioning it "candy venom." For all I knew, candy venom could be some new hip slang I'm not up on. However, the Fenty Beauty social media pages came to my rescue when they too posted the picture. Their caption had the tiniest bit more intel, "Candy venom for ya." Candy venom, for me?? I really hope so!
I Found Lipstick In A Hopeless Place
Ever-knowing beauty news guru page TrendMood got their hands on some noteworthy photos. Their post reads, "When @rihanna gives u a #SneakPeek 👀💄 u know u will be checking all the tags and #s 😜 could this be a NEW @fentybeauty product? A Black or Navy Lipstick (which looks matte with maybe purple undertones) #ComingSoon."
This bombshell tweet has Rihanna killing it with an intensely dark pout and a photo of the actual lipstick bullet. And wow, the lipstick is embossed with the one and only Fenty Beauty logo. The very same logo that Fenty's holiday Starlit Hyper-Glitz Lipsticks have on them. Interesting...
Well, Fenty Beauty didn't keep us waiting much longer, because they just announced the launch of Mattemoiselle lipsticks on Instagram. Cue my uncontainable excitement.
In addition to Stunna Lip Paint and the Starlit Hyper-Glitz Lipstick, 14 shades of matte lipstick cheekily named Mattemoiselle will launch on Boxing Day, otherwise known as Dec. 26, at 9 am.
With colors like the deep-blue Clapback (pictured on Rihanna above), I know I'll be refreshing Fenty Beauty's website and the Fenty section on Sephora's website come 8:59 a.m. RiRi, this is what I came for.