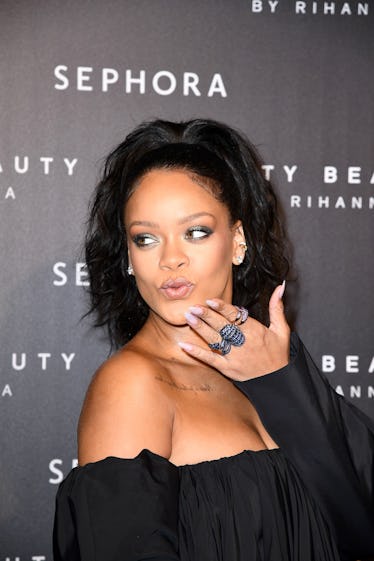 Rihanna's Fenty Beauty Red Lipstick Works For Literally Everyone, So RIP Kylie Lip Kits
Pascal Le Segretain/Getty Images Entertainment/Getty Images
I'm fully aware that Thanksgiving is around the corner, but I still find myself longingly gazing at the Michael Buble Christmas playlist. While I'm here trying to reign in on holiday madness, Rihanna just derailed my efforts. Fenty Beauty Stunna Lip Paint was just announced, and now Nov. 23 can't get here soon enough.
Card-carrying members of the RiRi #Navy know that Fenty Beauty's holiday collection already launched back in October, but apparently the singer has more in store for us. In fact, rumors of Stunna Lip Paint have been circulating since September, when an a Twitter account by the of name @GlamourGoals tweeted a set of pictures. Although the tweets are now deleted, one picture allegedly showcased a Fenty red liquid lipstick or or nail polish in the prototype phase. Another shot revealed a trio of gold-capped bottles with bright red liquid inside, while the other two photos pictured Rih testing the Fenty products. Back then, everyone assumed they were lipsticks because Fenty had only released one lip product, the Gloss Bomb Lip Gloss.
And it turns out, fans were spot on. Rihanna just uploaded a photo of the Stunna Lip Paint on her Instagram and the Fenty Beauty account, so the mysterious @GlamourGoals account totally hit the nail on the head with the conspiracy theory.
In addition to the leaked photos, Rihanna once teased Allure about additional lip products, coyly stating that "you have to wait and see" if there would be more in the line. The truth is that RiRi didn't want to bombard us with a bunch of products if they weren't up to her standards. Formulating products for all skin tones (as is Fenty Beauty's mission) is actually challenging and time-intensive. It took more than one attempt to nail the right rose shade for the Gloss Bomb Universal Lip Luminizer ($18, sephora), as the Queen of Barbados explained to Allure.
"We had to switch things up a few times to get the right texture , the right smell, and it came down to this perfect rosy shade with a little bit of shimmer. It gives you something, but it doesn't look like you're doing the most. We'll do that later."
And believe or not, it sounds like Fenty has managed to do the most all over again, because the Stunna Lip Paint is a red lipstick intended for every single one of us. "For the bold side of us all #STUNNA Lip Paint #ONEREDFORALL. Dropping 11/23 💋," the brand wrote on Instagram.
I personally cannot wait for this launch. Being an African American woman, it's already difficult enough to find the perfect red color. Some either make me look clownish, or accentuate my full lips and prominent facial features in ways I don't like. If that weren't enough, black women have grown up in households where the perfect red lip was not an option, because society told us it wasn't "for us" (aka total bullsh*t).
This may sound shocking, but because of these reasons, I have never sported scarlet lips. Even though I have desperately wanted to, because c'mon, of course I have wanted to get in on the glamour. I want to accentuate my pearly whites, and have people wondering, "where on Earth did that gorgeous girl get that red lip color?" I know that's not only my thought process when I see my fellow ladies slaying in a fierce red lip.
Long story short, I will be first in line on Nov. 23 to purchase Stunna Lip Paint. Whether I have to scale a wall, use several modes of internet connection to get on Sephora.com, or end Thanksgiving dinner early (okay maybe not), I'm coming for that silky crimson lipstick. Let's just hope I don't end up on the news for sprinting through Sephora and bee-lining to the Fenty Beauty counter.
But that's the thing about Rihanna, she brings out the best (albeit also the crazy) in us. For the first time in 23 years, I may finally be able to rock a red lip. Look for me walking down the street pretending that I'm phresh off the runway.