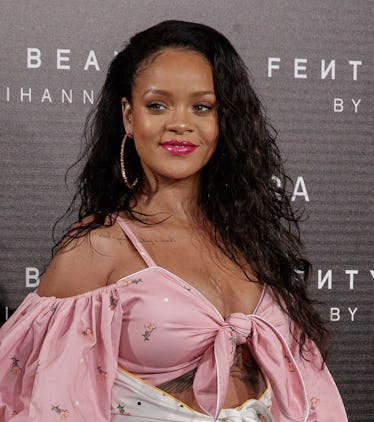 Rihanna's Fenty Beauty Is Dropping Body Makeup & It Looks Absolutely Magical
Eduardo Parra/Getty Images Entertainment/Getty Images
Yesterday, the beauty sphere was abuzz with the announcement of an upcoming product that's about to put all other shimmery lotions and glittery sprays to shame. Seriously, your 2005 self is going to freak over it. When does Fenty Beauty's Body Lava luminizer drop? I'll give you a hint: you can count the days on two hands. So yes, you will be able to snag it before Coachella in order to have your most lit festival ever.
I could wax poetic about 2000s style for days. From giant claw clips and fuzzy Juicy Couture tracksuits to spaghetti strap crop tops and plastic barrettes, the fashion and beauty of that decade was wacky as hell — and I, for one, loved it. So the fact that it's all coming back — peep the upcoming Urban Outfitters x Dr. Scholl's jelly poolslide collaboration for reference — makes me one happy lady. Evidently, it makes Rihanna happy, too.
The singer-slash style maven-slash beauty magnate announced a new product launch yesterday via Fenty Beauty's social media that Paris Hilton would've totally lost it over in her glory days. On the brand's Instagram story, the Queen teased and test ran both shades of her new Body Lava luminizer, which comes in two shades and, once applied, leaves your skin looking all kinds of glimmery.
First Riri tested out the pearly peach shade, which is called Who Needs Clothes. After applying two squirts of the glossy product onto her shoulder, she uses another upcoming product (!!!) — a kabuki brush — to blend it out until her entire shoulder is left with a slight sparkle reminiscent of what Edward Cullen's vampire skin looks like when exposed to sunlight.
Next, she gives the darker bronze shade a test drive on her collarbone. Called Brown Sugar, it's also bursting with a beautiful sheen but has a decidedly more golden final effect.
Both versions of the Body Lava appear to be many, many steps above of the body glitters I was using as a pre-teen. Both the roll-on and spray iterations that filled my middle school beauty closet left me uncomfortably gooey, strangely scented, and gaudily flashy. I felt like a glam version of those sticky fly traps you'd hang around your house to trap the pesky insects with. That's hot!
These new luminizers, however, look to be far more subtle in appearance and less tacky in texture. Desert babes, get ready to shine bright like a diamond under the spring sun when you coalesce at the mecca of music festivals — as revealed via social media, both shades of Body Lava will hit the Fenty Beauty website and Sephora's website on April 6, just in time for Coachella.
If you're someone who doesn't believe glitter should ever be done subtly (I myself enjoy looking like a walking disco ball when the occasion is right), fear not. Along with the kabuki brush, Riri teased another upcoming product yesterday that doubles down on the glitz. Fittingly called Fairy Bomb, it's a giant powder puff filled with — you guessed it — even more shimmer. Put your fingers through its ribbon handle, pat it anywhere on your body you'd like, and watch your skin transform into a twinkling dermal galaxy.
While no prices for any of the products have been released, it's safe to assume they'll be pretty affordable like the rest of Fenty Beauty's existing offerings. It's the first time the brand has ventured into body products, so I can only hope this means more will be on their way soon. Needless to say, Body Lava is a pretty stellar place to start.