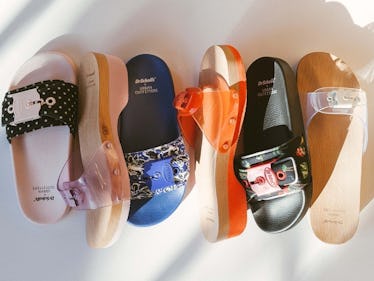 Urban Outfitters x Dr. Scholl's Poolslides Are Bringing Back The 2000s & They're Comfy AF
Urban Outfitters
Springtime is just around the corner, which means a seasonal shopping trip is too. That's how it works, right? Thanks to a new footwear collaboration by one of your favorite retailers, your must-have sandals have already been found. The upcoming Urban Outfitters x Dr. Scholl's collection of poolslides is not just affordable and comfy, but gives off major millennium vibes that'll give you all the nostalgic feels. Because anything that'll remind us of simpler days filled with Furbies and inflatable furniture is worth it, am I right?
While my style is decidedly more '90s than mid-aughts (oversized floral dresses and acid wash denim are my everything), I still love a good velour track jacket or claw clip. The bedazzled shirts and gaucho pants I could do without, but I digress. Lucky for me, certain trends and styles from my middle school glory days are back in style thanks to the wonderful thing that is the cyclical fashion industry, and this collaboration features a few of the best ones.
Dropping on April 5 both in-stores and online, the collection promises to offer "just the right touches of modern and edgy prints and materials combined with vintage-inspired silhouettes," according to a press release from Urban Outfitters. It includes two unique styles — one sportier, one slightly elevated — so it has got most of your casual sandal needs covered. If you've been an avid fan of the normcore trend that's become a mainstay within the fashion industry over the last handful of years, this collaboration is for you.
The first style, the OG Poolslide, features a cushy contoured footbed and neoprene buckle strap and comes in three playful patterns.
It looks insanely comfy and practical and is the perfect shoe to wear to the beach, the pool, or really anywhere, tbh. It's a step up from a simple rubber pool shoe visually but doesn't sacrifice any of its ease. Sold and sold.
Called the Originally, the second style is hands down my favorite. It has a wooden footbed with a slight heel and jelly (yes, jelly!) straps that buckle. I wax poetic about Lizzie McGuire way too much but these shoes are her and Miranda to a T. When I was in my early and mid-teens I was obsessed with all things jelly, PVC, and plastic. I loved the aforementioned inflatable furniture so much and owned way too many see-through bags (those are back, too) and jelly bracelets.
These shoes, in other words, would have made my younger self the happiest girl on earth. They come in three colors — lilac, orange, and white — and would look killer when paired with a retro mini dress, denim skirt, or jumpsuit. Adding butterfly clips to the look might be going a bit overboard but do you.
Aside from their throwback look, which is reason enough to snag a pair or two in itself, the shoes will also undoubtedly be comfy af, since they were created in collaboration with Dr. Scholl's. As described by the brand in a press release, the mission is to make shoes that move with you.
"Our vision is to create innovative footwear with uncomplicated, playful style for a healthier life. We obsess as much about how shoes feel when you slip them on, as how your feet feel at the end of the day. We strive to make active feel at ease."
Slip-on sandals with a wooden sole that won't leave my arches aching and my toes blistered? What kind of sorcery is this?
The OG Poolslides will retail for $40, while the Originally will be $78. They're affordable, cool, and such a throwback...and let's not forget totally fetch. That's hot.