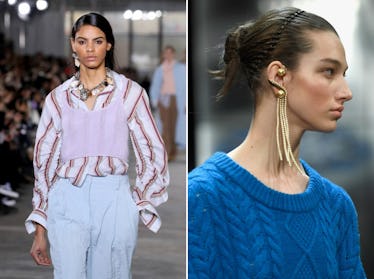 5 Trends From The '90s Are Making A Serious Comeback, So Somebody Page Cher Horowitz
I was born in the '90s and my childhood was one Caboodles train case packed with scrunchies and butterfly clips after another. If you could believe it, early '90s fashion is already considered vintage (I officially feel old AF) and according to spring 2018 clothing trends, it's coming in hot. And while some fads should stay in the '90s — I'm of course talking about chunky highlights, super low-rise jeans and French-tip acrylics — others have become mainstream all over again.
Last year, I bought my first choker necklace in fifteen years and though I'm not proud of it, I wore space buns to Coachella. I'm even wearing a gold name-plate necklace at this very moment (I know, how Carrie Bradshaw of me!). Today, you can walk into any Sephora and take your pick from a selection of frosty lipsticks or shop at Forever 21 for holographic everything. You can even scroll through Instagram to find endless recreations of Sporty Spice-inspired track-pant outfits.
Hell, there was even talk of the Spice Girls actually reuniting in concert. Unfortunately for us fan girls everywhere, it turns out the reunion was one huge rumor based on years of wishful thinking. Even MTV's TRL is back! Though it's nowhere near as good as it used to be, the point is, if that's not proof that the '90s are back, I don't know what is.
But at the end of the day, it's not technically a trend until it has hit the biggest fashion runways in the world. We're five days into New York Fashion Week and the '90s baby in me is screaming. My favorite childhood trends are back and they look even better than ever.
Stretch Combs
I remember the first time I put on one of these. I slicked my hair straight back with way too much gel and slipped the stretchy headback over my head, trying not to poke my eyes out. I positioned it along my hairline and slid it straight back. In an effort to create a pattern of visible, almost cornrow-looking lines, I pressed down way too hard and scraped my scalp with the pointed ends. I was able to create the effect I wanted, but the parts in my hair were bright red. I still wore them after this, but I treaded much lighter going forward.
During New York Fashion Week, models walked down the runway at Prabal Gurung wearing the stretch comb headband. It was even paired with that spiky undone bun we all wore back in the day.
Claw Clips
The claw clip made its return at New York Fashion Week. Updated in a silver metallic finish, Alexander Wang is making a seriously convincing case for the '90s hair accessory. Twenty years ago, women everywhere kept a claw clip in her bathroom, in her car, at her desk, everywhere. At least I did, and every one of them was a different color. I even had one that was embellished with a faux fuzzy pink fur and I wore it all the time.
Layered Spaghetti Straps
Cher Horowitz was an expert at layering spaghetti-strap tank tops over her gym clothes and collared button-down tops.
3.1 Phillip Lim recreated that '90s look by layering knitted spaghetti strap tank tops over menswear-inspired dress shirts. The closest I've gotten to recreating this look since I was in middle school was when I recently layered a silky slip dress over a T-shirt. For me, it was less about the throwback trend and more about making a slinky dress feel a bit more casual when I ran out of outfit options.
Brown Lipstick
MatteTrance lipstick in Divine Brown, $38, Pat McGrath
I grew up in the valley of Los Angeles where brown lipstick was the most ubiquitous makeup staple for women from the ages of fifteen to the forties and beyond. While some girls forewent the lipstick altogether and layered a clear lipgloss over a bare lip lined in brown liner, the brown lipstick trend is one that gives me nostalgic valley vibes.
Makeup legend Pat McGrath brought back the '90s lipstick trend when she applied her namesake brand's new shade on models backstage at Bottega Veneta. I've already ordered a MatteTrance lipstick in Divine Brown that is exactly the shade I remember my aunts and cousins wearing years ago. And it's matte, just like they had.
Thick Headbands
You probably still have the same type of thick elastic headband you wore in high school. However, these days it probably only makes an appearance when you treat yourself to a weekly face mask. In the '90s, these were not only a staple at the gym, they were a fashion statement that usually matched your outfit color scheme to a tee. Tom Ford brought it back last Thursday and gave it an updated twist. Cut from black leather, the throwback headband not only keeps hair back when you're washing your face, it looks cool enough to wear on a night out.
Paired with oversized hoop earrings and a sultry smoky eye, the leather-headband look is making me want to try the '90s trend for myself.
Though I won't be getting chunky highlights from my hairstylist or French-tips from my manicurist any time soon, I think I'll be channeling some of the looks that I wore to death back in middle school. As for the super low-rise jeans, you'll never catch me in those ever again.