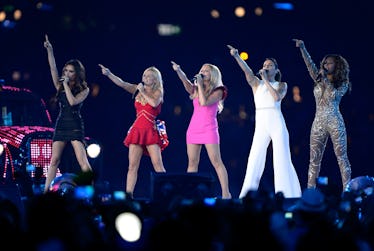 Victoria Beckham Has Bad News About A Spice Girls Reunion Tour & I'm Sobbing
Pascal Le Segretain/Getty Images Sport/Getty Images
I'm confused, ya'll. Ever since news broke that the Spice Girls are going on a reunion tour, I've been brushing up on all of their hit songs and rehearsing my "Spice Up Your Life" dance moves. Heck, I've even binge-watched Spice World too many times to count within the past week — and I'm not even ashamed. However, as of right now, my '90s dreams are officially crushed — and Posh Spice is to blame. After waiting for a definite confirmation about whether or not the Spice Girls are going on tour, Victoria Beckham totally threw me for a loop with her latest comments. TBH, it's hard to type through the tears... but I'll do it for you guys.
According to Vogue, Victoria Beckham isn't going on tour with the Spice Girls. She reportedly said, "I'm not going on tour. The girls aren't going on tour." The fashionista talked about the rumor during a preview of her autumn/winter 2018 collection on Saturday, Feb. 10 in New York.
Wait. HOLD. UP. RIGHT. NOW. This can't be right. Because on Feb. 7, TMZ reported that the pop group was going to get together for a late-summer reunion tour that would start in England and head to the U.S. The news broke after Beckham posted a nostalgic photo of the group together on Instagram, with the caption, "Love my girls!!! So many kisses!!! X Exciting x #friendshipneverends#girlpower." It's been reported the ex-girl group met with their old manager, Simon Fuller, to discuss "rough planning" for a world tour. Of course, the '90s-loving internet went into shock at the news (myself included).
News about a possible tour broke a few days after The Spice Girls released a statement on Feb. 2. The statement says:
We have enjoyed a wonderful afternoon catching-up and reminiscing about the amazing times we have spent together. We are always overwhelmed at how much interest there is across the whole world for The Spice Girls.
The time now feels right to explore some incredible new opportunities together. We all agree that there are many exciting possibilities that will once again embrace the original essence of The Spice Girls, while reinforcing our message of female empowerment for future generations.
OK, so, the Spice Girls' statement and the news about an end-of-summer world tour seems pretty convincing that the group will be reunited. But now that Beckham is denying the tour entirely, I don't know WTF to think. I feel sad, confused, and a little heartbroken. How can she do this to me?
According to Vogue, Beckham talked about the group's meeting, and said that "it was so great to see the girls." She then elaborated, and said, "There's something so strong in the message of what the Spice Girls stood for. What is that in the future? What does that look like? We were just bouncing ideas around. Brainstorming."
Apparently, she then looked at her fashion collection and said, "But this is what I do."
C'mon, Posh. Do us a solid and go on tour with the Spice Girls so we can relive our childhood. Your fashion line isn't going anywhere!
Per Vogue, Beckham spoke more about the Spice Girls reunion tour, and said that "it's a positive thing." However, we shouldn't get our hopes up, because her final message about the rumor was this:
I think there's so much that the brand can do, and it's such a positive message for young kids. What does that look like in the future? It's not me in a cat-suit.
UGH. OK, FINE.
Between TMZ's tour confirmation and Beckham's lack of interest, I'm not really sure what to think. All I can do is hope the other girls in the group will convince Beckham to hop on board for good.
Check out the entire Gen Why series and other videos on Facebook and the Bustle app across Apple TV, Roku, and Amazon Fire TV.